Disclosure: *This post may include affiliate links. As an affiliate, I earn from qualifying purchases.


How to decorate spa cookies for a spa themed birthday party.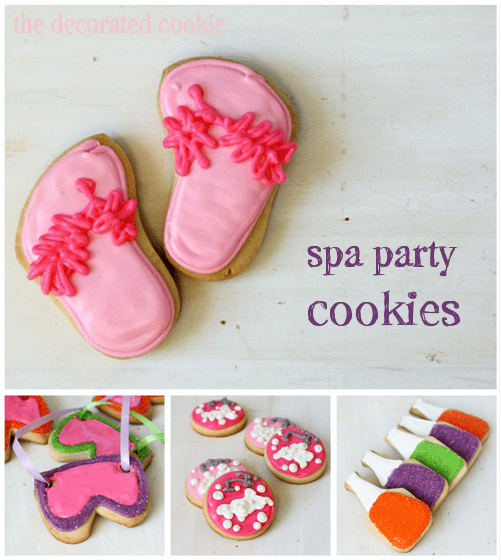 spa cookies
These spa cookies are for a little girl turning 8, who truly deserves a spa birthday party. Remember these rainbow cookies I made for my cousin and her town as they worked on rebuilding Manasquan, NJ after Sandy hit? Well, my cousin is now officially back in her home, amidst the construction dust and all. Her daughter requested some cookies for her spa-themed birthday party, and I happily obliged. While they have a ways to go with getting their home back to being their home, merely throwing a birthday party seems a long-fought-for victory.
Aaaahhh… don't we all need a day at the spa? I sure could. My last spa visit didn't go so well. The same spa I've been going to for eyebrow, um, "reshaping" (ie brutal waxing) for years has changed management. What was once a laid back, non-spa-like spa is now a spa-like spa. My former eyebrow lady was awesome. I'd go in, she'd slap on some wax, we'd chat about life, and I was out of there in ten minutes. Well, I dared show up last week with the baby in the car seat and you'd have thought I brought a live alligator. The look of horror on the receptionist's face was meant to be obvious, I think. "Oh, are you bringing…that with you?" (I'm not exaggerating for dramatic effect, that's how it went down.) "Yes. I've been coming here for years. I always bring the kid." So apparently it's now against policy. Don't get me wrong. I completely understand and endorse this policy. Who wants to spend two hundred bucks on a massage and hear a baby crying next door? But this woman's reaction, with her too-tight dress to match her too-tight, over made up face, was just brutal. I swear she was standing on a stool behind that desk just so she could look down at me more. I talked my way into the appointment. Violet cooed and there was a knock at the door within seconds for me to keep her quiet or leave.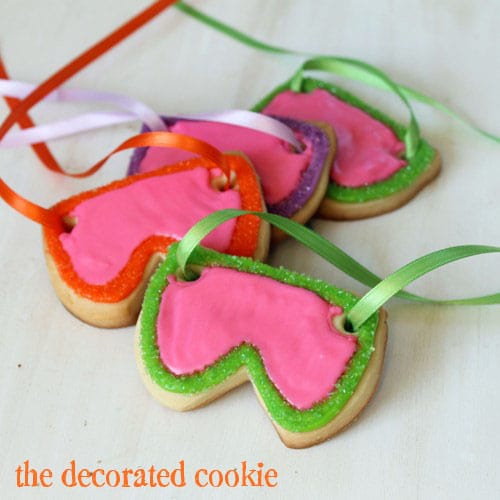 how to make spa cookies
To make these cookies, I used my recipes for cookie dough and royal icing. I used my favorite Americolor Soft Gel Pastes (Electric Pink, Electric Green, Electric Purple, Orange, Bright White and Super Black for the gray). For basic cookie decorating instructions, click HERE. Let the cookies dry overnight before handling or packaging.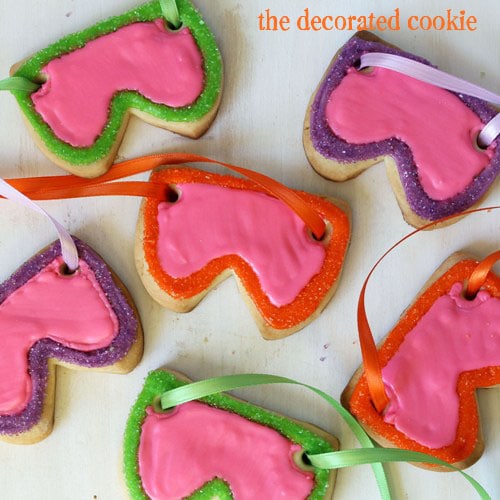 To make the masks, I used a letter "D" cookie cutter and used a heart cutter to shape the bottom. I then made two holes with a lollipop stick before baking. To decorate, I outlined in a color, immediately coating with the same color of sprinkles, then I filled in the centers with pink. When dry, I threaded ribbon through the holes.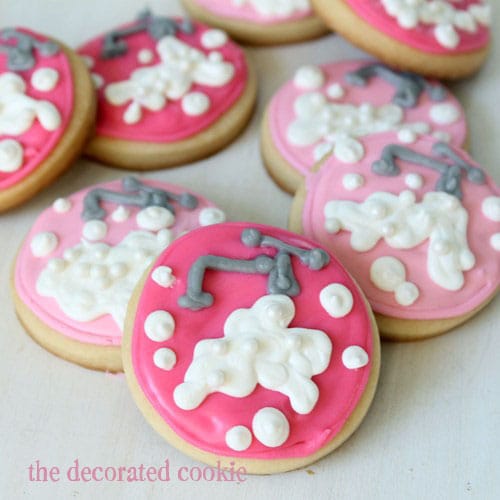 To make the tap and bubbles cookies, I made gray icing and fitted the bag with a size "2" tip. After piping and filling the background of the circle with pink and letting dry a bit, I piped the tap. Then I piped the bubbles and soap with white icing and a size "3" tip, and added a few pearl sprinkles.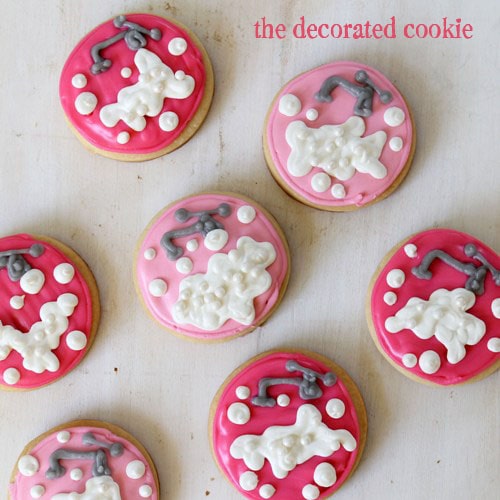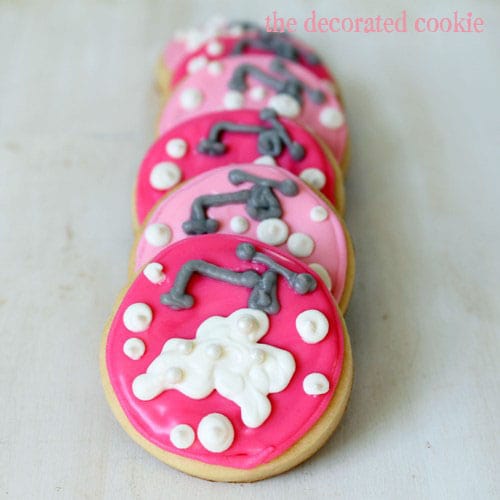 To make the fuzzy spa slippers, I used baby feet cookies, smoothing out the toes. I piped and filled a pink background, let dry a bit, then piped the zig zag fuzzy part with a darker pink, using a size "3" tip.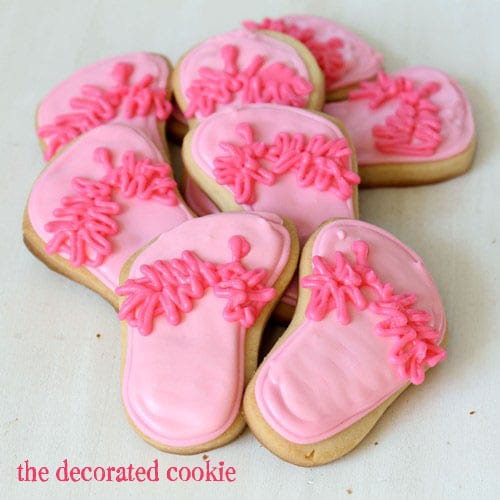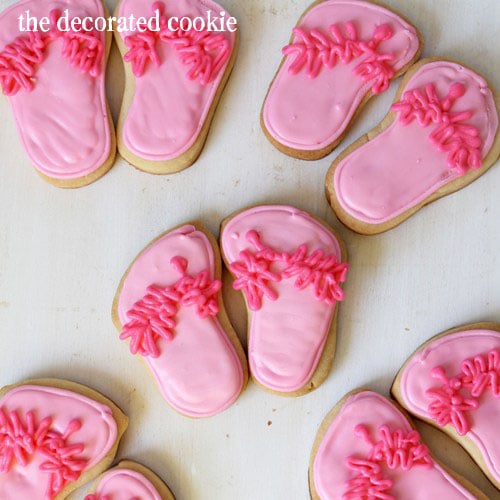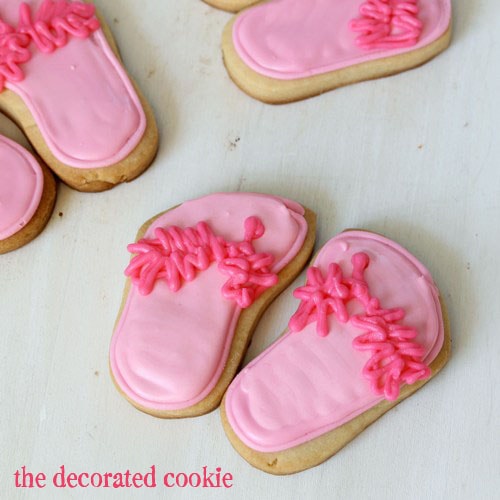 To make the nail polish bottles, I used a baby bottle cookie cutter and trimmed the top at the sides. I piped the polish and immediately coated with a coordinating color of sprinkles. Then I piped and filled the white tops.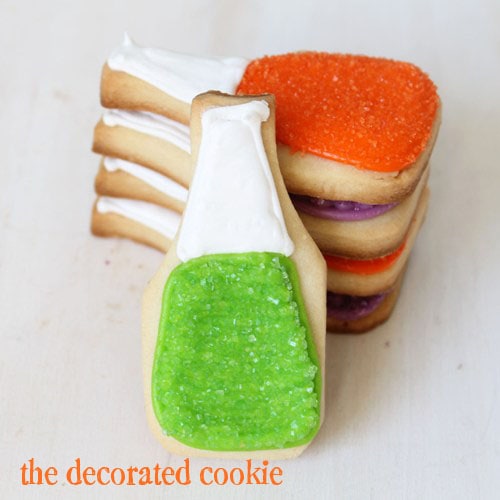 Happy birthday to my cousin's daughter! My niece? My niece once removed? I'm going with niece. Happy birthday!!