How to make bug marshmallows and a roundup of 13 other April Fools' Day food pranks to play on kids (or grown-ups).
l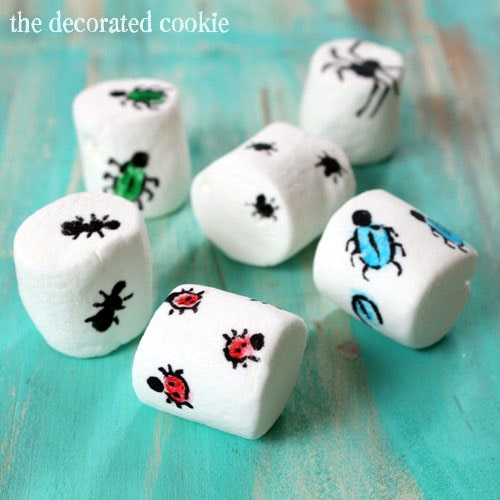 April Fools' Day food pranks
Eeew. But adding some bugs to your marshmallows with edible writers is a quick and easy last minute April Fool's idea and it just may keep sticky fingers away from your candy. Here are some more April Fool's Day food tricks from around the web:
Find another roundup of 13 ideas here.
If April Fools falls near Easter, make a chocolate bunny hiding vegetables.
Secretly replace your Tootsie Rolls with… more candy. By Project Denneler.
That's genius. Cookies that look like scoops of ice cream. From Tikkido.
These are kind of healthy because there are corn flakes involved. Fried chicken cookies from Bake at 350.
With the pile of luscious pink topping, this pie looks delicious. Except it's meatloaf and potatoes, from Spoonful.
No one will ever recognize you with these silly cookie disguises from Munchkin Munchies.
Everything you need for April Fool's Day appetizers and dinner right here at Hoosier Homemade: Deviled eggs, nuggets and fries, sushi. See what they really are.
These look exactly, exactly like soft boiled eggs. But really it's vanilla custard and papaya balls from Little Food Junction.
An oldie but goodie, candy salad from CakeSpy.
Eerily realistic-looking candy green beans and cereal treat meatloaf from Spoonful.
My favorite classic kid meal. Mac n' cheese, chicken nuggets and veggies. But not. By Kitchen Fun with My 3 Sons.
I didn't know Cheerios grew into doughnuts. I'm so growing a garden in my backyard. Make "Donut Seed" favors at Gourmet-Mom-on-the-Go.
Make candy broccoli at Hello, Cupcake! blog.