Disclosure: *This post may include affiliate links. As an affiliate, I earn from qualifying purchases.


Need a quick and easy dinner idea? Ever wonder how to make enchiladas? Try these chicken and kale enchiladas, made from rotisserie chicken and 30-second homemade enchilada sauce.
how to make enchiladas
Now that you have your 30-second enchilada sauce from spaghetti sauce mastered, let's make chicken and kale enchiladas!!
The recipe is very much filed under "EASY," with the sauce. I'm a big fan of chicken and kale (I put kale in everything… such as this chicken and kale in white wine sauce), so that's what I put in my enchiladas, but you can switch it up with anything you prefer.
Now, I'm of Irish and English descent from the great land of New Jersey. I'm not the voice of enchilada-making authenticity you're looking for.
But forgive that for a moment and indulge me with these few notes on enchilada-making.
I hear that corn tortillas are the more authentic way to go with enchiladas, although I personally prefer the taste of flour tortillas. That said, corn tortillas resist moisture better, whereas enchiladas made with flour tortillas can get a bit too soft, even soggy.
One way to help with the soggy factor, for both corn and flour tortillas, is to quickly pan fry the tortillas first to create a barrier on the surface.
Also, traditional enchiladas (again, take my use of words like "traditional" with a grain of salt given my aforementioned lack of authenticity) are not doused in sauce.
The tortillas are dipped in sauce so it's spread more thinly across the surface.
I don't dip the tortillas in the sauce, but I do only use a cup of sauce for the entire dish and spread the sauce pretty thinly on each tortilla as I assemble the enchiladas.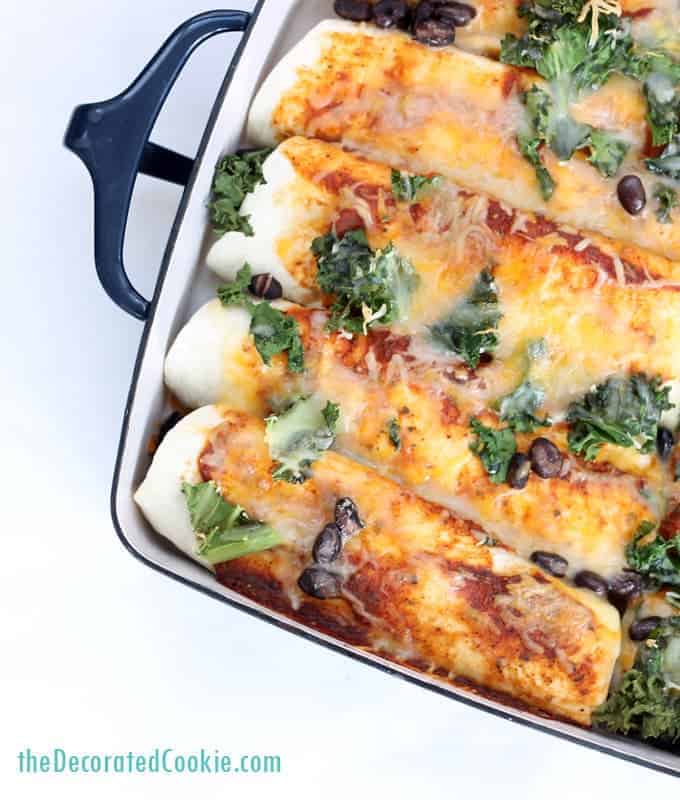 assemble the enchiladas
To assemble, create an assembly line of your ingredients. I spread a bit of sauce on a tortilla, top with cooked chicken, black beans, then some chopped kale.
Here's where you can get creative.
Mix it up with pork, ground beef, spinach, different veggies or a variety of beans. Whatever you like.
You can also add shredded cheese at this point, although I keep the insides of my enchiladas cheese free. It just tastes lighter that way.
Arrange in a baking tray sprayed lightly with non-stick spray.
Brush on the remainder of your sauce and sprinkle with cheese and bake. In less than half an hour, your enchiladas are done.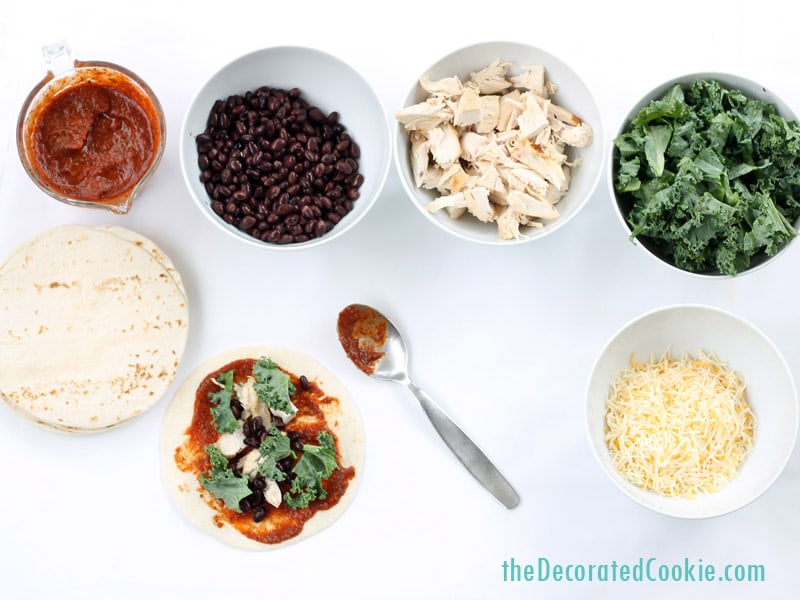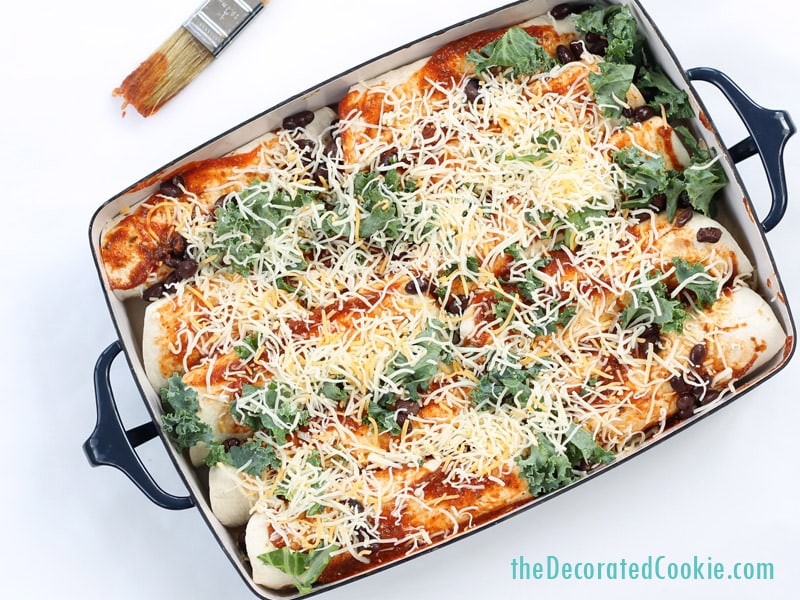 more enchilada recipes
Need some more enchilada ideas? Try using this shortcut sauce with the Pioneer Woman's beef enchiladas or these pork enchiladas by RecipeTin Eats or these vegetarian enchiladas by Cookie and Kate.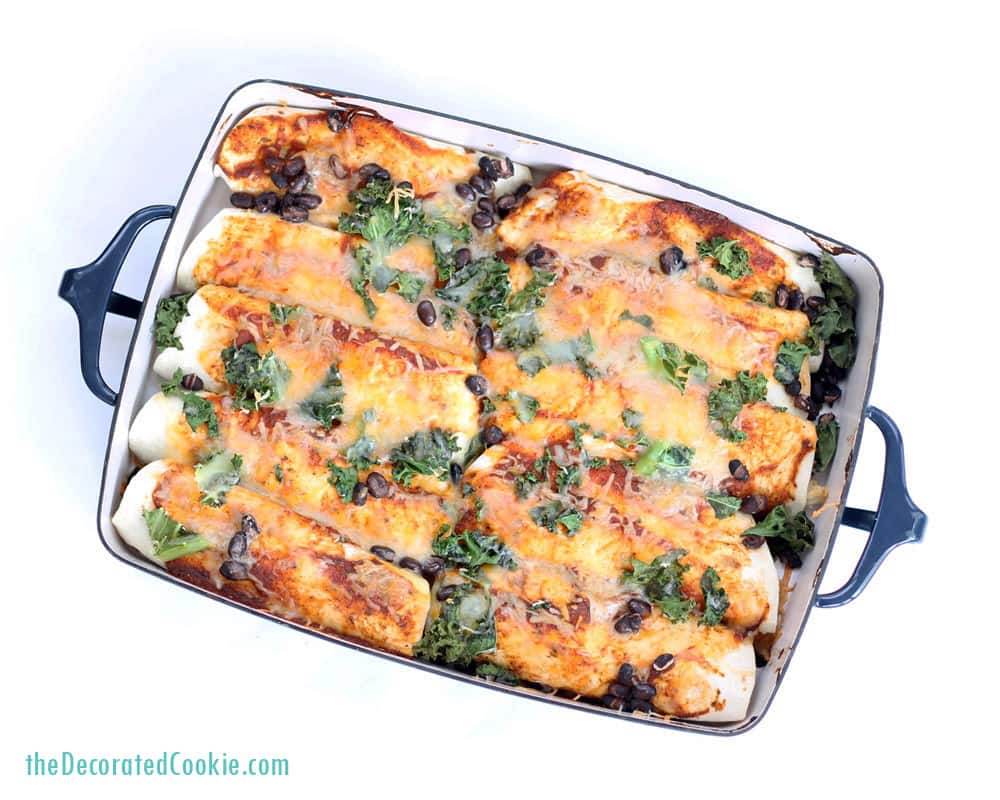 Yield: 8 servings
chicken and kale enchiladas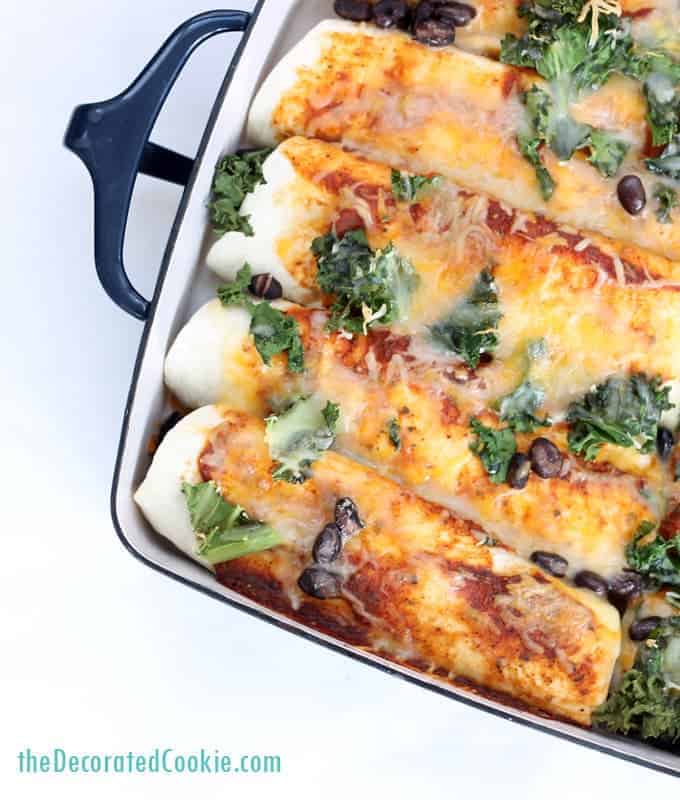 how to make enchiladas: Chicken and kale enchiladas for an easy, week-night dinner using rotisserie chicken and homemade enchilada sauce.
Ingredients
1 cup enchilada sauce from spaghetti sauce
10 six-inch flour or corn tortillas
2 cups rotisserie chicken, shredded or cut in small pieces
1 can black beans, rinsed and drained
2 handfuls of kale, cut with scissors into small pieces
1/2 to 1 cup shredded Mexican-blend cheese
Instructions
Preheat oven to 350 degrees F. Lightly spray a 13 x 9 inch casserole pan.
Prepare the ingredients and assemble each tortilla: Spread 2 to 3 teaspoons of sauce on a tortilla, top with some chicken, beans and kale. Sprinkle with cheese, if you desire (I do not add cheese here). Place seam side down in the casserole. Brush the remaining sauce over the top of the enchiladas. Sprinkle any remaining black beans and kale on top, tucking in between the tortillas. Sprinkle with cheese.
Cover with foil and bake for 20 minutes. Uncover and continue to bake until cheese begins to brown, about 10 minutes.
Nutrition Information:
Yield:
8
Serving Size:
1
Amount Per Serving:
Calories:

802
Total Fat:

11g
Saturated Fat:

4g
Trans Fat:

0g
Unsaturated Fat:

5g
Cholesterol:

68mg
Sodium:

788mg
Carbohydrates:

134g
Fiber:

9g
Sugar:

4g
Protein:

39g