Chocolate covered strawberries on a stick! A cute and easy Valentine's Day treat idea.
chocolate strawberry hearts on a stick
I like chocolate covered strawberries. Sure. They are decadent and all that. But I don't like eating inconvenient food. Food that is cumbersome. Messy. Awkward. As I find chocolate covered strawberries. Caramel apples fall into this category, too. I don't eat caramel apples, because crowns are expensive to replace. And so I made these chocolate-covered strawberries on a stick. Or, chocolate strawberry hearts?
The stick saves your fingers from smears of chocolate. They are smaller than a whole strawberry, so they are much less awkward to eat. And you don't have to deal with dunking strawberries into a vat of quickly hardening chocolate.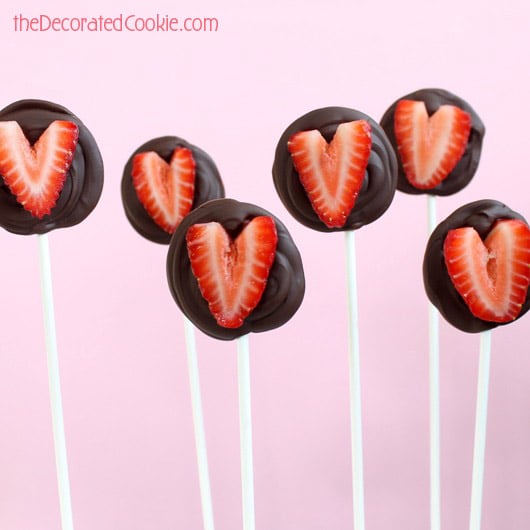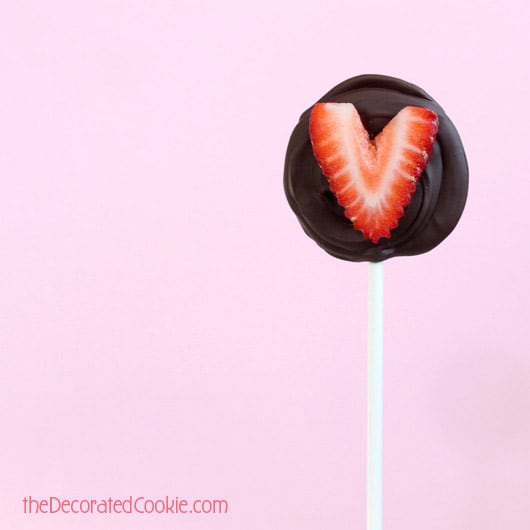 chocolate and strawberries
As chocolate-covered strawberries are associated with Valentine's Day, some could argue that they serve as a metaphor for love, perhaps as chocolate and strawberries form a perfect union. And more might say that I have now created a way to make love less messy, less awkward, and yet still wonderful. So you're welcome, world. Still others may say that my argument is ridiculous and makes no sense.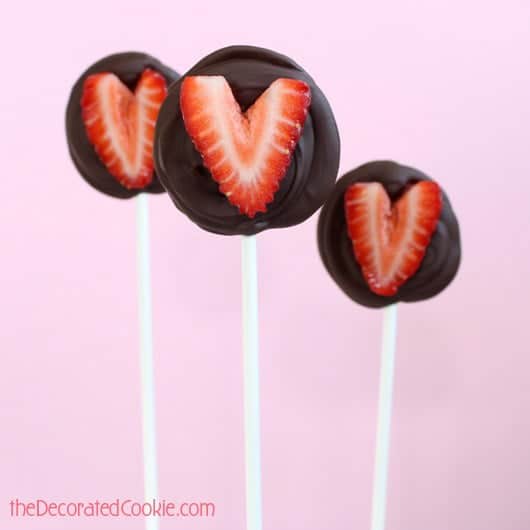 how to make chocolate strawberry hearts
you will need:*
chocolate chips (semi-sweet, milk chocolate, or any you prefer)
strawberries
sharp knife
disposable decorating bags
scissors
baking tray
parchment or was paper
lollipop sticks
*Find 12-inch disposable decorating bags and lollipop sticks in the craft store. Links are provided at the bottom of this post, too.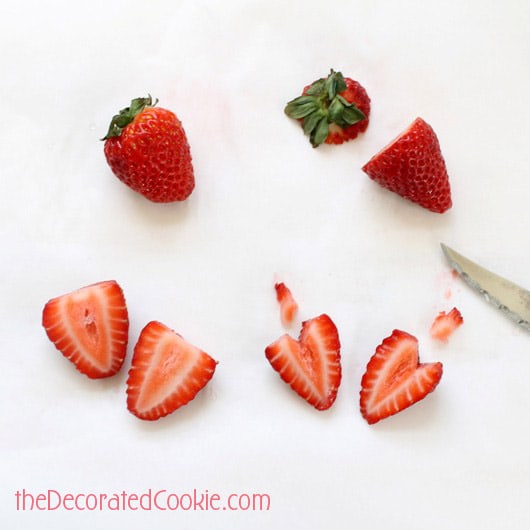 Prepare the strawberries. Cut off the top of a strawberry, then slice the strawberry in half. Cut a little "V" at the top of each half. If you want the strawberry half to lay flatter, you can also trim a thin slice off of the back.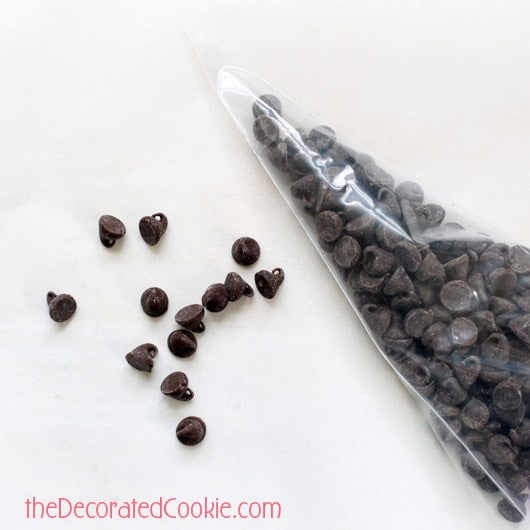 Melt the chocolate. Line a baking tray with parchment or wax paper and set aside. Fill a disposable decorating bag with about 1/2 cup of chocolate chips. Microwave at 70 percent power for 90 seconds, then 30 second and 15 second intervals, massaging the bag after each, until the chocolate chips are fully melted. If you prefer, melt the chocolate in a microwave-safe bowl and pour into the bag.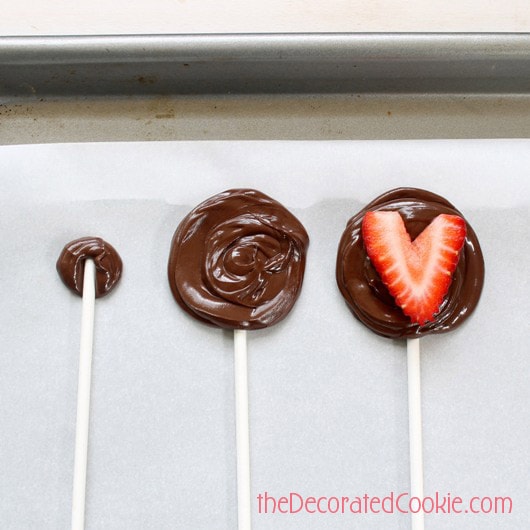 Make your pops. Twist the top of the bag so the chocolate doesn't ooze out of the top. Snip 1/2 inch from the tip of the bag. Pipe a dot of chocolate on the tray. Place a lollipop stick on top. Then pipe another circle of chocolate on top of that, about 1 1/2 to 2-inches in diameter, enough to accommodate the strawberry half. Place a strawberry half on top and gently press into the chocolate. Fill the tray and refrigerate until well set, about an hour. Use a new decorating bag for melting additional chocolate. Each decorating bag of chocolate will make about 6 pops.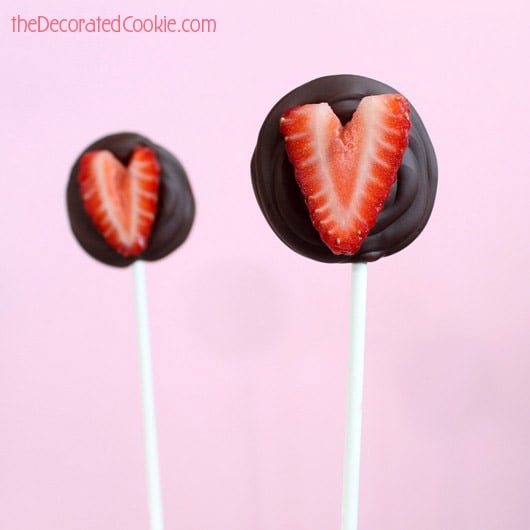 SUPPLIES: