Disclosure: *This post may include affiliate links. As an affiliate, I earn from qualifying purchases.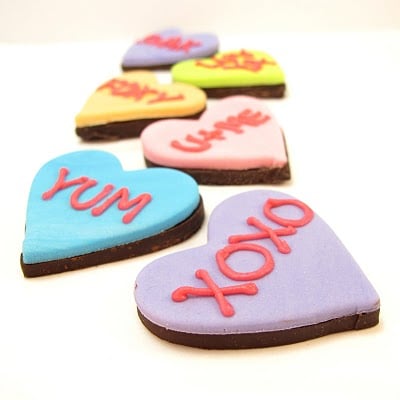 These conversation heart chocolates can also be used to top cookies, cupcakes, fudge, brownies… whatever suits your fancy. I used chocolate. Vegan chocolate, to be precise.
how to make conversation heart chocolates
you will need:*
white rolled fondant
assorted food coloring (including hot pink)
heart cutter (I used a 2 inch)
chocolate chips
baking pan
wax paper
rolling pin
royal icing
disposable frosting bag
coupler
size "2" decorating tip
rubber band
light corn syrup
*Find fondant, the cutter, coupler, tip and disposable bags in the baking aisle of your craft store. Find coloring there, too, but I prefer Americolor soft gel pastes food coloring (a bit harder to find). I used Electric Pink, Sky Blue, Regal Purple, Orange and Electric Green.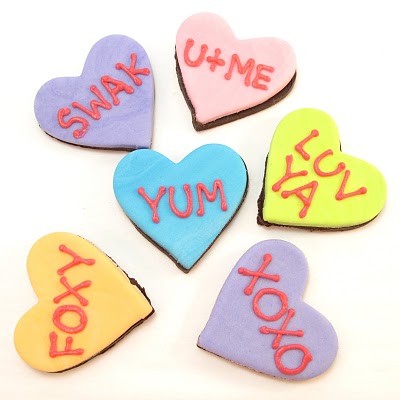 step one: make your chocolate hearts
Line a baking pan with wax paper. I used a 9-inch square glass Pyrex brownie pan. Melt chocolate chips in the microwave or on the stove. I use a metal bowl sitting over a saucepan with simmering water. Pour chocolate into pan and spread evenly. Stick in fridge about 20 to 30 minutes until soft but not hardened. Cut out hearts with cutter and return to fridge.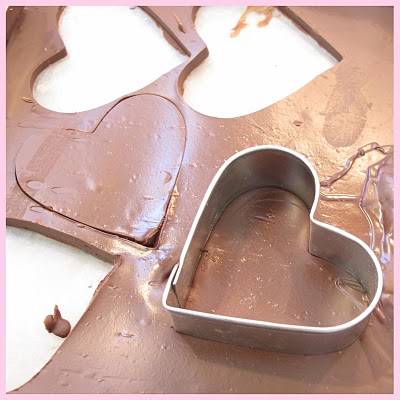 step two: make your fondant hearts
Tint several chunks of fondant assorted colors. For pastels, use only one drop, maybe two, and knead very well. If fondant gets too sticky, let sit uncovered at room temperature for about 15 minutes. Roll fondant between two pieces of wax paper about 1/4 inch. Cut out hearts and set aside. Let stiffen about 30 minutes. Prepare frosting and tint hot pink. Fill a frosting bag fitted with size "2" tip. Pipe sayings onto hearts and set aside to dry, at least a few hours.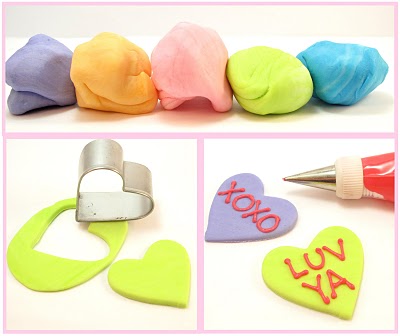 step three: assemble your hearts
Dab corn syrup on the back of a fondant heart and simply place on top of the chocolate heart.