Disclosure: *This post may include affiliate links. As an affiliate, I earn from qualifying purchases.


You probably don't know this, but last month I was treated to a fantabulous trip to the Hershey's Headquarters? Wait, you might know. Because I talked about it HERE. And HERE. And HERE. Sheesh. I talk too much. Anyway, I joined a dozen bloggers to make yummy holiday videos in the Hershey's Test Kitchens with the wonderful Linda Stahl. And I finally get to share with you some of what I did while in incredible HERSHEY'S Kitchens. You can find all of the videos the Baker's Dozen created HERE, and all of our packaging ideas for holiday sweets HERE. Be sure to check out the rest of this creative crew!
THE VIDEO:
5 Ways to Use Melted HERSHEY'S Chocolate
First, I made a video on
5 Ways to Use Melted Chocolate,
HERE, with the HERSHEY'S kitchen team. I melt HERSHEY'S Premier White Chocolate Chips, Milk Chocolate and Semi-Sweet Chips to make chocolate snowflake cupcake toppers, to fill holiday molds, to drizzle over treats, to make marshmallow dippers and to make cute Rudolph pretzel rods. I promise despite my dull tone, I really AM excited to be there? I never said I was a TV natural, folks. In fact, I'm pretty sure I've said that I'm a nervous wreck when the cameras go on.
Some more tips:
Melting Chocolate. Melt chocolate either in the microwave or on the stove-top. On the stove-top, use a double boiler or rest a bowl over a pan of simmering water to slowly melt the chocolate chips and to avoid direct heat. Or, nuke in a microwave-safe bowl at 50 percent power for 1 1/2 minutes, then 30 second intervals, until melted. My favorite method is to nuke directly in a disposable decorating bag. Easy clean-up and total control over piping. Snip from 1/8-inch to 1/4-inch from the tip of the decorating bag to pipe.
Chocolate Snowflakes. After lining a baking tray with parchment paper, I just piped white chocolate snowflakes, topped immediately with white sprinkles, and refrigerated until set.
Chocolate Molds and Drizzling Chocolate. The decorating bags make filling holiday molds super easy. No spoons and drips and drops! And using the bags, you can easily control a chocolate "drizzle" by piping back and forth over cookies, cupcakes, brownies, pretzels, anything that goes with chocolate.
Marshmallow Dippers. Here, I just skewer a marshmallow, dip in melted chocolate, then roll in a mixture of HERSHEY'S Cocoa and granulated sugar. You can also roll in crushed candy canes or in finely chopped HERSHEY'S candy bars. I think the Cookies n' Creme would be perfect.
Rudolph Pretzel Rods. To make these cuties, I first melted HERSHEY'S white chocolate chips in a decorating bag and piped antlers on a baking tray lined with parchment. Then, I dipped a pretzel rod in a bowl of melted HERSHEY's Milk Chocolate chips and immediately lay on top of the antlers. Add two candy eyes (found at the craft store) and a red candy nose, refrigerate to set, and you have Rudy!
THE PHOTO SHOOT:
HERSHEY'S HUGS Sugar and Spice Blossom Cookies on a Stick: A Gift Idea for Your Kids' Class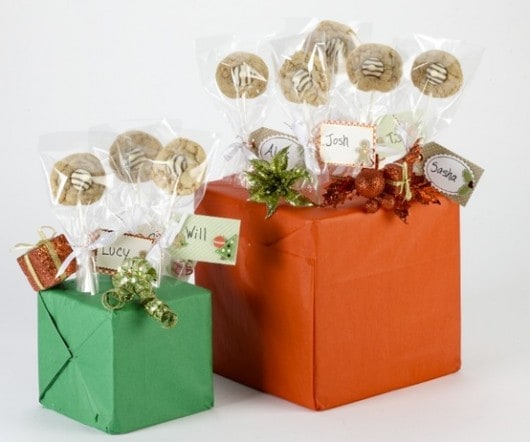 Next up, I had an assignment. To come up with a gift idea for packaging my favorites, the HERSHEY'S HUGS Sugar and Spice Blossoms, as a sweet treat to bring to your child's class. Yeah, cookies and lollipop sticks and HERSHEY'S Kisses. Tough assignment, huh? Bringing treats to your child's class poses a unique challenge. You need to bake in bulk, usually quickly and cost efficiently (if you're like me, a mom with limited time and funds). You need to package the cookies just as quickly and cost efficiently, but still appealing to little hands, which also means packaging one, small cookie to look bigger. My go-to with kids? You know the answer. Lollipop sticks. If it's possible to put anything on a stick, put it on a stick. To make these, simply, insert a lollipop stick–found at the craft store–into the ball of cookie dough on the tray. Bake as usual, add your HUGS, and let the cookies cool completely and the chocolate set well before packaging in cellophane bags with ribbons and tags.
FIND THE FULL PHOTO SHOOT HERE AT HERSHEY'S
MORE PLACES TO VISIT:

Be sure to check out my PINTEREST page on holiday sweets with HERSHEY'S products.
Find more information HERE at Cookie Headquarters.