Disclosure: *This post may include affiliate links. As an affiliate, I earn from qualifying purchases.


Easy daisy cookie bites, a cute dessert for spring or Mother's Day.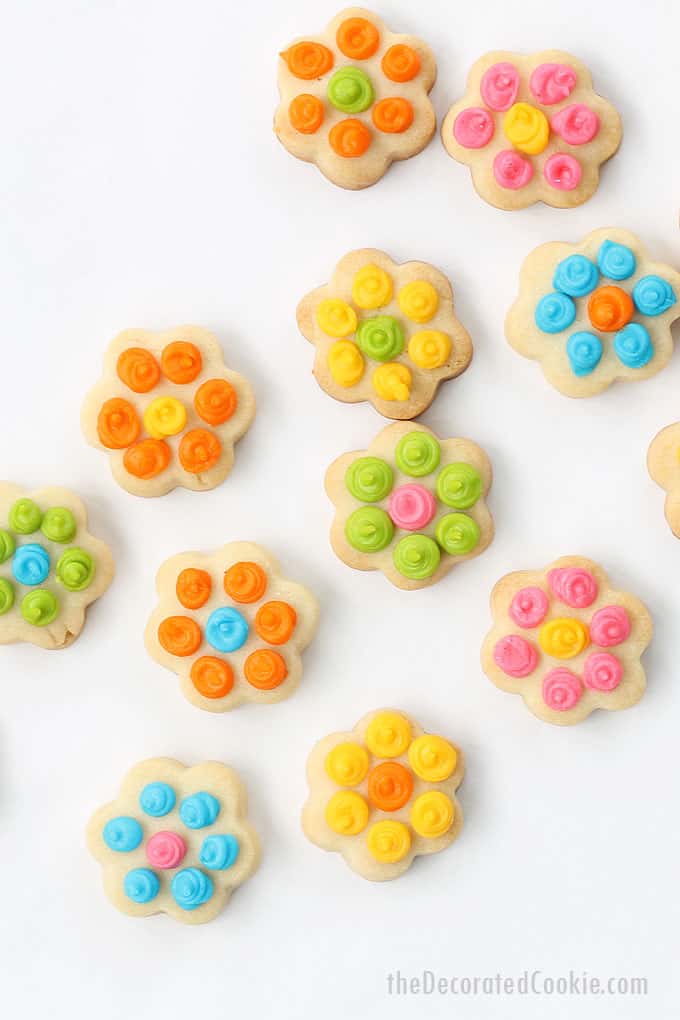 daisy cookie bites
I love polka dot cookie decorating.
Not that "polka dot cookie decorating" is an actual thing, but I mean, I love shortcut cookie decorating ideas, like only piping dots and coming up with a pretty rainbow of flower cookies to give to mom on Mother's Day.
I'm hoping she doesn't remember, but I've made daisy cookies before for mom.
Note those are on little circles, so this flower cookie cutter to make daisy cookie bites isn't even necessary.
No skill is necessary either. All you have to do is squeeze dots of icing. That's it. Serve at a Spring party in a bowl, or package in cute containers or cello bags with ribbon to give as party favors or a gift.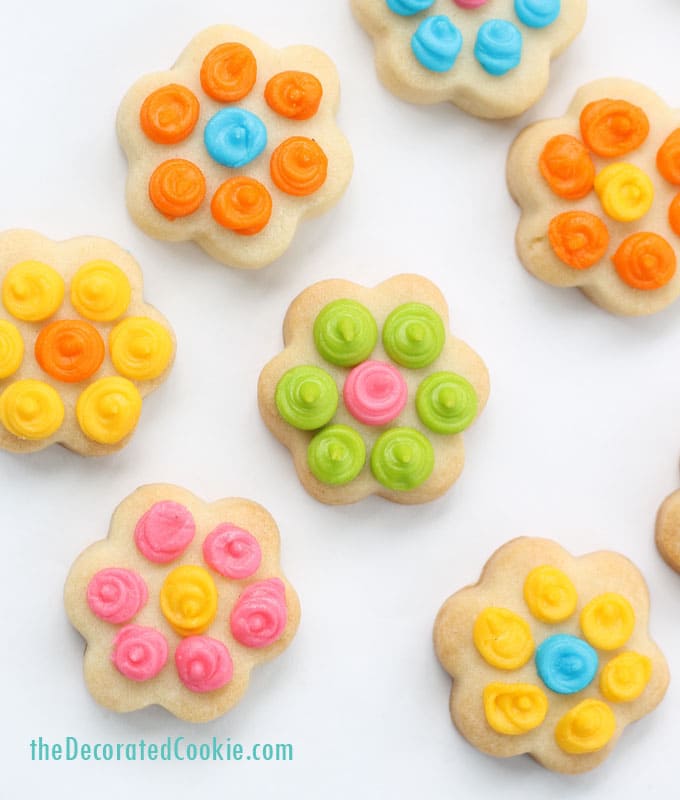 Here's a quick video how-to to guide you along:
how to make daisy cookie bites
you will need:*
cookie dough
royal icing
food coloring
disposable decorating bags
couplers
decorating tips, size 4
small flower cookie cutter
*To find supplies, click on each link above, or, see here for tips on finding supplies. For food coloring, I suggest Americolor Soft Gel Pastes, Electric Pink, Egg Yellow, Orange, Sky Blue and Electric Green used here. For tips on general cookie decorating, click HERE.
For more cookie decorating recipes, click here. If you need vegan cookies and icing recipes, click HERE.
what to do:
Prepare cookie dough according to the recipe, chill it, roll it out and cut out your flowers. Bake according to the recipe and let cool.
Prepare royal icing according to the recipe, divide and color your preferred colors. Prepare decorating bags with couplers and tips, fill with each color and tie closed tightly with rubber bands.
Pipe a dot for the center of the daisy and pipe six dots around in another color. Let dry overnight.