Disclosure: *This post may include affiliate links. As an affiliate, I earn from qualifying purchases.


How to quickly and easily decorate mini cupcakes for spring, birthdays, or any event.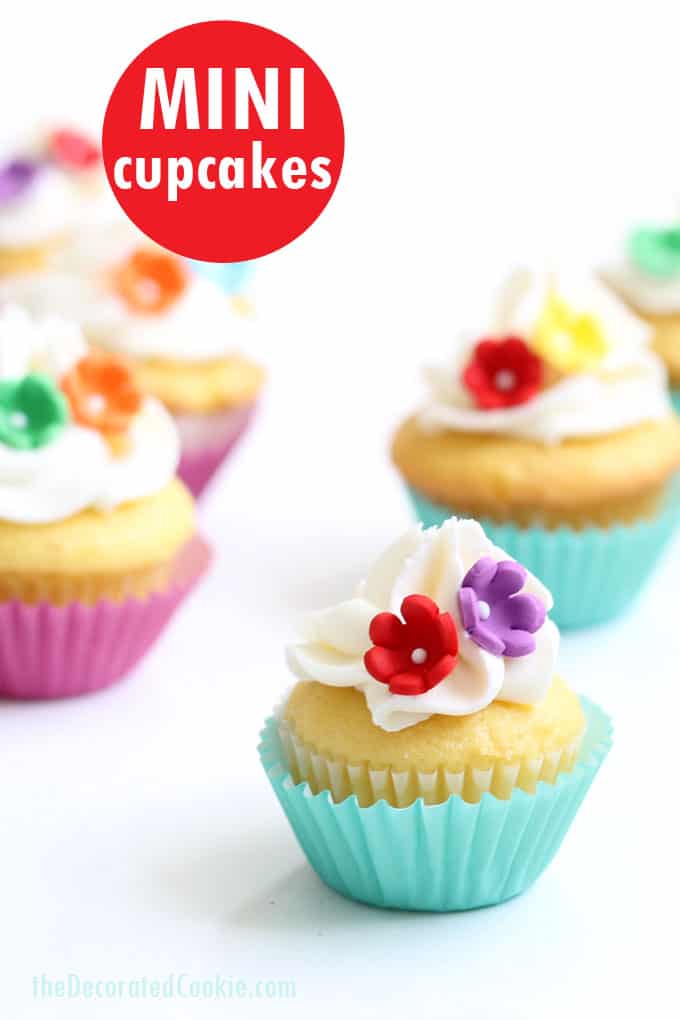 how to decorate mini cupcakes
You know, it's not much harder to bake and decorate your own mini cupcakes than it is to pop over to the grocery store or bakery to buy them.
They are just about the simplest treat to make and give.
This tutorial on how to decorate mini cupcakes is for anyone who thinks they can't decorate cupcakes on their own. Scroll to the end for the VIDEO how-tos.
I often go for the mini cupcakes for their eat-ability. (I made up that term.)
They are just easier to eat at parties, and they help with portion control for the kids. Also, you get more per batch, of course, so you can cover bigger parties with less batches.
To take these one step further, make your own cupcakes wrappers with this mini cupcake wrapper template.
If you like these mini cupcakes, you'll love these cookies decorated with flower tips.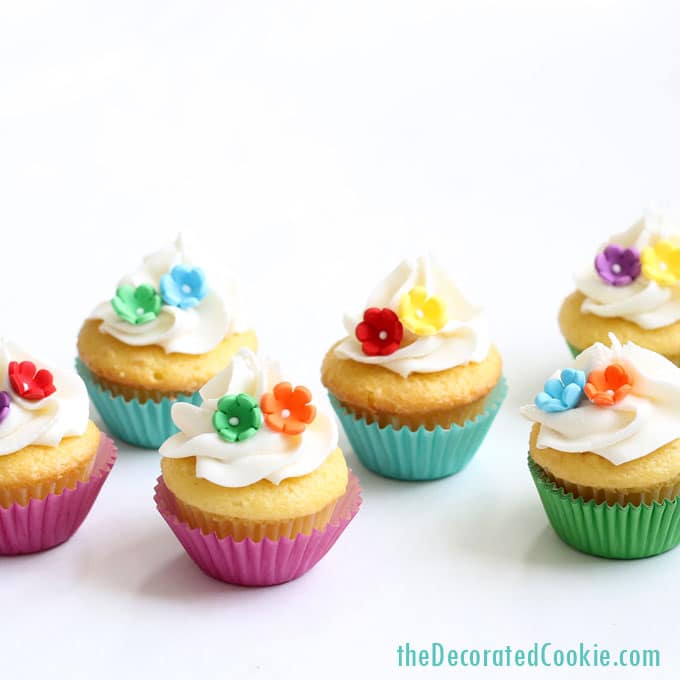 How do you bake and decorate mini cupcakes?
My secret to the best-tasting cupcakes of all?
I use cake mix for the cupcakes and homemade buttercream frosting. That combination has never failed me. And it has never failed to earn me all kinds of compliments and praise. But if you'd like to use your favorite recipe for cake batter, by all means, please do.
Line your mini cupcake pans with mini liners (I sometimes put the cupcakes in additional liners after baking to make them pretty.)
Pour some batter in a disposable decorating bag. and close with a rubber band. Snip the tip.
Pipe to fill the cavities 2/3 full. Don't fill more than that, or the cupcakes will poof up and stick to the pan and be difficult to remove.
After the cupcakes have cooled completely, prepare your homemade buttercream frosting thick enough to hold its shape. (To thicken frosting, add confectioner's sugar. Store-bought frosting is NOT thick enough, so you will have to add a good amount of confectioner's sugar.) If desired, add some food coloring to tint the frosting. I do add white food coloring to make the frosting brighter if I'm not adding any other color.
Fit another disposable decorating bag with a size 1M tip. Fill the bag with the frosting and close with a rubber band. Pipe circles of frosting on each of the cupcakes, refilling the bag as needed.
Immediately add decorations, if using, such as store-bought icing flowers.
I like making the cupcakes the day before or the morning of the event and refrigerating them in a cupcake carrier. The refrigeration helps to keep the frosting firm before serving.