Disclosure: *This post may include affiliate links. As an affiliate, I earn from qualifying purchases.


Have an old T-shirt and a few minutes? You can make your own flower T-shirt rings to dress up any outfit, from jeans to a cocktail dress.

flower T-Shirt rings
I have this habit of buying clothes in subdued colors.
I order a gray shirt and open my closet to find five gray shirts just like it. It's not that I fear bright colors, I just forget that I need brighter colors in my wardrobe. Enter bold accessories.
As long as I have some bold accessories on hand, I can get away with all the much-more-boring clothing choices. And I would call these flower T-Shirt rings bold. Noticeable. Awesome.
They can dress up any outfit easily, and you only need an old T-shirt and a few minutes to make them, which means, if you're getting dressed for your day or night and want a statement piece before you head out, you can make a flower T-Shirt ring.
And, by the way, they are the most comfortable rings you'll ever wear, what with being made from tees and all.
Don't worry if your flower looks sort of flat when you first make these rings. Over time (and we're talking hours, not days), the edges will curl up and your flower will look more flower-y.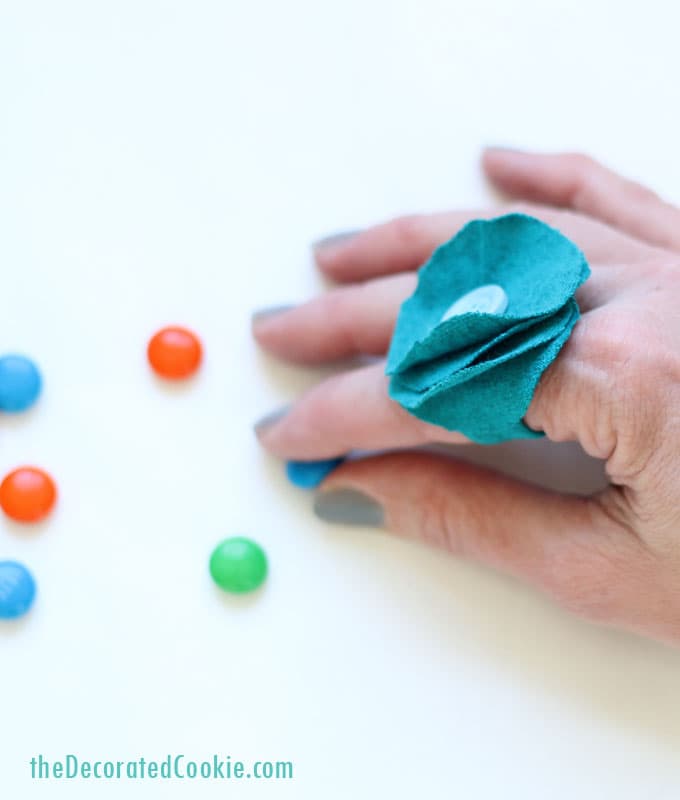 you will need:
old T-shirt
scissors
thread
needle
button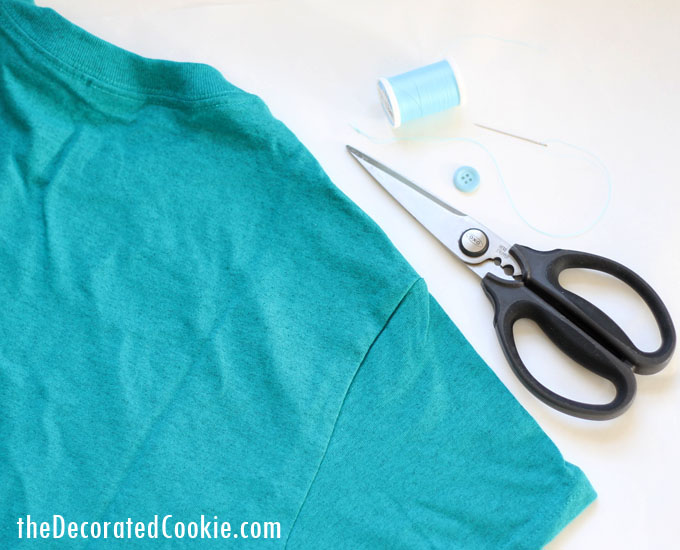 First, you'll need to make the band for your finger. Cut a strip about 4-inches long from the hem of the shirt at the bottom, being sure to cut just around the sewn edges.
Wrap this strip around the finger you'll wear your ring. Wrap the strip snugly, as the tee will stretch a bit over time and you'll want a secure fit.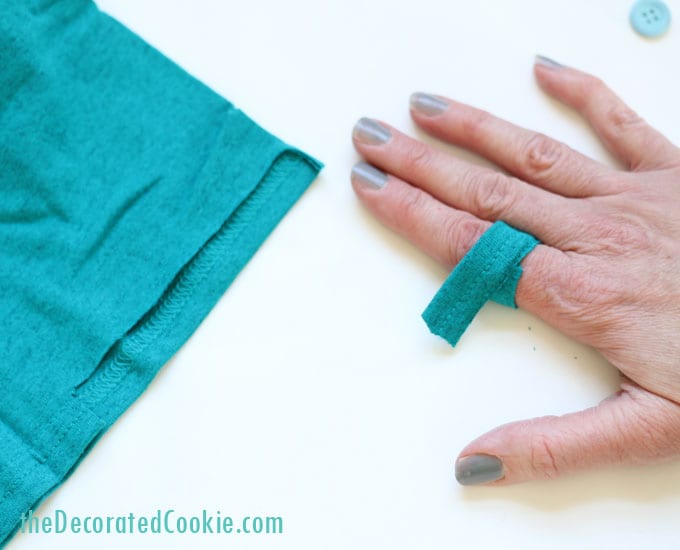 Pinch where the edges meet, slide the strip from your finger and sew the edges to form a ring. Cut any excess from the strip. Don't worry how neatly you sew the edges, as this seam will be covered up.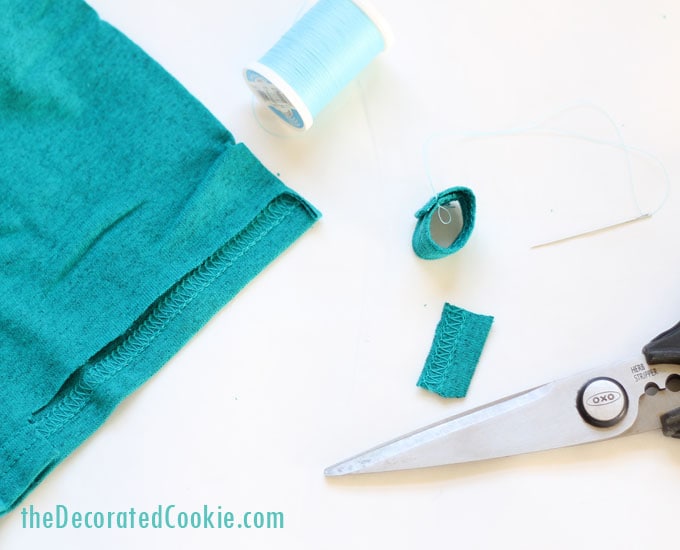 Fold the side of the shirt over so you have four layers of the shirt. Cut out a 1 1/2 to 2-inch circle. You'll have four circles. Sew the button on in the center of the stack of fabric circles and then sew the flower on the band at the seam.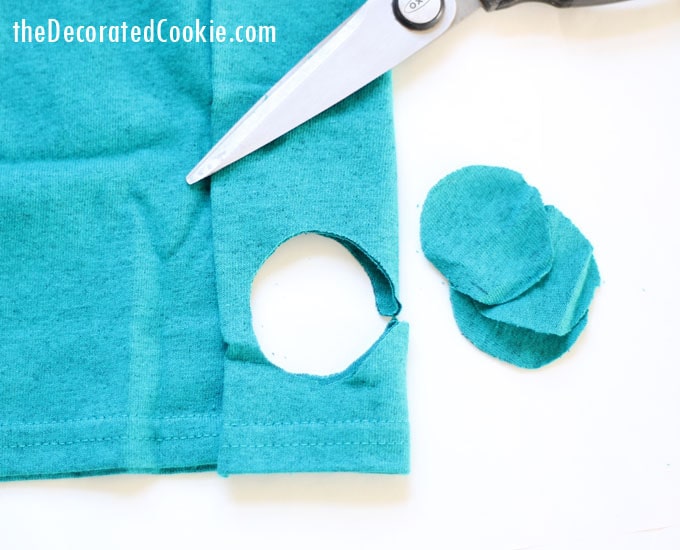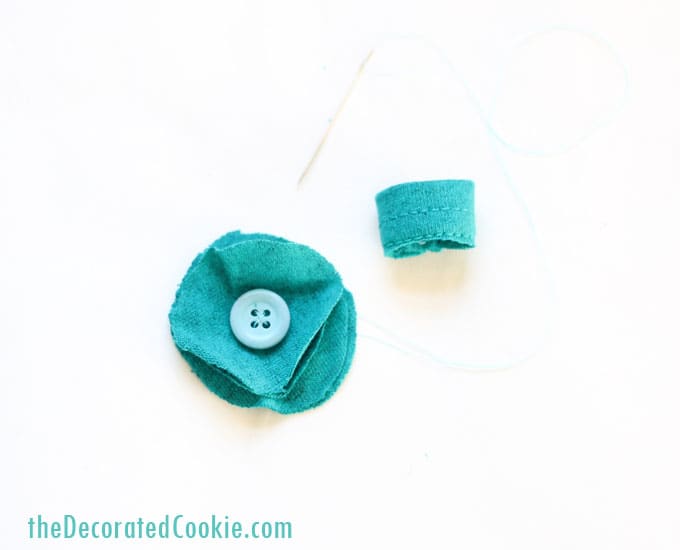 This T-shirt ring craft also appears on Crafts By Amanda. Be sure to check out all the awesome crafts on her site, too!
I love my ring, and on the first day I wore it, I got three compliments from friends and a sulk from my daughter because she wanted one. I think I'll have to dig into my drawer for more tees so I can make flower T-shirt rings in every color. If you like these bright T-shirt rings, try making a no-sew rainbow fleece scarf.
You might also try this no-sew T-shirt bracelet.