Disclosure: *This post may include affiliate links. As an affiliate, I earn from qualifying purchases.


Make your own boob sprinkles for breast cancer cupcakes.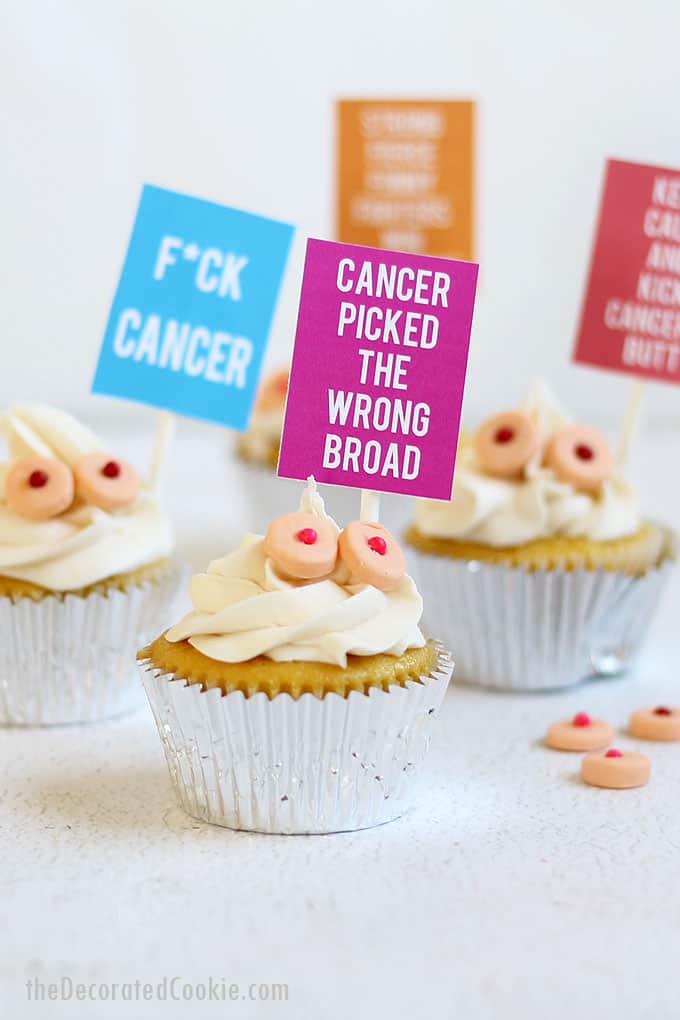 boob sprinkles
You read correctly. Gosh, I hope I don't start getting porn spam because of some SEO keyword thing. These are boobs. Boobs boobs boobs. Everywhere boobs. Even boob sprinkles on cupcakes.
Because talking about boobs is important. Because a friend of mine was just diagnosed with breast cancer, so I made her some breast cancer cupcakes.
And I'm shocked and sad and worried. I digress from her story, because it's not for me to share.
Instead I'll share with you how to make boob sprinkles so you can celebrate the women in your own life that are fighting and surviving breast cancer.
Do you need to schedule a mammogram? I'm 43 years old and I'll had my 3rd mammogram on February 1st, bright and early in the morning. (TIP: It's best to schedule such appointments first thing before they get backed up.)
As many know, I've been struggling with disease for over 20 years. I've had my colon removed, my intestines reconstructed and a third of my lung removed. While I understand what it means to lose your body and to be physically pushed to the threshold of death, to waste away and rebuild, I do not know what it means to be told "You have cancer." And my heart (and boobs, in spirit) goes to each one of you that does know what that means.
For me, and admittedly, not for everyone, moments of humor when going through the worst, the most serious, and the scariest, were a relief. Rare, but a relief. My lung surgery was especially difficult, as they needed to pry open my rib cage. The incision is the longest, about 18 inches, and the recovery was considerable. Just after, when I was in too much pain to move, I received a post card from my friend. This postcard: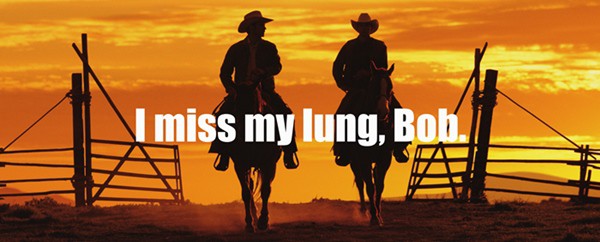 And I laughed. It hurt, but I laughed. That surgery was years and years ago, but I still remember that postcard.
Which brings me to the boob sprinkles. You know those you love. If they need some humor and wouldn't mind these, please add some boob sprinkles to their cookies or cupcakes or cakes or whatever. I tried to make these pretty tame and just under the top. They are almost even cute. It looks like this cupcake is staring at me.
I made up some tags to go with the cupcakes, too. I cut them out and taped them to lollipop sticks.
how to make breast cancer cupcakes
you will need:*
white rolled fondant
peach, brown or ivory food coloring, depending on skin tone (peach used here)
5/8-inch circle cutter
jumbo rainbow nonpareils sprinkles
light corn syrup
*Find the fondant and sprinkles in the craft store or online. You may also find the cutters there. This cutter is part of the Ateco circle set. For food coloring, I suggest Americolor Soft Gel Paste in Peach for Caucasian flesh. Chocolate Brown for black and Latino skin colors and Ivory for other tones. Use varying amounts of food coloring to achieve personalized shades. Click here for more information on supplies or see below for supplies.
What to do:
Grab a chunk of white fondant (a ball that fits in your palm will make a ton). Add a drop of food coloring and knead well. If necessary, add more drops and knead until desired color is reach.
Roll the fondant out about 1/4-inch thick. Roll the fondant on a surface dusted with confectioner's sugar and/or on wax paper. Lift up the fondant to make sure it isn't sticking.
If the fondant feels sticky, dust with confectioner's sugar or let it sit out at room temperature about 15 minutes until it's easily pliable. Cut out circles.
Press a red or pink sprinkle in the center.
TIP: To be sure the sprinkle stays, use a toothpick to place a tiny drop of light corn syrup on the circle first and then press the sprinkle in the center. Let dry. Keep in a single layer in a sealed container for several weeks.
how to make the breast cancer cupcakes
What to do:
Prepare cupcakes according to your favorite recipe. Prepare frosting.
Fit a disposable decorating bag with a size 1M tip, fill with icing and close the top with a rubber band. Pipe a swirl of frosting on the cupcakes.
Refrigerate the cupcakes up to a day ahead. Add some boob sprinkles before serving. If you like, add a tag taped to a lollipop stick or skewer and stick in the cupcake.
SUPPLIES