Disclosure: *This post may include affiliate links. As an affiliate, I earn from qualifying purchases.


How to decorate polka dot daisy cookie bites.
Because all these daisies are is a bunch of dots. That's it. So easy. Anyone who is afraid of cookie decorating… start with these. Oh, and they are tiny. Bite-size, in fact. Polka dot daisy cookie bites.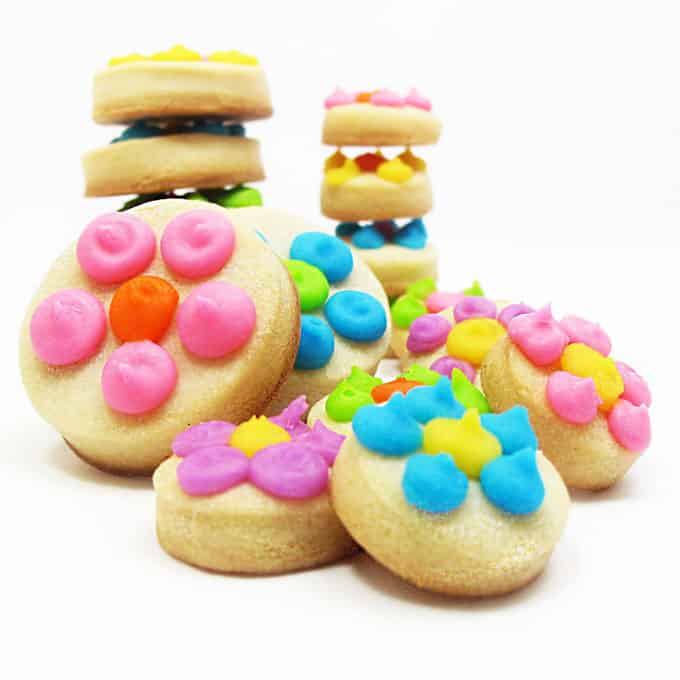 And here are a couple of serving and packaging ideas: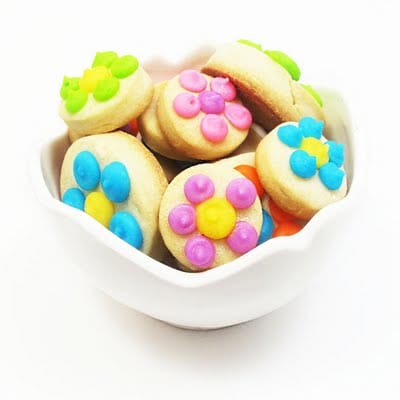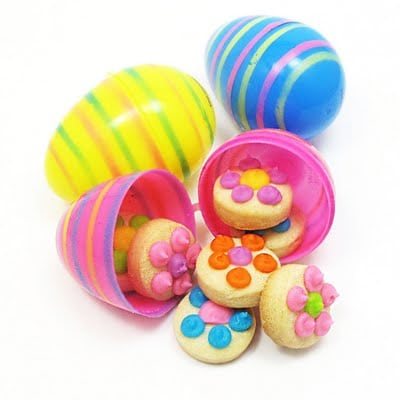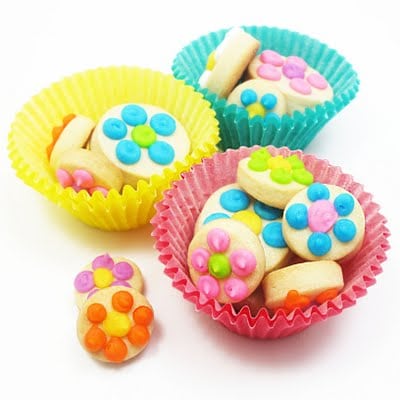 how to make daisy cookie bites
*For food coloring, I suggest Americolor soft gel pastes (Orange, Egg Yellow, Electric Green, Electric Pink, Electric Purple, and Sky Blue). For the cookie or fondant cutters, I used 1-inch and 1 1/2-inch cutters. Find decorating bags, couplers, tips, and the cutters at the craft store. You'll need one bag, coupler and tip for each color you use. For more tips on finding cookie decorating supplies, CLICK HERE.
step one: bake your cookies
Prepare cookie dough according to the recipe, chill, roll out about 1/4-inch thick, cut out circles and bake. Because these cookies are small, reduce the baking time by several minutes. Keep your eye on the cookies; they are done when the edges are golden. Let cool completely.
step two: prepare your icing
Prepare royal icing according to the recipe, divide, and tint your colors. I used: orange, yellow, lime green, pink, purple and blue. Prepare decorating bags with couplers and tips, fill with the colors, and close with rubber bands.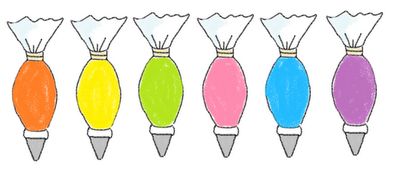 step three: decorate your cookies
Pipe dots. That's it. (Hold the bag vertical to the cookie, squeeze, press down, then pull up quickly.) For the smaller cookies, I piped a dot in the center and five dots around. For the larger cookies, I piped six dots around the center dot.