Disclosure: *This post may include affiliate links. As an affiliate, I earn from qualifying purchases.


How to use food writers to make Easter marshmallow art.
Remember this keep-kids-busy Thanksgiving marshmallow art idea? I think I might use it for every holiday.
This year we're having at least 3 toddlers.
I thought about decorating Easter eggs, but with a morning brunch, Easter egg hunt, and cooking Easter dinner, I groaned at the mess.
So here's an alternative to keep things tidier on Easter day (not to worry, purists, we've done our share of Easter egg decorating this year already): Make Easter marshmallow art.
what to do
While I've had great success washing any edible marker stains, I still suggest taking any precautions to avoid such a thing.
To set up this activity, line a table with freezer paper, craft paper, wax paper or anything to protect the surface.
Put out a bunch of marshmallows and edible markers, and let the kids go. Flowers, dots, bunnies, chicks…. scribble.Whatever.
TIP: It's easier to draw on the marshmallows if they are left to sit uncovered for a couple hours prior.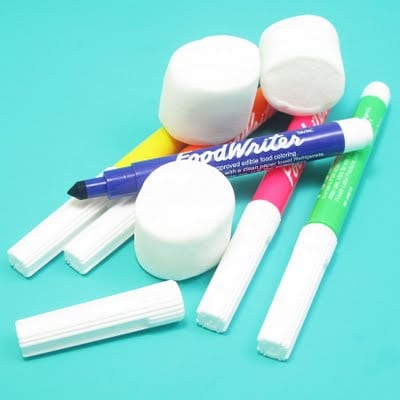 where to buy food coloring pens
The craft store, such as Michaels, will have markers, probably Wilton FoodWriters. While I don't use these thicker-tipped markers for my fine detail drawings, for kids and Easter they work just fine.
Americolor Gourmet Writers. These are my go-to markers, available online and at some specialty cake decorating stores. If you don't have the latter near you, these may be tough to find before Easter, so stick with the craft store.
FooDoodler markers are great, and I prefer the set of Fine Line markers. These are also available online, but I've seen FooDoodlers (not the fine line, just the thicker tips) at Sur la Table stores.