Disclosure: *This post may include affiliate links. As an affiliate, I earn from qualifying purchases.


Sparkly rainbow marshmallow kabobs! Coat marshmallows in sprinkles and stack on a lollipop stick.
So these sparkly rainbow marshmallow kabobs have been such a hit over the years, I'm back with some updates! I made some more… and, I made a video for those of you more visually inclined. The regular how-tos are still below if you're more of a traditionalist. And by the way, as mentioned below, years later, my daughter is STILL really into rainbows. And unicorns and fairies.

These came about mostly my accident. I was trying something else that didn't work and ended up with these rays of sunshine. My daughter is into unicorns and rainbows now (ah, does a '80s kid like me proud) so I'm hoping she still is at her next birthday.
See below for written instructions. But if you still need some more rainbow-y marshmallow ideas, use this same method to make unicorn-approved rainbow s'mores dip! It's amazing. And grown-ups, did you know you can use vodka instead of water here? Check out these vodka-dipped rainbow marshmallow pops.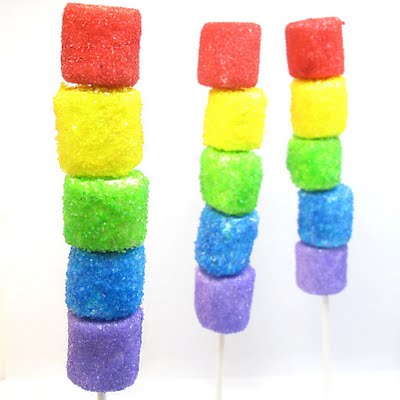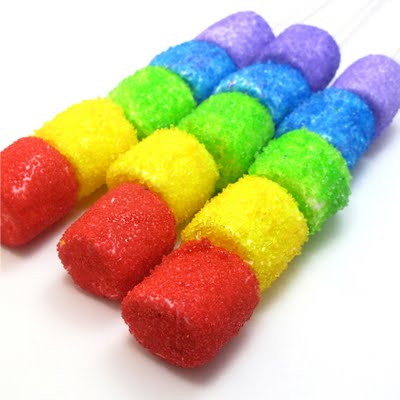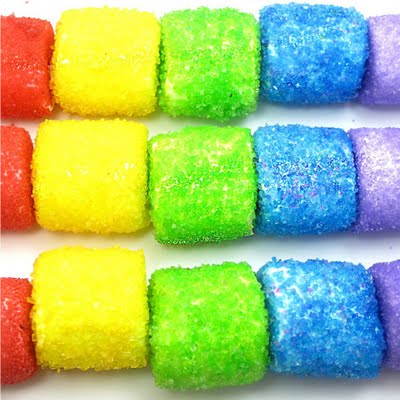 how to make sparkly rainbow marshmallow kabobs


you will need:*
marshmallows
toothpicks
bowl of water
sprinkles or sanding sugar, variety of colors
wax paper
lollipop sticks, 12-inch
paper towels
crisco
*I used red, yellow, green, blue and purple sprinkles. In the updated version, I also use pink instead of red, and I add orange. Find 12-inch lollipop sticks in the craft store or online.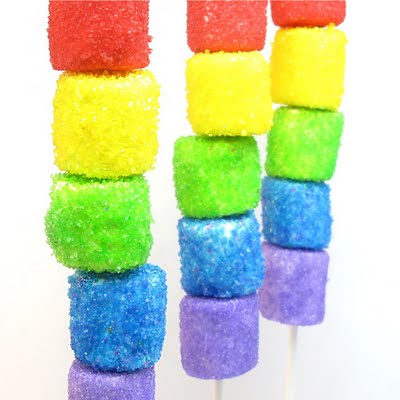 step one: add sprinkles to marshmallows
Have ready a bowl of water, a paper towel, an empty bowl or plate, an open container of any color sprinkles and a piece of wax paper. Skewer a marshmallow at one of the flat ends with a toothpick. Use the toothpick to hold the marshmallow, submerge the marshmallow fully in the water quickly, and remove. Dab the excess water on the paper towel, hold the marshmallow over the empty bowl and sprinkle generously with sprinkles to entirely coat the marshmallow. Carefully remove the marshmallow from the toothpick and set on a piece of wax paper to dry. Let dry several hours. Repeat with more marshmallows in the different colors.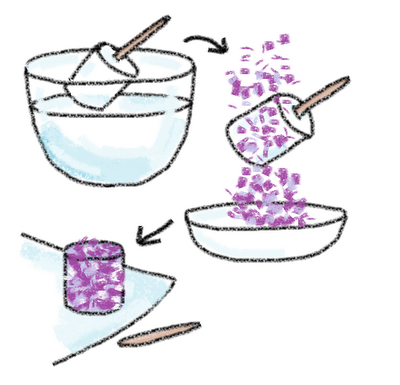 step two: add the stick
Dab a paper towel in Crisco and grease the top half of a lollipop stick. Slide the rainbow of marshmallows on the stick. Tips: Don't skip the Crisco, it makes this step much easier. And, insert the lollipop stick into the hole left by the toothpick.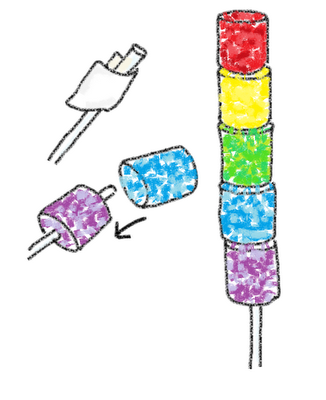 Ta da! Rainbow marshmallow awesomeness.
MAKE AHEAD TIPS:
The sprinkles make a nice coating on these marshmallows that keep the outside crunchy and the inside soft. Once they are dry, you may store these up to three days in advance of serving. I like to line a
large, flat Tupperware
container with parchment or wax paper, place the kabobs in a single layer and cover.