Disclosure: *This post may include affiliate links. As an affiliate, I earn from qualifying purchases.


How to decorate drag queen cookies. A silly, fun decorated cookie idea!
So here's how these drag queen cookies came about. Last week, I posted on my facebook page (what I thought was a cute) story about a drag queen reading to kids at a library. Hoooooboy. The angry responses were overwhelming. I figured some folks would feel uncomfortable if this was outside their every day, but I did not anticipate the rage and anger. I received many messages telling me that I was being unfollowed (indeed, I lost hundreds of followers) and that I was disgusting. I also received more than a few messages telling me "I should really just stick to cookies." Great suggestion!! Ergo… drag queen cookies.
I live in Washington DC. Every day, I interact with people from all over the world, people of every color, people of every gender configuration possible. I've lived with more than a few of said people, too. I've helped drag queens get ready for their nights on the town, for gosh sakes. I've re-learned, because I'm pretty sure kids are born with this ability, that acceptance of every possible way of being–no matter how absurd or bizarre it might seem to you– is the best way to ensure happiness and peace for the maximum number of humans. If indeed, that is your goal. I believe most people are good and do have this goal (right, reader?). Think about what the state of our world would be if every single human just accepted every single other human. No matter their gender, sexual orientation, color, religion, choice of shoes. Each individual can live their life how they feel happiest, and if you live differently, it doesn't matter in the slightest. You can keep living how you live and just not care that there's a drag queen living down the street. (Unless she blasts her music too loudly or has a barking dog. Then complain away; I'm with you on that one.)
The solution is simple: Have no hatred for difference. Bam. I just solved the problem of world peace. No more wars based on religion. No more stones thrown at others. No more riots for civil rights. No more eye rolls when someone wears white before Memorial Day. Calm descends on the world.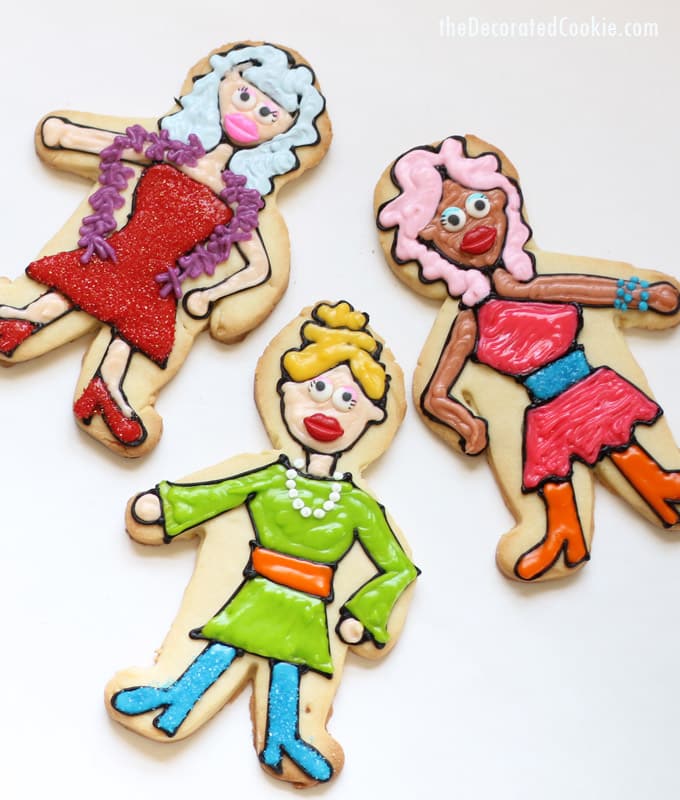 Back to cookies. If drag queens aren't your thing… then just think of these cookies as people dressed up in fun costumes. Or as lounge singers. You can make the outfits any color or style you like, tame or outrageous. Same goes for the hair color and accessories. These are cookies. They are silly. They are delicious. They are transient (no, not that kind of trans… I mean they won't last long because they will be eaten). No one was harmed in the making of these cookies.
tips to make drag queen cookies
For tips on buying cookie decorating supplies, click here. For more cookie decorating recipes, click here.
(By the way, if you need vegan cookies and icing recipes, click HERE.)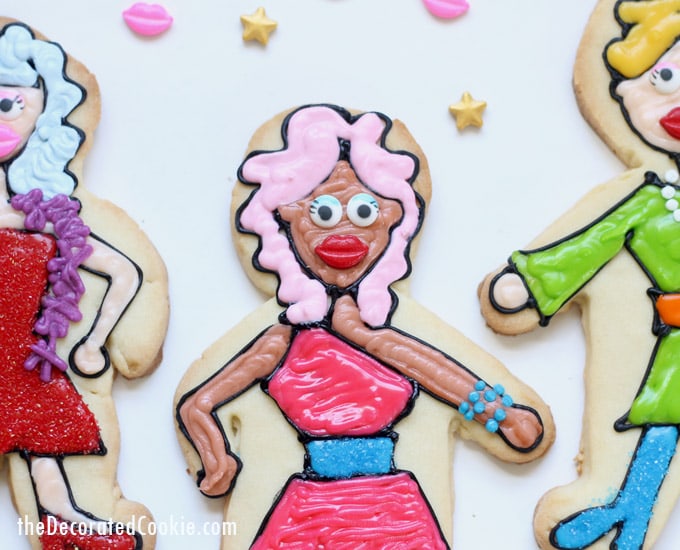 First, bake your cookies.
Prepare cut-out cookie dough, chill it, roll it out, cut out your cookies, and bake according to the recipe. Let cool completely. Here, I started with a basic gingerbread man cookie cutter. I bent the arms a bit and cut out additional space around the head to allow for big hair.
Second, make your icing.
Prepare royal icing according to the recipe. Divide it and make some colors. I like a thicker icing for outlining and for details on top (like the boa and bracelets) and a slightly runnier icing for filling in, but you can really choose whatever consistency works best. Fill disposable decorating bags fitted with couplers and tips and close tightly with rubber bands. For tips on food coloring and where to get it and what colors to choose, click here.
Third, decorate your cookies.
For basic cookie decorating instructions, click here. To make drag queen cookies, I outlined each cookie first in black using a size 2 tip. To fill in the cookies, I used a size 3 tip.
If you are adding sprinkles to any part of the drag queen's outfit, fill in these sections first, coat with the same color sprinkles, and then turn over to remove the excess.
Any accessories, such as necklaces or boas, can be done on top of the decorated cookie using a size 2 tip.
For the eyes and lips, I found a Wilton candy decorating kit at the craft store that had them both. You can also buy lips sprinkles and candy eyes separately. Use food writers to draw eye shadow and lashes on the candy eyes. Attach the eyes and lips right after you fill in the face with icing.
Let the cookies dry overnight.