Disclosure: *This post may include affiliate links. As an affiliate, I earn from qualifying purchases.


These "messy" 4th of July fireworks cookies are easy to decorate for the beginner cookie decorator, or the imperfectionist (like me).
fireworks cookies
I'm a messy cookie decorator. I am. It's easier and quicker and I am always soooo busy! (Aren't we all?) These "messy" 4th of July fireworks cookies are so cute and simple to make because imperfection is encouraged.
How do you feel about messes? Do mounds of shoes, balls of cat fur and piles of paper drive you mad? They drive me mad.
But my husband, our kid, our baby, our three cats make messes.
None of the above mind or notice said mess. I mind and notice said mess. I chase after all of the above tidying. Always tidying. I think if I keep my house in total order, all magazine-home-like, my mind will be at rest. I will be in total control of life's chaos. Except I'm messy by nature and lack cleaning skills. I'm impatient and imprecise.
I "clean" by quickly wiping down visible surfaces. I vacuum cat fur every day, but only what's apparent to the eye. I don't lift stuff. Or scrub. Our toothpaste is abominable. And don't get me started on the car. I'm pretty sure there are food products petrifying under the seat, but I'm afraid to look.
If you like these, try these red, white, and blue swirl 4th of July cookies.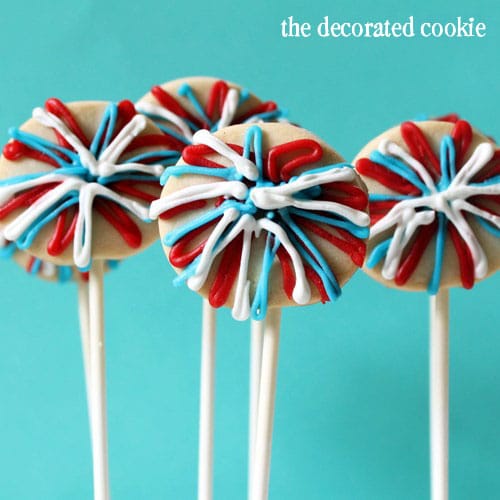 imperfect cookies
My cookie decorating reflects this rushed imperfection. I'm in awe of those decorators who are machine-like perfect. (You know who you are, Bridget, Callye, Glory, Marian, Hani… ) I'm not. And never will be. Which is why I've been embracing this whole "messy" cookie thing lately. Like these chaos cookies, chaos heart cookies, messy letter cookies and monster cookie sticks. It's OK to be messy with your decorating when you say it's on purpose.
In case you can't tell, these are supposed to be firework cookie pops. I made them messy on purpose.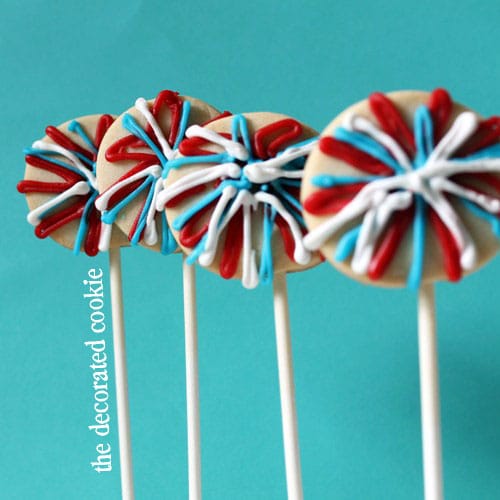 how to make fireworks cookies
you will need:*
circle cutter

cookie sticks

food coloring

disposable decorating bags

couplers

size "3" decorating tips

rubber bands
*Find the circle cutter (2-inch used here), cookie sticks, decorating bags, couplers and tips at the craft store. For the food coloring, I suggest Americolor Soft Gel Pastes. (Sky Blue, Red Red and Bright White used here).
step one: bake your cookies. Prepare cookie dough according to the recipe. Roll out, cut out circles, insert sticks and bake according to the directions. Let cool completely. For tips on making cookie pops, click HERE.
step two: prepare your icing. Prepare royal icing according to the recipe. Divide and tint red, white and blue. Prepare decorating bags with couplers and tips, fill with the icing and close tightly with rubber bands.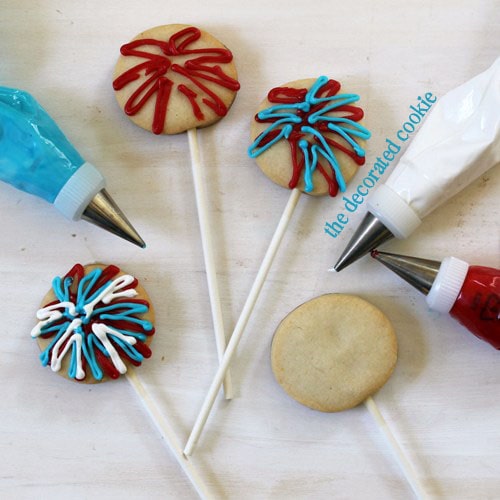 step three: decorate your cookies. Pipe each color on the cookie. Start at the center and pipe out. For tips on basic cookie decorating, click HERE. Let the cookies dry overnight.