Disclosure: *This post may include affiliate links. As an affiliate, I earn from qualifying purchases.


Even beginner cookie decorators can make these cute, easy bunny decorated cookies for Easter. Scroll to the end of this post for links to ALL the Easter Sweets shared today on fabulous blogs.
This post and recipe was created for #EasterSweetsWeek. I was sent samples by some of the sponsor companies, but received no other compensation, and all opinions are mine.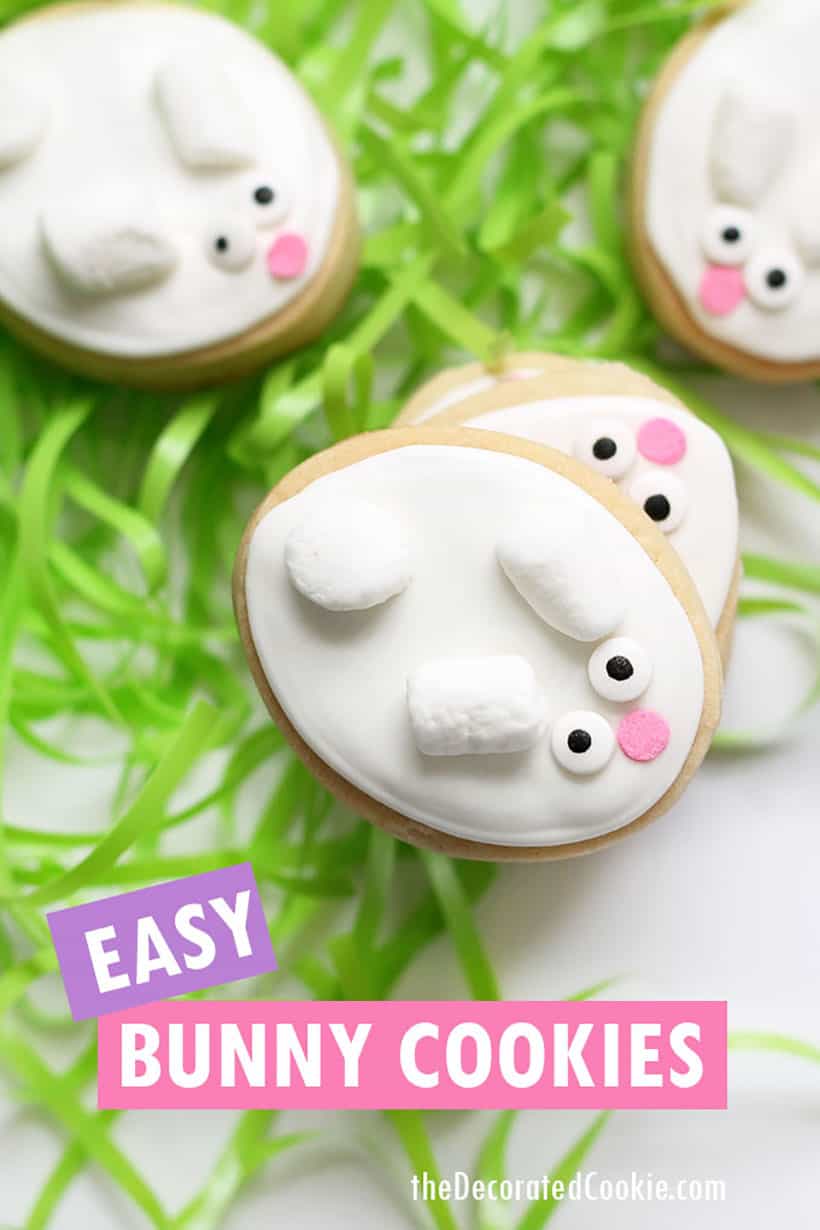 bunny decorated cookies
Yikes! It's the week before Easter! Or, as we in blog land are calling it, #EasterSweetsWeek. I've joined my fellow bloggers in making fun treats for Easter all week long. I'm starting off with these easy bunny decorated cookies.
All you need is a circle or oval cookie cutter, some icing, and marshmallows and candy to decorate the cute bunnies. This is a great Easter cookie idea for beginners.
Need more fun food ideas for Easter?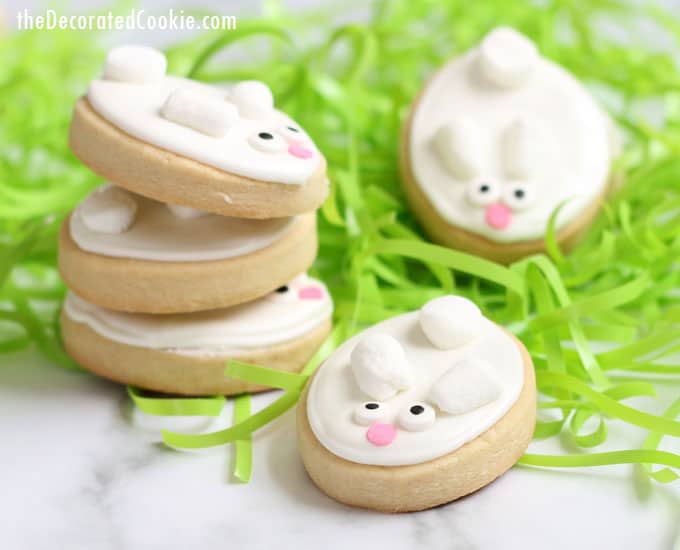 how to make easy bunny decorated cookies
you will need:
basic cookie decorating
step-by-step instructions:
Prepare the cookie dough according to the recipe, chill, roll out, cut out circles or ovals, and bake. Let cool completely.
Prepare the royal icing according to the recipe. Tint the portion you need with white food coloring. The consistency of my icing here is thick enough to outline the cookie without oozing off the sides, but thin enough to lose the lines of frosting when I pipe to fill the cookie. Prepare a decorating bag with the decorating tip, fill with the icing, and close tightly with a rubber band.
Have ready some pink confetti sprinkles, candy eyes, and the marshmallow tails and ears. For the tails, cut a mini marshmallow in half at the width. For the ears, cut a mini marshmallow in half length-wise.
Pipe an outline on your circle or oval cookie. Pipe to fill the cookie. Attach a sprinkle nose, candy eyes, two ears, and a tail.
Let the cookies dry overnight.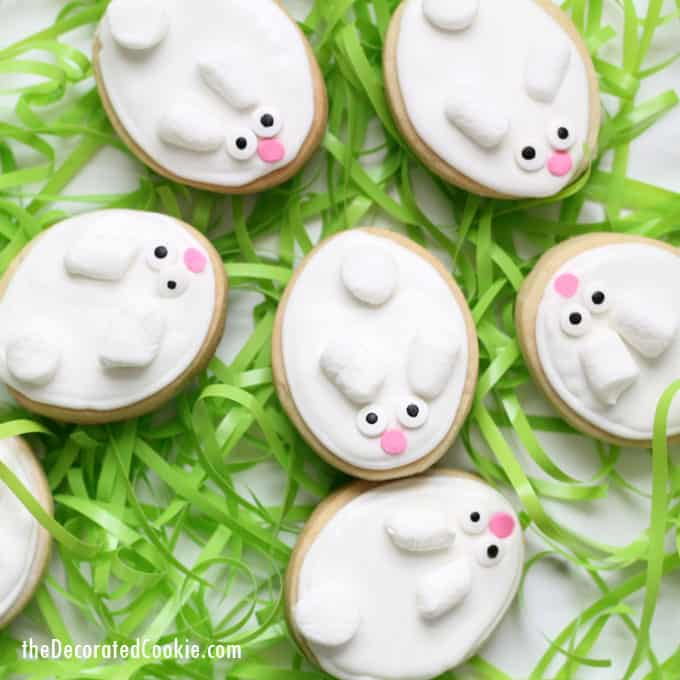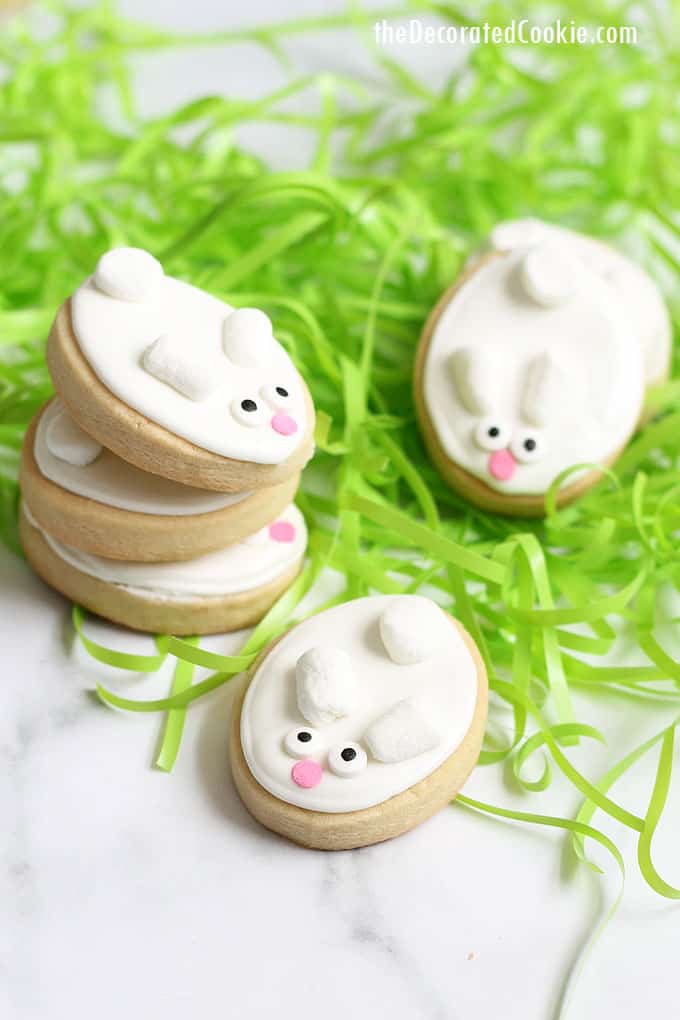 thank yous
Thank you to Angie of Big Bear's Wife for organizing this treat-filled week!
Sending thanks to some fabulous companies for sending bloggers gifts this week! I got gorgeous, perfect apples from Rainier Fruit, awesome tools from Microplane, a springform baking pan from Anolon (treat coming soon using this pan), much-needed vanilla extract from Adams Extracts, and lots and lots of sugar (the confectioner's sugar used in the recipes above) from Dixie Crystals.
Check out the amazing #EasterSweetsWeek recipes from our bloggers today!
Brownies:
Cakes:
Candy:
Cookies:
Baked Desserts:
No Bake Treats:
Welcome to this year's #EasterSweetWeek event hosted by Angie from Big Bear's Wife. We're so glad that you've joined us for this week long event of Springtime and Easter dessert recipes! We're sharing tons of treats this week plus a few fantastic giveaways! You're going to love what we have in store for you.
GIVEAWAY ENDED
This year we have are 28 fantastic bloggers participating in this year's Easter dessert event! Throughout the week we'll be share tons of great Springtime and Easter themed dessert recipes with you. With over 75 sweet dessert recipes being shared this week we just know that you're going to want to save some of these recipes to make again and again!