Disclosure: *This post may include affiliate links. As an affiliate, I earn from qualifying purchases.


Easy Easter bunny pretzels made with pretzels, chocolate, and food writers.
Easter bunny pretzels
When I say "easy Easter bunny pretzels," I really mean, seriously, these are the world's easiest Easter bunny pretzels you can possible make for Easter. They are so easy even the littlest and messiest of kids can make them.
I'd like to say I'm resorting to shortcuts and easy treats because we are undergoing a basement renovation and my house is chaos and I literally have a jack hammer going under my feet as I type, but that's just an excuse. I'm always about the easiest possible treats.
Fill cups with these sweet and salty treats for your Easter gathering, or package them in little bags to tuck in kids' baskets next to the Easter bunny's loot or bring in to a classroom party. Or forget the whole Easter thing and just make them for Springtime fun.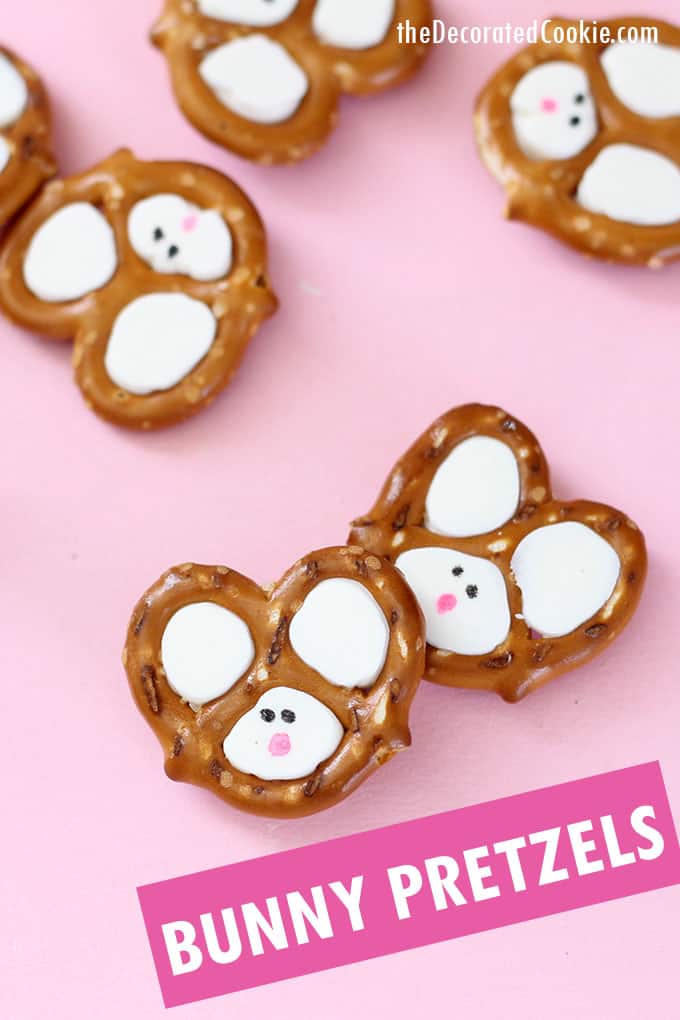 more easy Easter treats:
Here are some video how-tos:
how to make EASY Easter bunny pretzels
you will need:*
mini pretzel twists
bright white candy melts
disposable decorating bags
black food writer
pink food writer
*Find all of the above in the craft store or click the affiliate links above. Food writers don't always write well on candy melts, but because here we're just making dots, they should work just fine. (Note above I linked to my favorite food writers. You can also find smaller packs of four food writers in the craft store for less money.)
what to do:
Line a baking tray with wax or parchment paper and arrange some pretzels. Pour about 1/2 to 3/4 cup of candy melts into a disposable decorating bag.
Microwave at 70 percent power for 90 seconds. Massage the bag and continue to microwave at 15 second intervals until totally melted. Be sure not to overheat the candy melts or the bag will get too hot! Alternatively, you can melt the candy in a bowl and pour into the bag. For kids, you may want to close the bag tightly with a rubber band.
Snip the tip of the decorating bags and pipe the candy to fill the pretzels. Let set very well, 30 to 60 minutes. Flip the pretzels over and draw eyes and noses with the food writers.