Disclosure: *This post may include affiliate links. As an affiliate, I earn from qualifying purchases.


Easy Cheerios birdfeeders, a fun nature craft for kids of all ages. Free printable instructions included.
Cheerios birdfeeders
Ever the supermom wannabe, I of course volunteered to help out with the Family Fun Day at my daughter's school, even though we couldn't attend said Family Fun Day due to a family event up in Jersey. The day was garden-themed. My tasks were to turn pieces of cardboard into signs and to come up with a make-your-own-birdfeeder idea, or easy Cheerios birdfeeders.
(Need more activities for kids? Try this free printable fidget spinner game.Or try this watermelon suncatcher. You can also make birdseed feeders here.)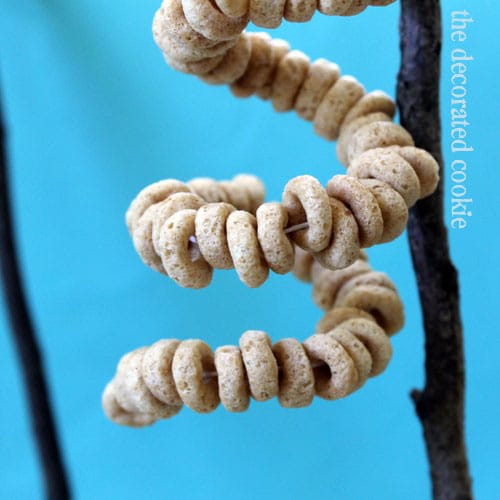 First, look at my awesome signs. I'm pretty proud of these, which is why I'm posting a photo here even though it has no place in this blog post.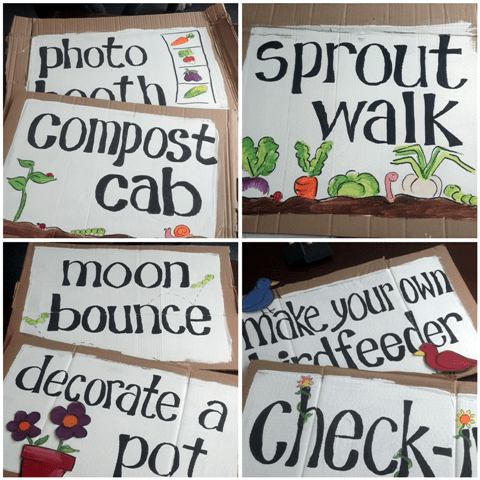 Second, we made Cheerios birdfeeders. I thought about some alternatives first. I wanted to make birdseed ornaments, but every how-to I could find involved baking, which wasn't going to happen with a line of kids on the school grounds. I thought about painting toilet paper rolls with honey and rolling them in birdseed, but imagine the mess 150 kids with honey could create. Not to mention some kids have sesame seed allergies. So a google search later and I decided on Cheerios birdfeeders. How did I miss that this existed? They are everywhere on google. Easy peasy, inexpensive supplies, limited mess, fitting for both the younger kids and older, and easy to tote around afterwards.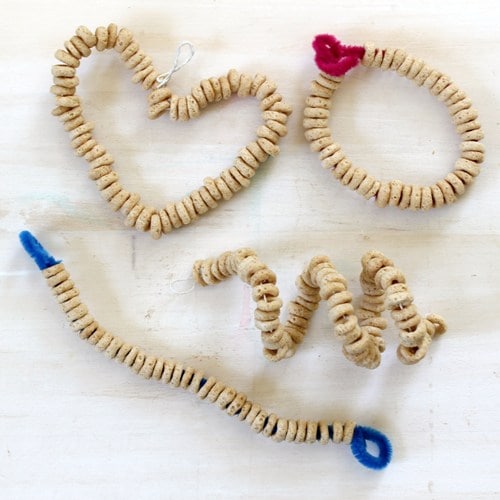 To make Cheerios birdfeeders…
you will need:*
Cheerios

pipe cleaners (younger kids)

floral wire (older kids)
*The Cheerios came from Costco. I also got these pipe cleaners and floral wire. I printed up these instructions. And I made a display be wrapping a Styrofoam block in green tissue paper and popping in a stick I got from the backyard. I also precut a bunch of pieces of yarn in case they wanted to add a bow to tie to their tree. To make the spiral Cheerios, you can use a big marker for the mold or make a paper tube from cardstock.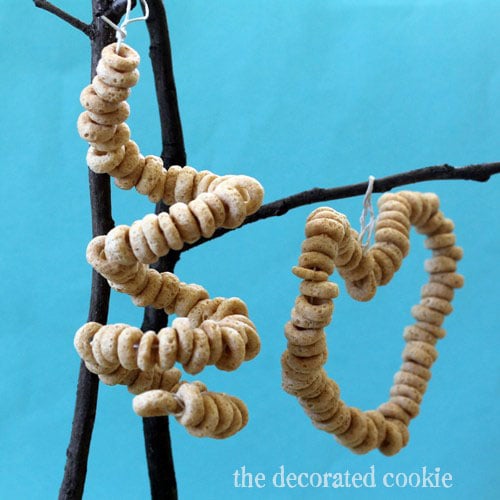 how to make Cheerios birdfeeders:
older kids: To make a heart, thread Cheerios on a piece of floral wire, leaving about three inches on each end. Twist the wire ends together to form a circle. Make sure to twist the wire right at the end of the Cheerios so the Cheerios aren't loose on the wire. Twist a loop with the wire ends. Bend the Cheerios on the wire into a heart shape. Thread yarn through the loop to hang to a tree. To make a spiral, thread a Cheerio on a piece of floral wire and wrap the end of the wire around to secure the Cheerio. Thread more Cheerios to fill the wire, leaving a couple inches at the top. Twist the wire at the top to secure the cheerios and make a loop. Bend the cheerio wire around the paper tube to make a spiral. Thread yarn through the loop to hang to a tree.
Or, bend the wire into any shape you like.
younger kids: Make a loop at one end of the pipe cleaner, and twist to secure. Thread the pipe cleaner with cheerios. Loop and twist the other end to secure. Thread a piece of yarn through the loop and hang from a tree.