Disclosure: *This post may include affiliate links. As an affiliate, I earn from qualifying purchases.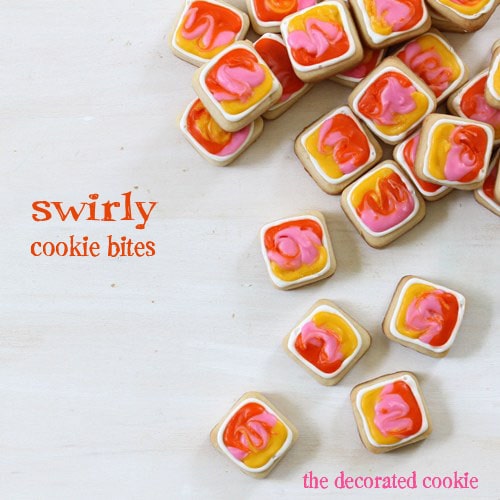 tie-dyed cookies
I whipped up these little tie-dye cookies to bring to a party from leftover cookie dough and icing. I used the cutest little square cutter from this set I found at Ikea ages ago. The best thing about leftover cookie dough and icing bags you already have is that you can do whatever you want and you don't have to worry about messing up. Plus, I find that people love cookies and are easily impressed.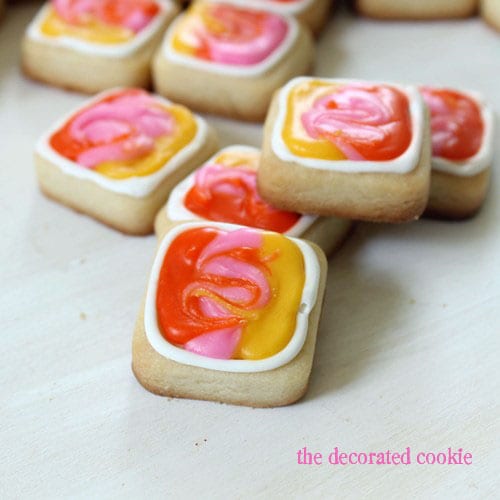 To make these, I cut out little squares of cookie dough, baked and let cool according to the recipe. I used my royal icing, thinned just a bit, tinted with Americolor Soft Gel Pastes (Bright White, Electric Pink, Orange and Egg Yellow, but use any colors you like), and filled disposable decorating bags that were fitted with couplers and size "3" or "4" decorating tips. (For tips on finding cookie decorating supplies, click HERE.) I then outlined each square with white and let set a bit. Working with a few cookies at a time, I piped three stripes of color, then I swirled a toothpick through the icing. For Basic Cookie Decorating how-tos, click HERE. Let the cookies dry for several hours or overnight before handling.