Disclosure: *This post may include affiliate links. As an affiliate, I earn from qualifying purchases.


Pencil cookies with free printable for teacher appreciation or back to school.
pencil cookies
So I have a kindergartener. She goes to a public charter school here in Washington, DC. I'll spare you all the charter school talk, since I've waxed on about it before. (To read more about the charter school system in Washington DC, click HERE and HERE.) These pencil cookies are for all the superfantabulous teachers and staff at her school.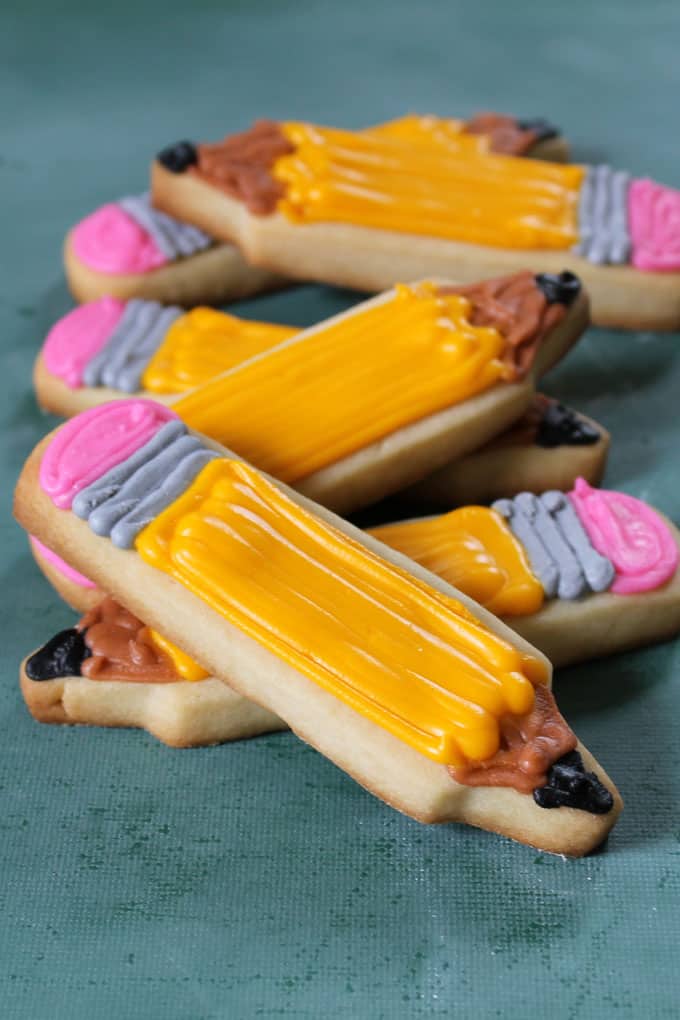 If you don't have a kindergartener yourself, or if you don't know any, I'll tell you a little bit about what it means to be in kindergarten. It means you talk all the time. You talk all the time because you know everything.
Often, having this expansive knowledge means you must correct the grown-ups around you an awful lot. You also think the world revolves around you, so you must be heard the second a thought enters your brain, no matter what is occurring around you.
If the grown up you are interrupting asks you to be patient, you explain, loudly, that you can't because the thought actually WILL leave your brain if you don't get it out right then.
As a kindergartener, you can do much more for yourself, and you know the general rules of life, but sometimes these rules are hard to follow and your toddler past still sneaks up on you in the form of whines, tantrums and arguments.
In fact, arguments are relatively common for a kindergartener, be it with other kindergarteners or with siblings, friends or any grown-up.
And as a kindergartener, your logic is outstanding, if only to you, so this gives you much ammunition for arguing. As a kindergartener, you also must move frequently throughout the day.
This can mean jumping, running, somersaults, dancing or any similar physical activity. Often, this must be done on busy city sidewalks or during quiet time, but safety and appropriateness cause very little inner conflict for the kindergartener.
Imagine spending seven hours a day with 20 kindergarteners.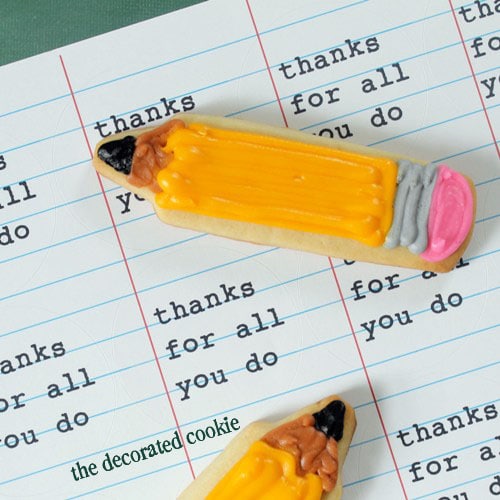 This is why we have a week of teacher appreciation. Because teachers are spending thirty-five some hours a week with our children. And they are stunningly patient and deft at handling their little (I mean big) egos. And all while teaching them stuff.
Teachers are awesome.
They deserve more than a few pencil cookies, but this is what I cooked up for the staff at my daughter's school this week.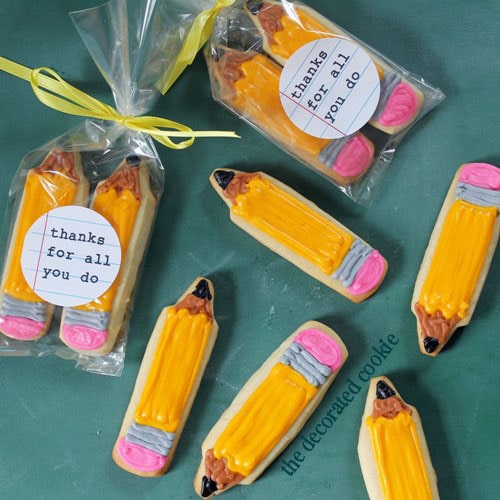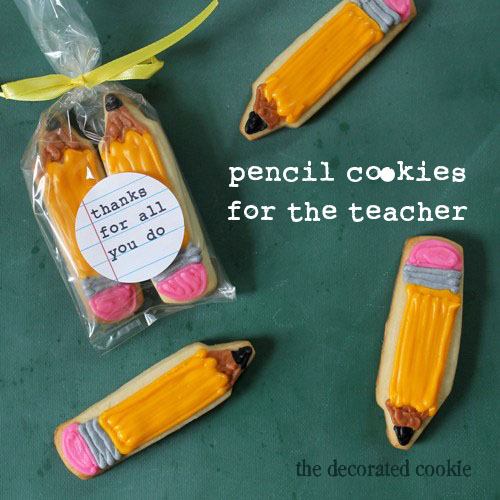 to make pencil cookie favors…
you will need:*
pencil or crayon cookie cutter

food coloring

disposable decorating bags

couplers

decorating tips, sizes 3, 4 and 5


rubber bands
*Find the decorating bags, couplers and tips at the craft store. For food coloring, I suggest Americolor Soft Gel Pastes (Egg Yellow, Chocolate Brown, Super Black and Electric Pink used here), found in specialty stores or online. For tips on finding cookie cutters, click HERE. This is the cutter I used.
step one: bake your cookies.
Prepare cookie dough, chill, roll out, cut out the pencils, bake according to the recipe and let cool completely.
step two: prepare your icing.
Prepare royal icing according to the recipe. Divide and tint your colors, yellow, pink, gray, black, and tan. You'll need the most of yellow. Prepare decorating bags with couplers and tips, fill with each color and close tightly with rubber bands.
step three: decorate your cookies.
For general cookie decorating instructions, click HERE. Use a 3 tip to pipe the black point. Then use a 3 tip to pipe the tan part of the pencil. Pipe and fill the eraser with a 4 tip. Pipe lines of gray with a size 4 tip. And pipe lines back and forth in yellow using a size 4 or 5 tip. Let the cookies dry overnight before packaging.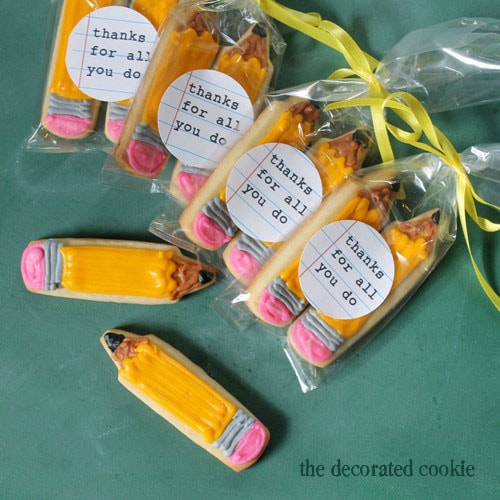 teacher appreciation cookies
You will need:*
cellophane favor bags

ribbon

these circle labels

or white, letter-size photo paper or cardstock
Print this printable onto the circle labels or just print onto paper and cut out tags. Place the cookies in a cello bag, close with ribbon and either stick the label on the bag or use a hole punch to attach the tag to the ribbon.