Disclosure: *This post may include affiliate links. As an affiliate, I earn from qualifying purchases.


vegan sandwich cookies
I've mentioned my vegan Supper Club before when I made vegan chocolate cupcakes. Well…I needed a quick and easy vegan treat to bring that would fit the theme (Spring is near, I wrote this post a month ago).
So I turned my daisy topped cookie pops (HERE) into vegan treats.
I've been working on a vegan version of my cookies, and my first batch spread a wee bit too much. So I'll keep at it! In the interim, these are simple store-bought cookies that I turned into vegan sandwich cookies.
As I always say when I make vegan sweets, please correct me if I am wrong about store-bought things I think are vegan! I read ingredients carefully and research each item I use, but internet research isn't always reliable and it's possible I miss some hidden non-vegan ingredients. So I will heartily accept critique and correction.
For these daisy-topped sandwich treats, I used Wilton brand prepared fondant and Nabisco Famous chocolate wafers. My aforementioned ingredient studying and internet research led me to believe each of these are vegan, so I hope I am correct!
how to make daisy chocolate vegan sandwich cookies
you will need:*
white rolled fondant
daisy fondant cutter
small circle fondant cutter (1/2 inch)
rolling pin
wax paper
yellow food coloring
blue or green food coloring
light corn syrup
Nabisco famous chocolate wafers
vegan frosting
one disposable frosting bag
one coupler
one rubber band
one decorating tip (size "6" or "10", more on that later)
*Find the fondant, frosting bag supplies and cutters in the baking aisle of the craft store. You can buy food coloring there, too, though I prefer the harder-to-find Americolor soft gel pastes (click the link and then click "Links" for tips where to buy).
Most supermarkets carry the wafers in the cookie or baking aisles. I used a size "10" decorating tip, but I think a size "6" might've been better.
Click HERE for more tips on buying cookie decorating supplies.
step one: prepare daisy toppers
To make the fondant daisy toppers, click on the daisy cookie pops and follow "step two".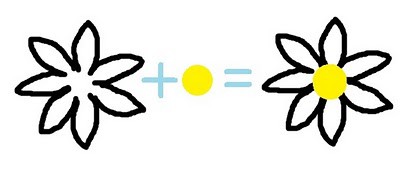 step two: prepare your frosting
Follow the recipe to prepare vegan frosting. Add a drop or two of sky blue coloring (or any preferred color) and mix well.
Prepare a frosting bag with coupler and tip, fill with frosting and tie closed tightly with a rubber band. I used a size "10," but I think the end result was a little too sweet. A size "6" would've been better, I think, though the cookies would've been thinner.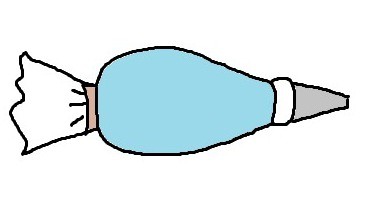 step three: assemble your cookies
Lay out half of the cookies on a tray wrong side up. Pipe circles on the cookies and fill completely with frosting by piping back and forth (or pipe a swirl, it doesn't really matter as you won't see the frosting). Top with another cookie. Pipe a dab of color on the back of a daisy and press on top of the cookie. Keep in the refrigerator until ready to serve.