Disclosure: *This post may include affiliate links. As an affiliate, I earn from qualifying purchases.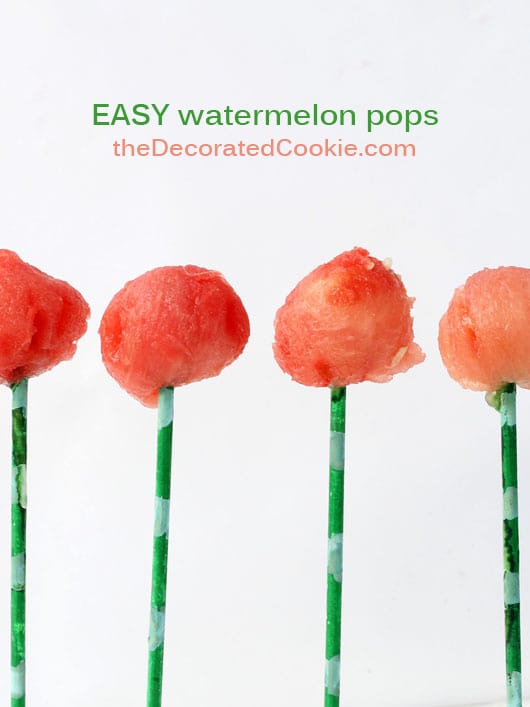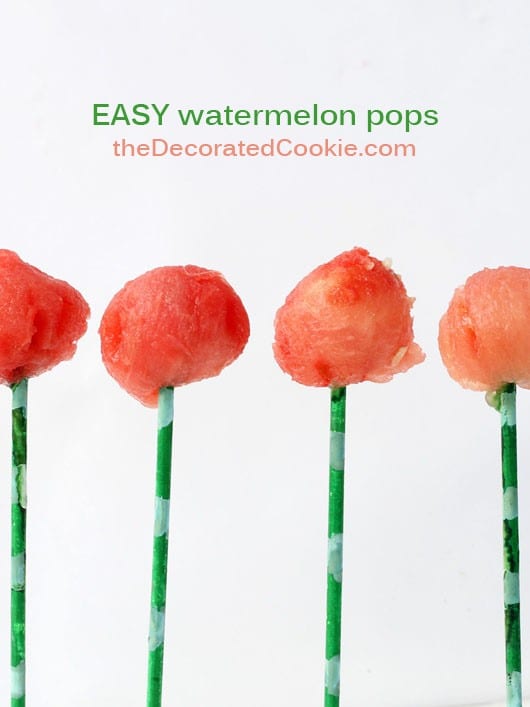 Easy watermelon pops for the summer.
So these are simply balls of watermelon on lollipop sticks. That's it. Hence, the term "easy." But when you paint the sticks to look like watermelon rind, it looks so much fancier, right?
Party-worthy fancy. Pinterest-worthy fancy? I could use the traffic, so I hope so. Hint, hint. Watermelon pops for the win.
You know how I love Americolor and only use Americolor and I love Americolor Soft Gel Pastes and Gourmet Writers. And how I tell people all the time to only use Americolor? I've never worked for Americolor, I promise.
I just like their products. So they noticed how much I talk about them and they sent me a big box of awesome (just because, no expectations, no post necessary).
They included these new food coloring sprays in the box and I've been wanting to try them. They are perfect for quickly painting lollipop sticks even though they are meant to paint icing and such edible things.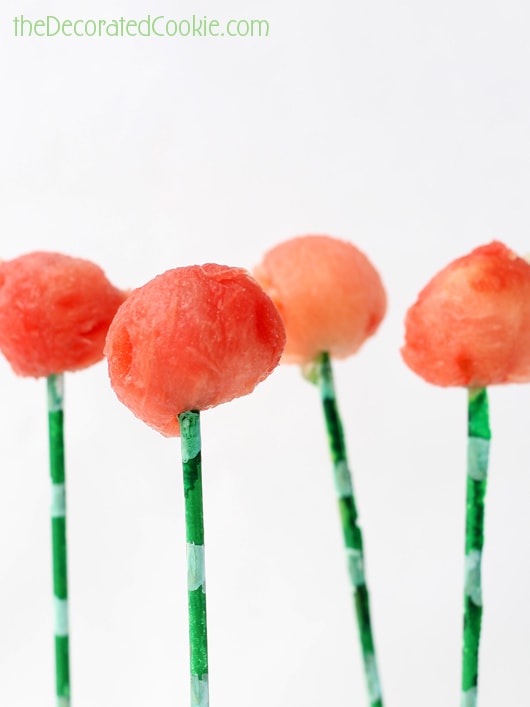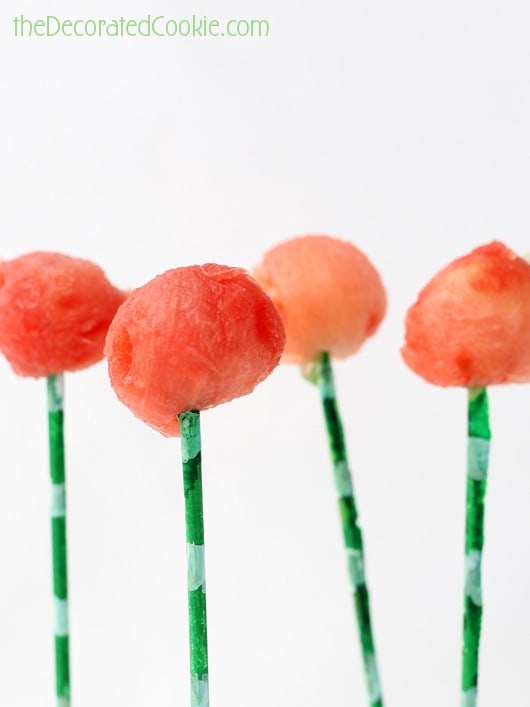 And a note before you begin: If you don't want your hands to look like the Hulk's (as mine currently do), wear rubber gloves. If you do get some on your skin, not to worry, the coloring will wear off in a day.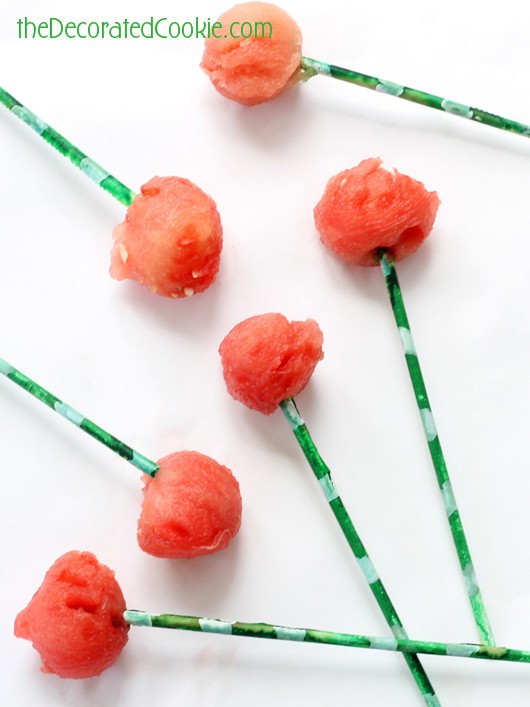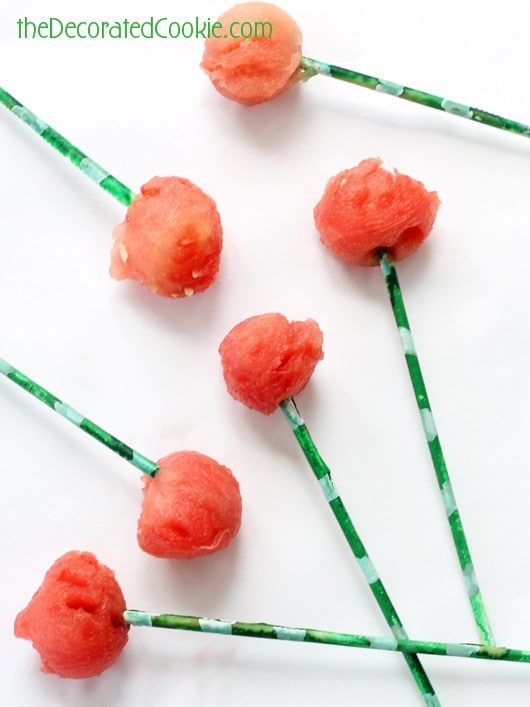 how to make watermelon pops
you will need:*
baking tray
wax or parchment paper
lollipop sticks
Americolor green food spray
watermelon
scoop or melon baller
white and green food coloring (optional)
paint brush (optional)
rubber gloves (optional)
*Find the lollipop sticks at the craft store. Find Americolor food coloring spray online. See below for resources.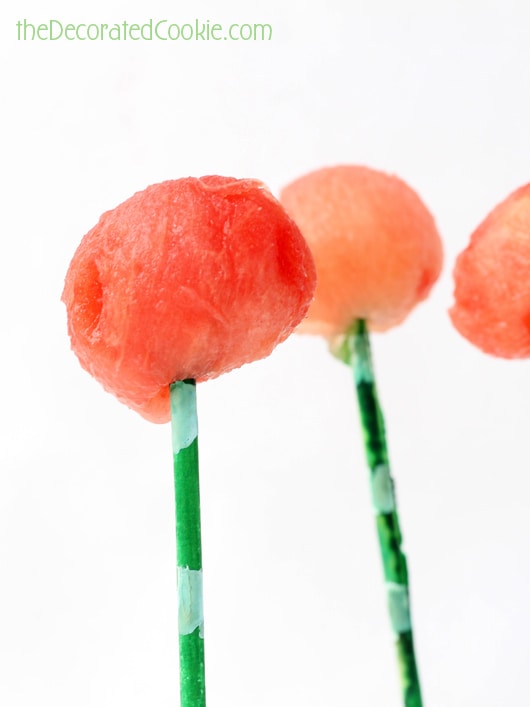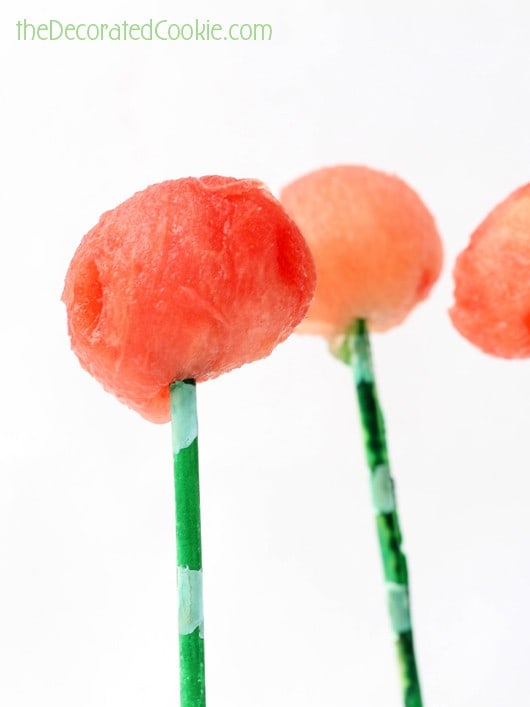 what to do:
Line a baking tray with wax or parchment paper. Wear rubber gloves, if using. Place a few lollipop sticks on the tray.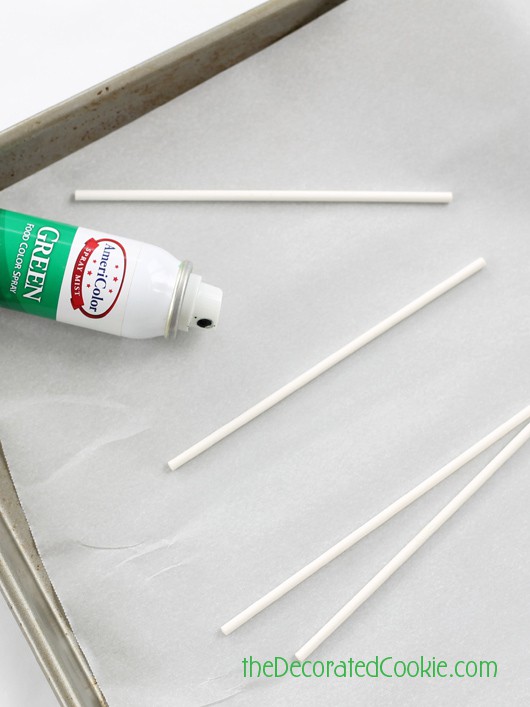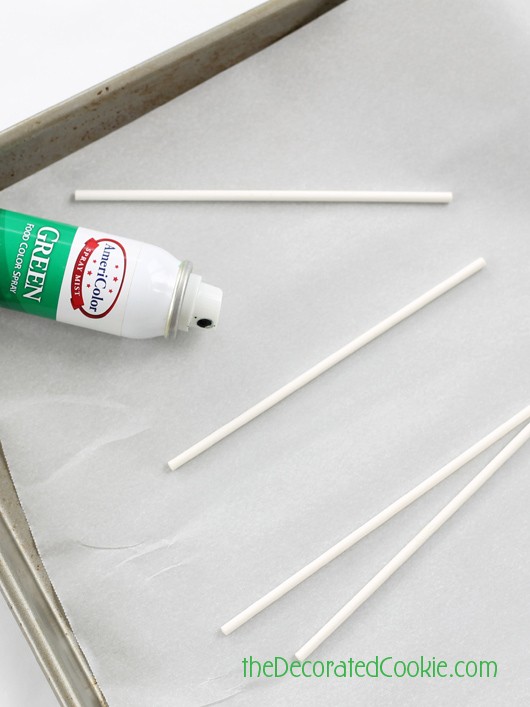 Shake the food coloring and lightly spray the sticks. The sticks may move around, just chase them with the spray. Immediately take a paper towel and run it along each stick. If there are any white spots on the sticks, spray and wipe again. If the green is mottled, that's good. You want it to be mottled. Let the sticks dry.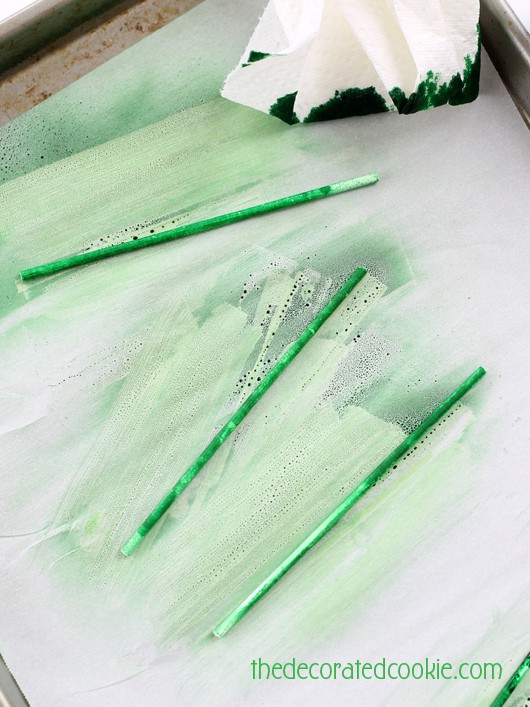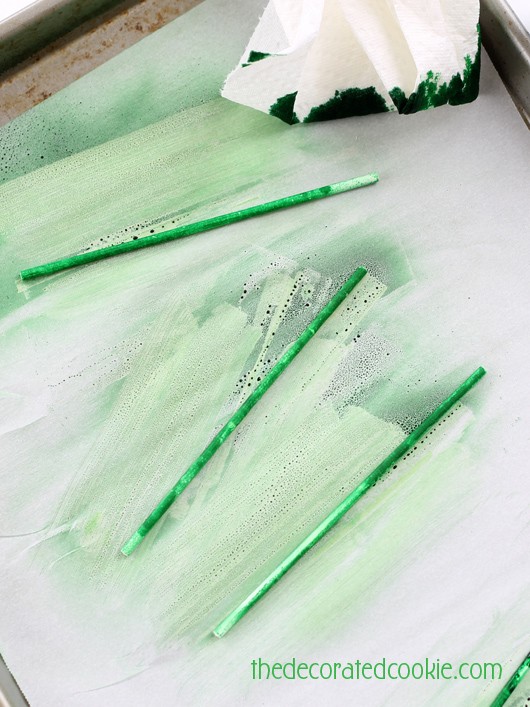 For extra watermelon likeness, mix some white food coloring with a drop or two of green food coloring. Dab a paint brush in water, dab in the food coloring mixture and paint stripes on the sticks. Let dry. (Or, skip this and just leave them all one green.)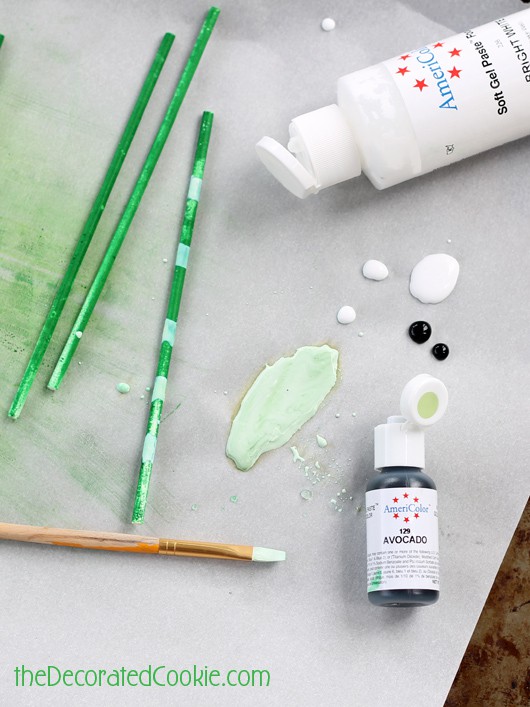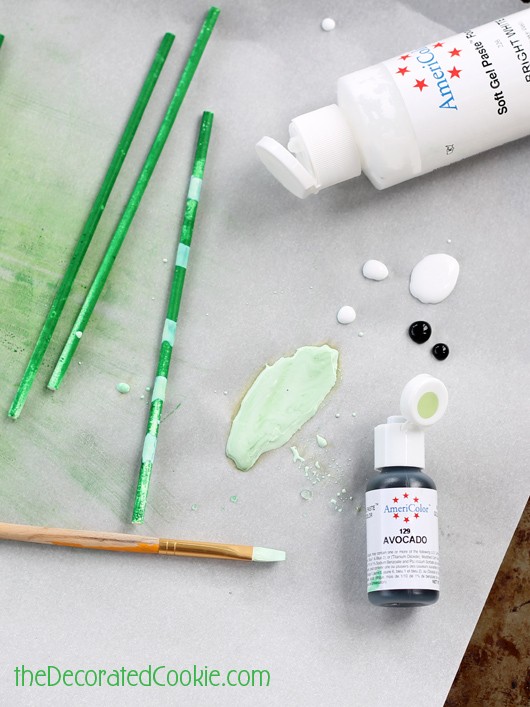 Use a small scoop or melon baller to scoop small balls of watermelon. Or cut squares or whatever. Place on the end of the stick and serve.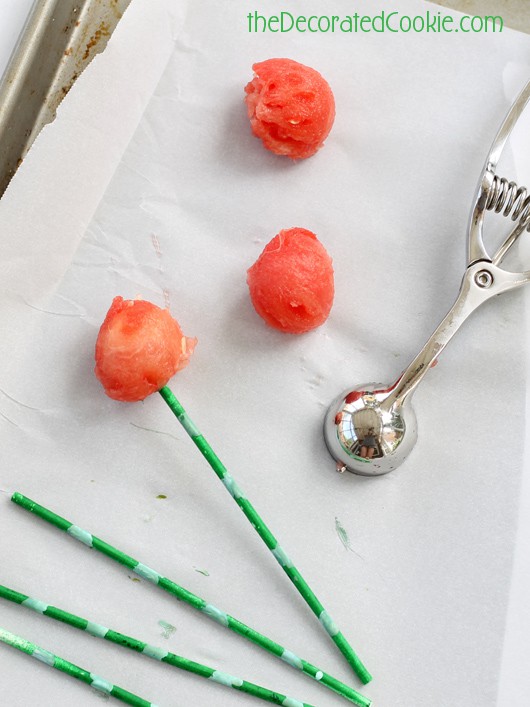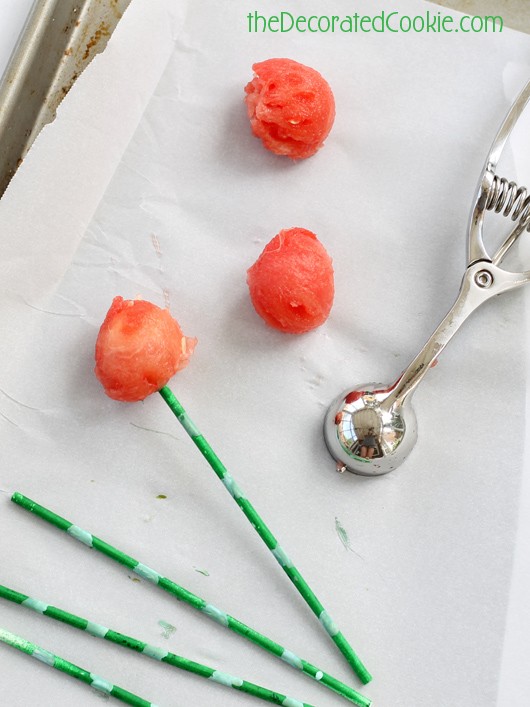 IMPORTANT: Because watermelon has so much water, after awhile, the moisture can affect the paper lollipop sticks. So prepare your sticks and watermelon any time, but assemble right before serving.
SUPPLIES:
Note here the spray on amazon is really expensive. The spray is new for Americolor, so it doesn't appear to be widely available yet. You can substitute any other food coloring spray, but if you can find Americolor elsewhere, I suggest that brand.