Disclosure: *This post may include affiliate links. As an affiliate, I earn from qualifying purchases.


chocolate candy edible Halloween shot glasses add some oomph to your Halloween party
edible Halloween shot glasses
Now that we're in the age of Pinterest, apparently we need to up our Halloween party game by including things like edible Halloween shot glasses. Luckily, these are easy to make. And they are a great conversation starter. And you get two in one, drink and dessert.
I made ghosts and Jack O' Lantern faces, but you can of course use any color candy melts for the shots and any design you like. Draw spiders and webs on the white shot glasses. Use purple and draw eyes on them for monsters. Make the Jack O' Lantern's face more scary. Or melt some red candy melts and have them drip down the sides for blood.
Need more fun food ideas for Halloween? Check out these Halloween Rice Krispies Treats. Or this Frankenstein chocolate bark.
This shot glass mold from Wilton is my new favorite, thing, by the way. I predict many more holiday-themed edible shot glasses in my future. Which means taking a shot of something in the middle of the day. (Hey, I need to test them out. So far so good.)
how to make candy shot glasses
you will need:*
orange candy melts
white candy melts
Wilton's shot glass mold
black candy color
small paint brush
booze
*Find all of the above (except the booze) at the craft store, or follow the links to see what they look like online. Black gel paste food coloring will sort of work, if that's what you have, but the candy color sticks much better to the set candy melts.
what to do:
Put about a cup of candy melts in the decorating bag and microwave at 70 percent power for 90 seconds. Massage the bag and if necessary, continue to microwave at 15 second intervals until fully melted.
Alternatively, you can melt the melts in a microwave-safe bowl and pour into the bag. Snip between 1/2 and 3/4-inch from the tip and pipe to totally fill a shot glass.
Pick up the shot glass mold and slam it on the counter a few times to make sure the candy melts fill the entire cavity. A cup of candy melts should just fill two of the cavities. Repeat with white candy melts.
Let the candy dry for several hours. (I left mine overnight.)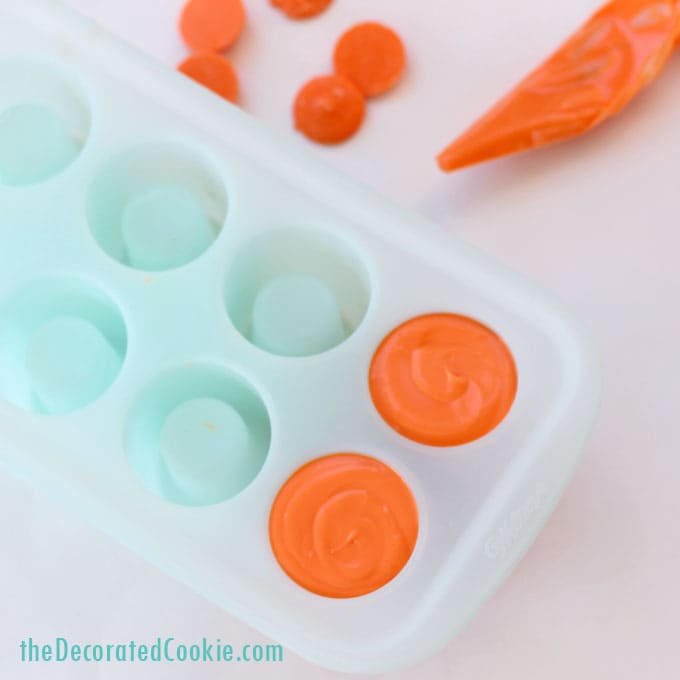 When ready, use a small brush to paint black candy color faces on the Jack O' Lanterns and ghosts.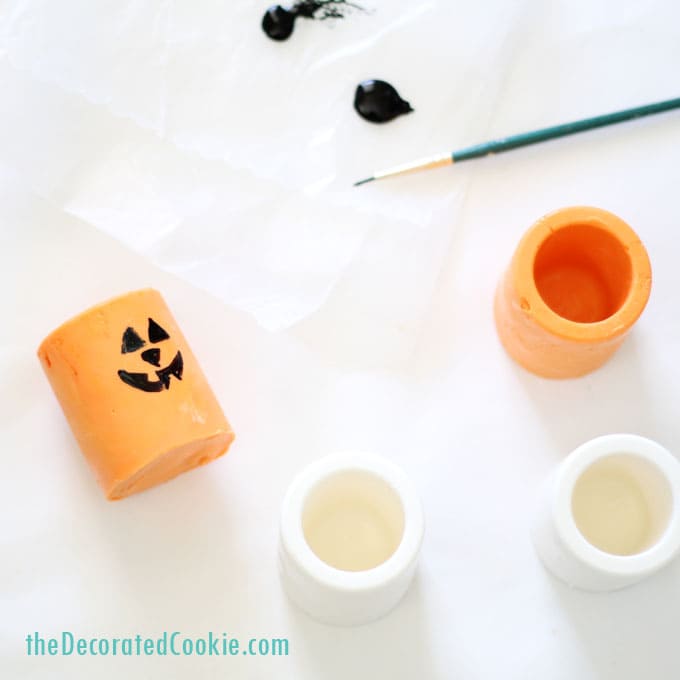 Let dry, fill with your favorite booze, serve, drink, and eat!