Disclosure: *This post may include affiliate links. As an affiliate, I earn from qualifying purchases.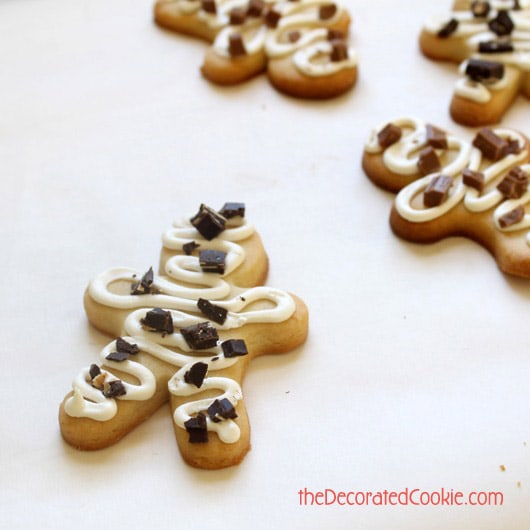 Danish birthday cookies
"En Kagemand" Danish birthday cookies: If you spotted these and visited this post looking for authentic, real-life, honest to goodness Danish cookies… yeeeah, these are so not that. Here's the story of these "En Kagemand," or "cake man" cookies that merely evoke tradition rather than stick entirely to it. You see, my good friend is from Denmark. And it was her birthday. Every year for her kids' birthdays she makes "En Kagemand," just as she had as a kid. "En Kagemand" is a traditional Danish pastry shaped to look like a man and decorated simply with lots of candy and little Danish flags. I wanted to make said traditional pastry, but I didn't want to ask her for the recipe and I didn't have much luck with google. Aha! I'll make little man cookies that look like "En Kagemand." Brilliant! Only I strayed even further from tradition.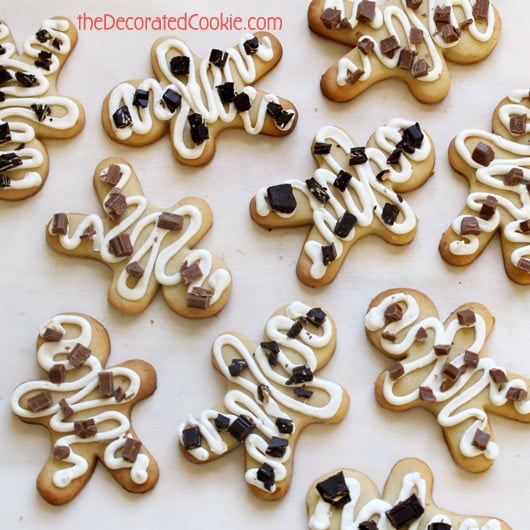 I did add some almond extract to the cookie dough, as this is a popular flavor in Denmark. I also bought this beautiful licorice to chop up and use as the candy to decorate the little men, as this is also a popular flavor in Denmark. But then I took one test taste of licorice, spit it out and thought, "Uh uh, no way, no freakin' way, not happening." Sorry, licorice lovers, my States-bred taste buds just couldn't do it. I couldn't even imagine it tarnishing my beloved cookies. So instead, I chopped up fancy chocolate from Whole Foods. So these cookies took one step further from tradition. But gosh, they are delicious.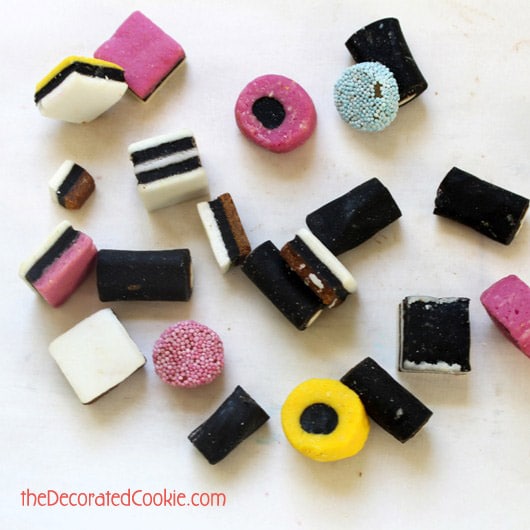 how to make nontraditional "En Kagemand" Danish decorated cookies
you will need:*
cookie dough
royal icing
gingerbread man cookie cutter
white food coloring
disposable decorating bag
coupler
size "5" decorating tip
rubber band
chocolate or candy
*Find the cookie cutter, decorating bag, coupler, and tip at the craft store. For food coloring, I suggest Americolor Soft Gel Paste, Bright White. See below for resources.
Prepare cookie dough (I added 1 1/2 teaspoons almond extract in addition to the vanilla), chill and roll out according to the recipe. Cut out the men and bake. Let cool. Prepare royal icing and tint white. Prepare a decorating bag with coupler and tip, fill with white icing and close tightly with a rubber band. Chop up chocolate or candy in small pieces and set aside. Pipe a swirl back and forth to cover the gingerbread man from head to toe. Immediately sprinkle chocolate on the icing so it sticks. Let the cookies set overnight before packaging and handling.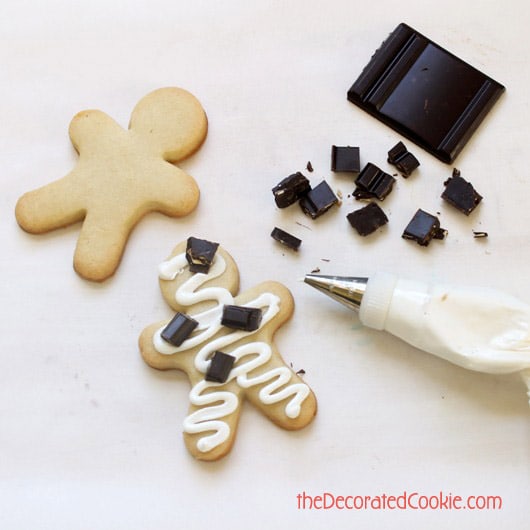 I also made cheesecake cups for the celebration, so I made these Danish flags using straws and my hand printer to put in the cheesecakes.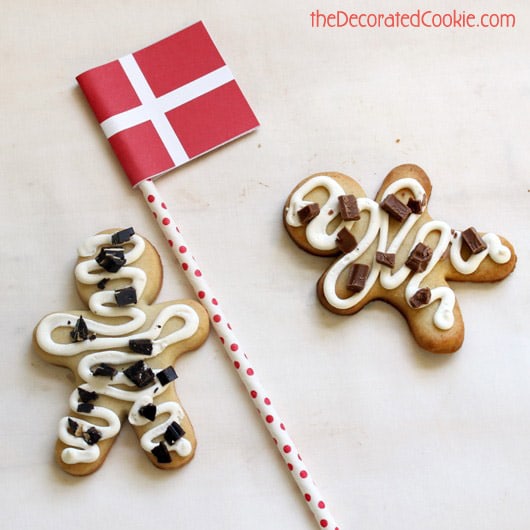 SUPPLIES