Disclosure: *This post may include affiliate links. As an affiliate, I earn from qualifying purchases.


Hosting an art-themed birthday party? Decorate blank art canvas cookies and package with food coloring pens for awesome art party favors.
cookie art party favors
This whole kids-drawing-on-cookies thing is not new to this blog. My daughter first make her own cookie art HERE when she was just a wee lass of two. And I gave my niece these framed cookies and a set of markers for her 7th birthday. Well, I adapted that same idea for her 8th birthday, celebrated at a kid's art studio (did they have those when I was a kid? because I would've loved that) with these cookie art party favors, canvas cookies with food coloring markers.
food coloring pens
And drawing on food is old hat around here, of course. For tips on choosing and buying edible writers, click HERE.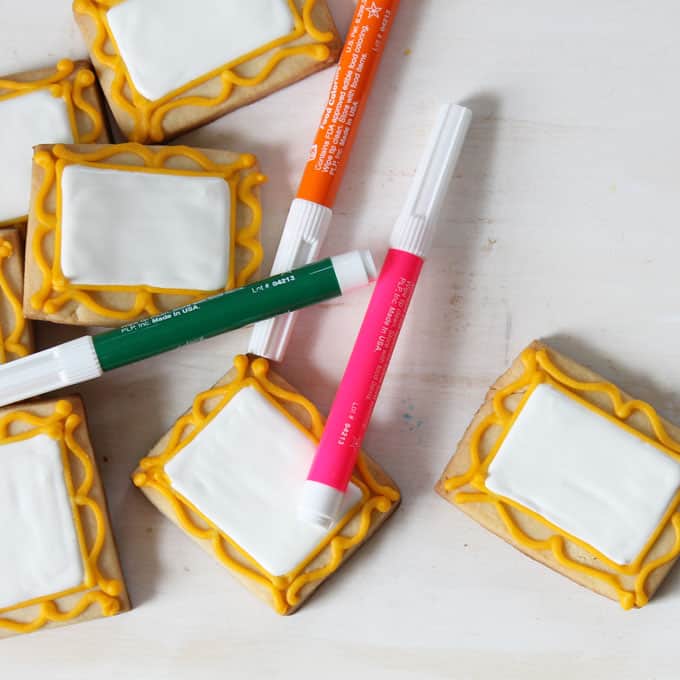 how to make cookie art party favors
To make these, I used a small rectangle cutter to cut out the cookies with my cookie dough. Then I prepared my royal icing and tinted it white and gold with Americolor Soft Gel Pastes (Bright White and Egg Yellow). Then, I prepared a disposable decorating bag with couplers and tip, size "4". I filled the bag with the gold and closed with a rubber band. I piped rectangles on the cookies, leaving a border. Then, I switched the tip to size "3" and piped the frame part. After the gold set a bit, I thinned the white icing to flooding consistency, filled an empty decorating bag, snipped the tip and piped to fill the frames. Let the cookies dry super duper well, overnight. (For basic cookie decorating how-tos click HERE.) To package, place a cookie in a cello bag, tie with ribbon and attach an edible writer to the ribbon.
rainbow cookies
I also made a bunch of these sparkly rainbow cookies for snacking! They are the perfect addition to your art party. For how-tos to make the rainbow cookies, click HERE.