Disclosure: *This post may include affiliate links. As an affiliate, I earn from qualifying purchases.


fondant flowers
So these are pretty much felt flowers, but made with fondant. Then, put on cookies. So fondant flowers cookies. But in 3-D?
Back in August, I was invited to a wedding up in Connecticut. Given the bride's British father, they suggested that the ladies (and gentlemen) don hats. The crazier the better. Rather than spend a fortune on an outlandish hat, I opted to buy a $20 white hat with a wide brim from World Market and attach my own, felt flowers.
I followed the tutorial almost exactly, but using fabric glue in lieu of a hot glue gun. Worked like a charm. Then I sewed a bunch of flowers and leaves to the brim of the hat with a few stitches. This is the hat: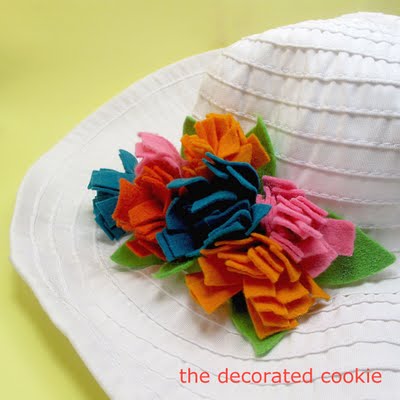 I wondered if I could apply the same technique to fondant.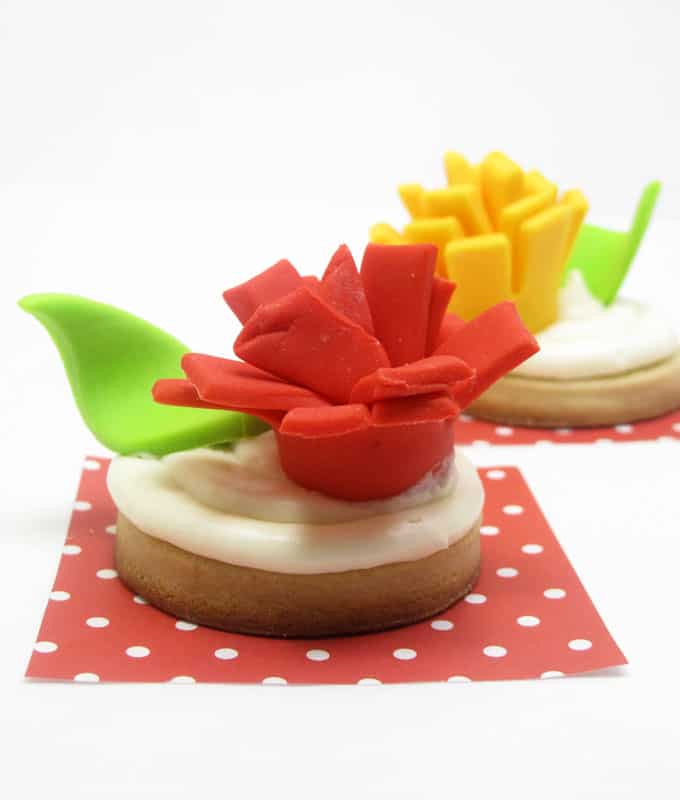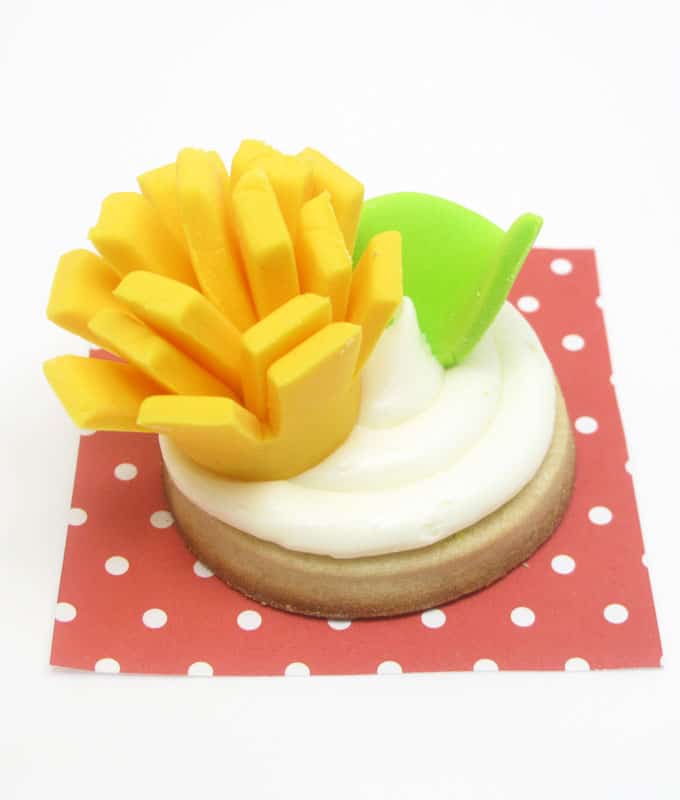 how to make fondant flowers
you will need:*
food coloring
rolling pin
confectioner's sugar
pizza cutter
knife
ruler
light corn syrup
leaf fondant or cookie cutter
wax paper
*Find fondant and the leaf cutter in the craft store. For food coloring, I suggest
Americolor Soft Gel Pastes
(fall colors, Red Red, Orange, Egg Yellow and Electric Green used here).
step one: make your fondant
Divide fondant and tint preferred colors. To tint, add a few drops of coloring to a handful of fondant and knead very well. Add more drops as needed until desired color is achieved. TIP: If the fondant gets at all sticky or difficult from overhandling, let sit at room temperature uncovered about 15 minutes or until easily pliable.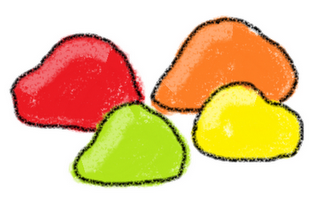 step two: make your flowers
Roll out fondant about 1/8 inch thick on a surface dusted with confectioner's sugar. Use the pizza cutter to cut a strip of fondant about 6 inches long and 1 inch wide. Use a knife or the pizza cutter to cut slits along the long edge about 1/4 inch apart and about 3/4 inch into the strip. Dab light corn syrup or water along the band that was left in tact. Start at one short end and roll the fondant strip. Smush the end a bit to secure, and use a dab of light corn syrup or water if needed. Poof out the strips a bit and rest the flower on a piece of wax paper to stiffen, at least a couple hours, or overnight.
step three: make your leaves
Roll out green fondant about 1/8 inch thick. Cut out leaves and rest on wax paper until stiffened. To make bends and curves in the leaves, rest the leaves against a plate or over a straw or any other small object while they stiffen.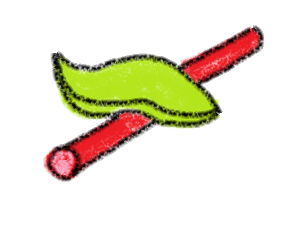 step four: arrange your flowers
Arrange your leaves and flowers on cookies or cupcakes, using dabs of royal icing, light corn syrup or frosting as needed to adhere. I just piped on some buttercream frosting and stuck the flowers and leaves on right away.