Disclosure: *This post may include affiliate links. As an affiliate, I earn from qualifying purchases.


How to make painted cherry blossom cookies in paper cones for beautiful spring party favors.
painted cherry blossom cookies
I created these painted cherry blossom cookies for wedding favors to be featured in Brides magazine. You can spot me again in the October issue of Brides.
In this blog post you'll find the how-tos for making the painted cherry blossom cookies in paper cones that appear in the issue.
Instead of cherry blossoms, you can use any decorative paper you like, and just match the cookies to the paper. Or, instead of cookies, save some hours and use any small candies or treats.
Use these paper cone favors for weddings, showers, or any party.
more cookie painting ideas
If you need more cookie painting ideas, check out these watercolor flower cookies. Or these painted sunflower cookies. I also painted Eglantine flowers for get well cookies.
For the decorative paper shown, go to Paper Source for the Cherry Blossom pattern, the Yuzen Red and White Blossoms, but you can't help but linger on this site with all the paper choices.
how to make paper cones
you'll need:*
scissors
pencil
decorative paper
letter-size paper
double-sided tape
cellophane favor bags
ribbon
cookies
*Find decorative paper, cellophane bags and ribbon at the craft store. Choose bags roughly in the 4 by 9-inch size. Click on "paper cone template" above to go to the template.
step one: Print the template on letter-size paper and cut out the template.
step two: Trace the template with a pencil on the underside of decorative paper and cut out. For each cone, fold at the flap. Place a piece of double-sided tape along the entire length of the flap (on the decorative side). Roll the cone and seal at the flap.
step three: Place a couple cookies in a cello bag, and fit the bag as far into the cone as you can. If ncessary, use a small piece of tape to secure the bag to the cone. Fill the rest of the bag with cookies and tie closed with ribbon.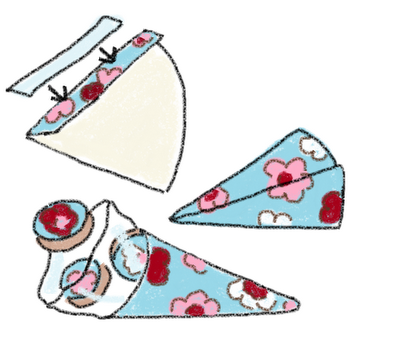 how to make painted cookies

you'll need:*
fondant (store-bought or homemade fondant)
food coloring
1 1/2 inch circle cutter
small paint brushes
palette
*The frosting is used to adhere the fondant to the cookie.
You may use anything you like, even store-bought, or just brush the cookie with light corn syrup instead of using frosting. Find fondant in the craft store, or make your own.
Find the circle cutter and paint brushes in the craft store.
For food coloring, I suggest Americolor Soft Gel Pastes (Sky Blue, Electric Pink, Red Red, Bright White and Chocolate Brown used here).
Find cookie decorating supplies HERE.
step one: Prepare your cookie dough, chill, roll out, cut out circles and bake according to the recipe. Let cool completely.


step two: Tint fondant by kneading a drop or two of food coloring into a handful of prepared fondant. Or, if you prefer, leave the fondant white. If the fondant gets sticky from overhandling, let sit uncovered at room temperature for about 15 minutes until easily pliable. Use confectioner's sugar on your surface if needed to prevent sticking.


step three: Roll out fondant about 1/8 to 1/4-inch thick. Cut out circles with the same cutter you used to cut out the cookies. Adhere the fondant circles to the cookies with a dab of frosting, icing or brushed corn syrup. Let stiffen a couple hours, uncovered at room temperature, and then paint.


step four: Paint on your cookies: Pour a few drops of food coloring on your palette. Add a drop or two of water and mix if the food coloring is thick. For pastel colors, add a drop or two of white, mixing well. Play around with more drops of color or white to achieve desired colors, always starting with one drop at a time.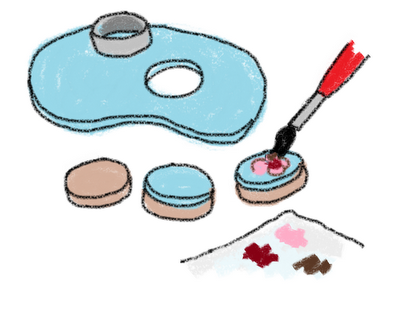 Each cone holds about 8 of the cookies shown.
If your decorative paper is very thin, reinforce the cone with a second cone of plain paper.
To help seal the cone at the flap, hold the cone against the table and use a pen inside the cone to press against the flap.
Instead of cookies, use any small candies.