Disclosure: *This post may include affiliate links. As an affiliate, I earn from qualifying purchases.


Use food coloring to paint watercolor cookies on fondant or royal icing.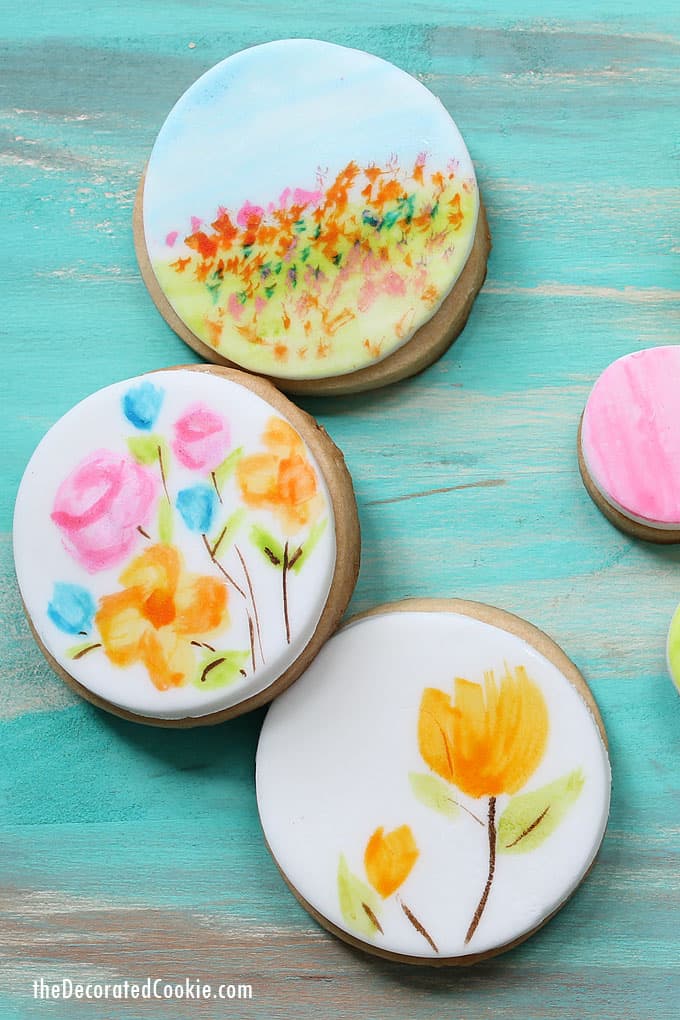 how to paint watercolor cookies
I love the look of these "watercolor" cookies. Or, painted cookies that look like they have been painted with watercolors, when really, it's just food coloring on fondant or royal icing.
I tried my hand at a watercolor painting style on cookies. To make these painted cookies, I topped circle cut-out cookies (and a cupcake) with homemade fondant that I allowed to stiffen for a couple hours, but you can also paint on flooded royal icing that has dried very well, preferably overnight.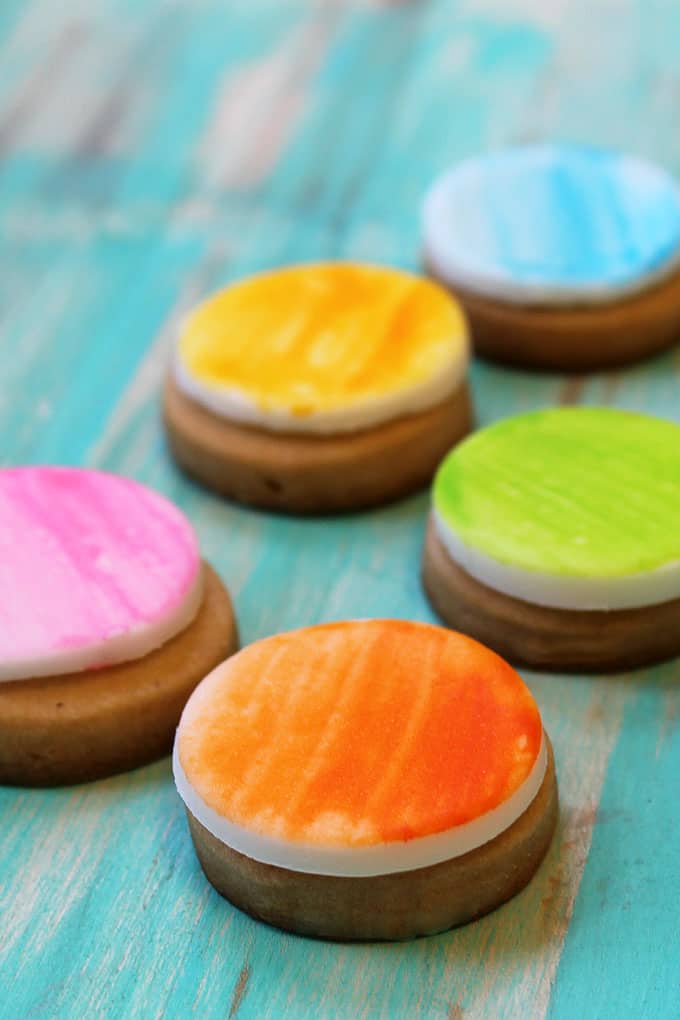 tips on cookie painting
Watercolor isn't much different than just painting on cookies with food coloring, except that you add, um, more water. I added a few drops of food coloring–Americolor Soft Gel Pastes of course–to my palette (by which I mean, a plastic egg carton), then added a few more drops of water. I used small brushes dipped in water first so the application would be wet and achieve the right effect.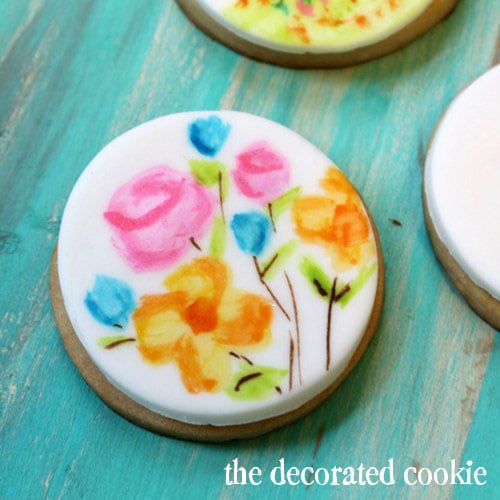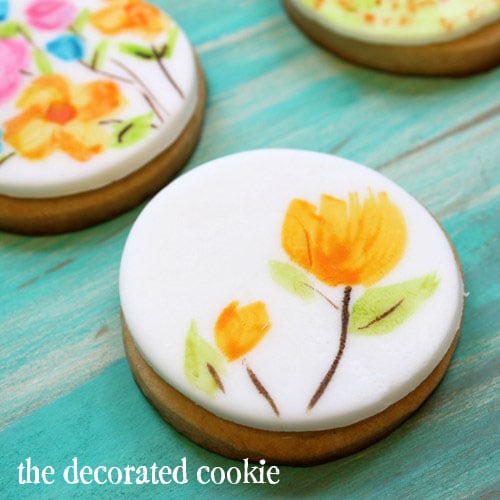 You don't want lots of drips and drops of water flying all over the place, because fondant and royal icing don't like drips and drops of water. But you can mix the water generously with food coloring and paint in a controlled way without destroying your cookies. Have a paper towel handy in case you can't control the drips and drops.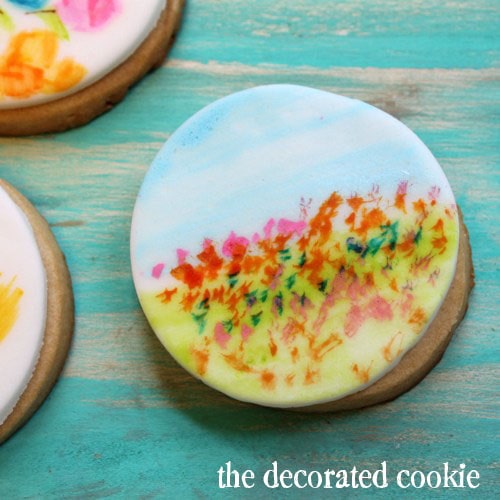 Experiment with a mix of small brushes, round, flat, liners… Mix a drop of color into white food coloring and water for a more pastel look. And try dipping each side of the brush in more than one color for a blended look. Or just use the tip of the brush for dots. I often add highlights in a darker or complementary color on top. And most effects can be created with a single brushstroke. You may also paint a bit on paper to practice before attacking the sweets.
Look, you can even paint cupcakes.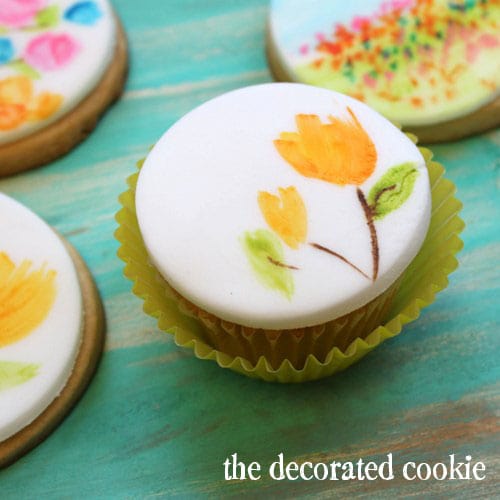 You could also do different shades of the same color, just play around with more or less drops of food coloring mix with water, to make these cookie bites below ombre instead of rainbow-ish.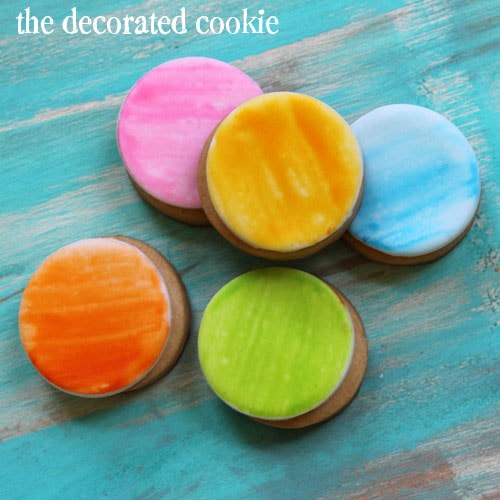 Have you ever painted on cookies or cupcakes??