Disclosure: *This post may include affiliate links. As an affiliate, I earn from qualifying purchases.


painted get well cookies: Eglantine Roses to heal a wound
How to decorate get well cookies with painted flowers.
Those sneaky Victorians sure knew how to circumvent uptight social mores with style. By attributing meaning to flowers (as in, the Language of Flowers, as in, floriography), they could send covert messages to their secret loves via bouquets.
How very clever and romantic. I'm taking their cue, but without the secret lover part. I'm making Get Well cookies.
These flower cookies serve as wishes of health for a friend of mine who underwent surgery.
The Eglantine Rose, according to the Language of Flowers, signifies a "wound to heal."
(Scroll to the end to see the flower in real life.)
I'm sure we can all interpret "wounds" as we wish, beyond the cut of a surgeon. I know all too well how fragile the body is and how easily we are wounded, but we're designed to heal. For my friend, I'm hoping that happens quickly!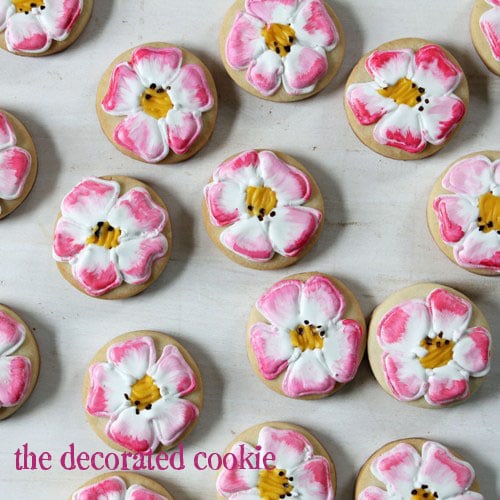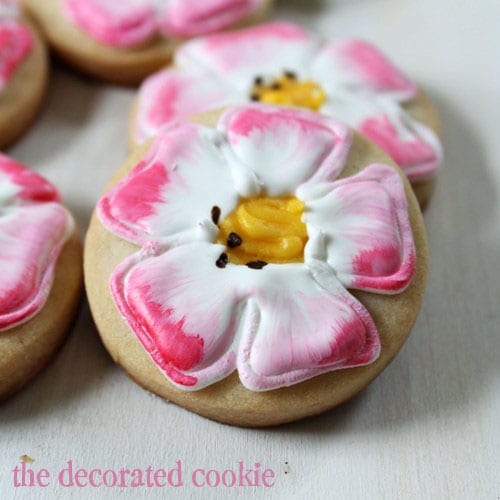 more decorated cookie ideas
If you're interested in painting on cookies, check out these cherry blossom cookies, watercolor-style cookies , these Monet's Water Lilies Oreos, or these birdhouse cookies.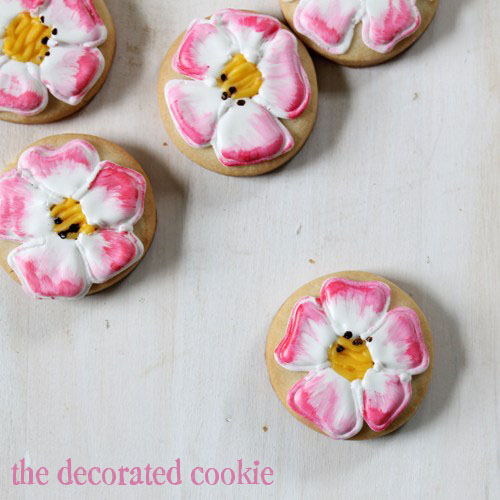 to make Eglantine Rose cookies
you will need:*
circle cookie cutter (2-inch used here)

food coloring (white, yellow, pink and brown)

3 disposable decorating bags

2 couplers

2 decorating tips, size "3"

rubber bands

flat paintbrush

liner paintbrush
cookie decorating resources
*Find the cookie cutter (maybe part of a set), decorating bags, couplers, tips and paintbrushes in the craft store.
For food coloring, I suggest Americolor Soft Gel Pastes, found online or in specialty stores. Bright White, Egg Yellow, Electric Pink and Chocolate Brown used here.
Find cookie decorating supplies HERE.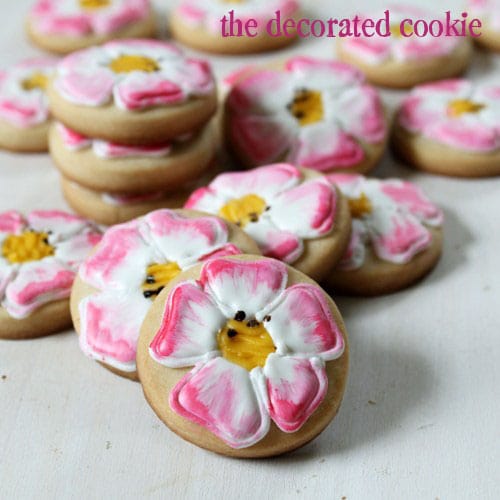 step one: make your cookies.
Prepare cookie dough according to the recipe. Chill, roll out, cut out circles, bake and let cool completely.
step two: make your icing.
Prepare royal icing according to the recipe.
Divide and tint white and yellow (you'll need a lot of white, just a little yellow). Prepare two decorating bags with coupler and tips.
Fill one with half of the white icing and one with the yellow.
Close tightly with rubber bands. Cover remaining white icing.
step three: decorate your cookies.
Pipe the flower centers with yellow. Pipe the outline of the petals with white icing and let set 15 minutes.
Thin remaining white icing with drops of water, stirring well, until the consistency of thick glue.
Fill an empty decorating bag with the thinned icing, close with a rubber band, and snip off about 1/4-inch from the tip.
Loosely pipe icing to fill the flower petals, encouraging the icing as needed with a toothpick. Let the cookies dry very well, preferably overnight.
For general cookie decorating tips, click HERE.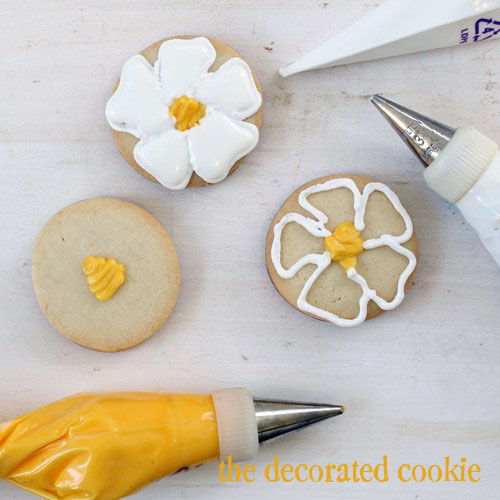 step four: paint your cookies.
Pour a few drops of white food coloring on a palette (plastic plate, wax paper, whatever) and add a drop of pink. Mix with the paintbrush.
Dip the flat paint brush in the paint and, starting from the edges of the petal, lightly pull the brush towards the center of the flower to paint the petals.
You can add a drop of water if the paint mixture is too thick.
Next, pour a drop of pink on the palette and go over the light pink at the edges a bit.
Mix some drops of white coloring with some brown drops to desired shade on the palette, and use the liner brush to add dots on the yellow.
Let dry. For more tips on painting on cookies, click HERE.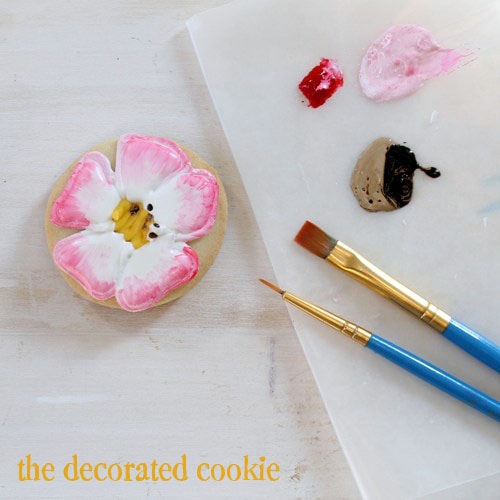 By the way, this is what the real thing looks like:
PIN FOR LATER: