Disclosure: *This post may include affiliate links. As an affiliate, I earn from qualifying purchases.


how to paint birdhouse cookies for spring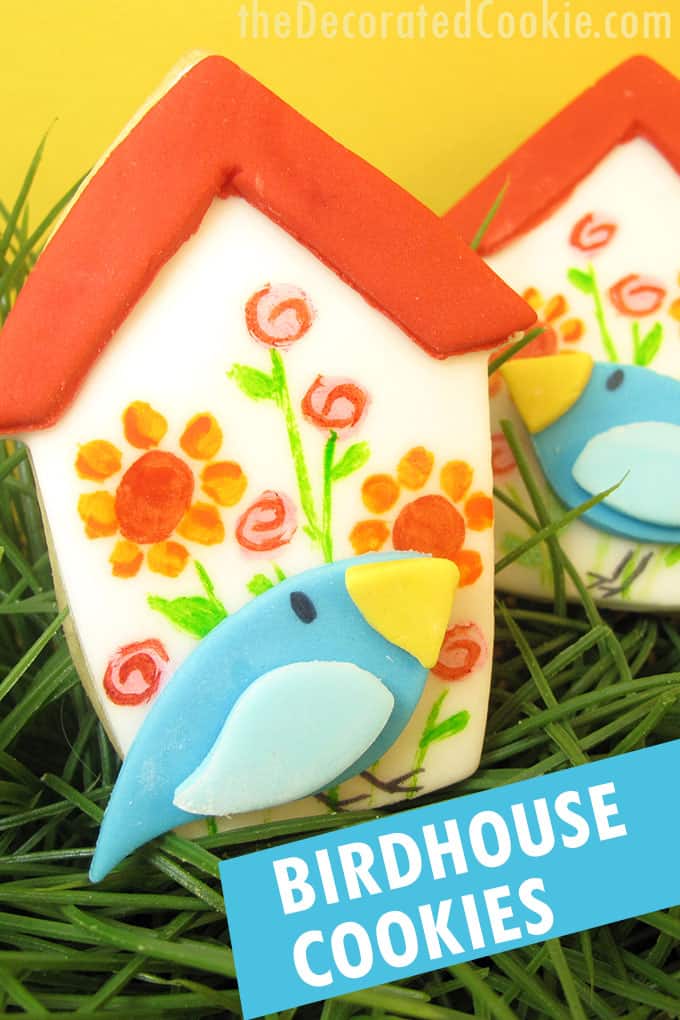 painted birdhouse cookies
"Painting" on cookies with food coloring is a beautiful cookie decorating technique. To make these painted birdhouse cookies, I used a combination of fondant for the background and birds, and food coloring to paint the trees and designs.
Learn more about painting on cookies in this post on watercolor-style cookie painting, and this post on how to paint a wood grain on cookies.
I originally made these painted birdhouse cookies at the request of Cake Central Magazine, but the person making said request disappeared after I made the cookies.
And so, instead, they are shared here with you all! (Also, harumph for soliciting work from me, that I complete, and then disappearing. Time is valuable. But then, I do so love these painted cookies.)
how to make bird and birdhouse cookies
you will need:
paint brushes
light corn syrup
*Colors used here include Americolor gel pastes in Sky Blue, Egg Yellow, Red Red, Electric Pink, Orange, Black, Leaf Green, Electric Green, Chocolate Brown, and Bright White.
what to do:
Prepare cookie dough according to the recipe, chill, roll it out, cut out shapes, and bake the cookies. Let cool.
For the bird houses, roll out fondant and cut out bird house shapes. Adhere to the cookie with frosting or light corn syrup. For the circles, tint fondant light blue, roll out, and adhere to the circles. For the birdhouse roof, cut out a triangle of fondant.
For the birds, tint fondant in yellow, red, and pink. Use the leaf cutters to make the birds and wings. Cut out the beaks. Assemble with light corn syrup and attach to the cookies.
After the fondant has stiffened a bit, paint the designs. Squeeze a few drops of food coloring on a paper plate or on wax paper. Mix in a bit of white food coloring to give it a bit of weight. For the light brown, mix a drop of brown food coloring into white food coloring. Paint your designs and let the cookies fully dry.