Disclosure: *This post may include affiliate links. As an affiliate, I earn from qualifying purchases.


These painted Christmas Oreos are gorgeous and so easy to make. Video how-tos below!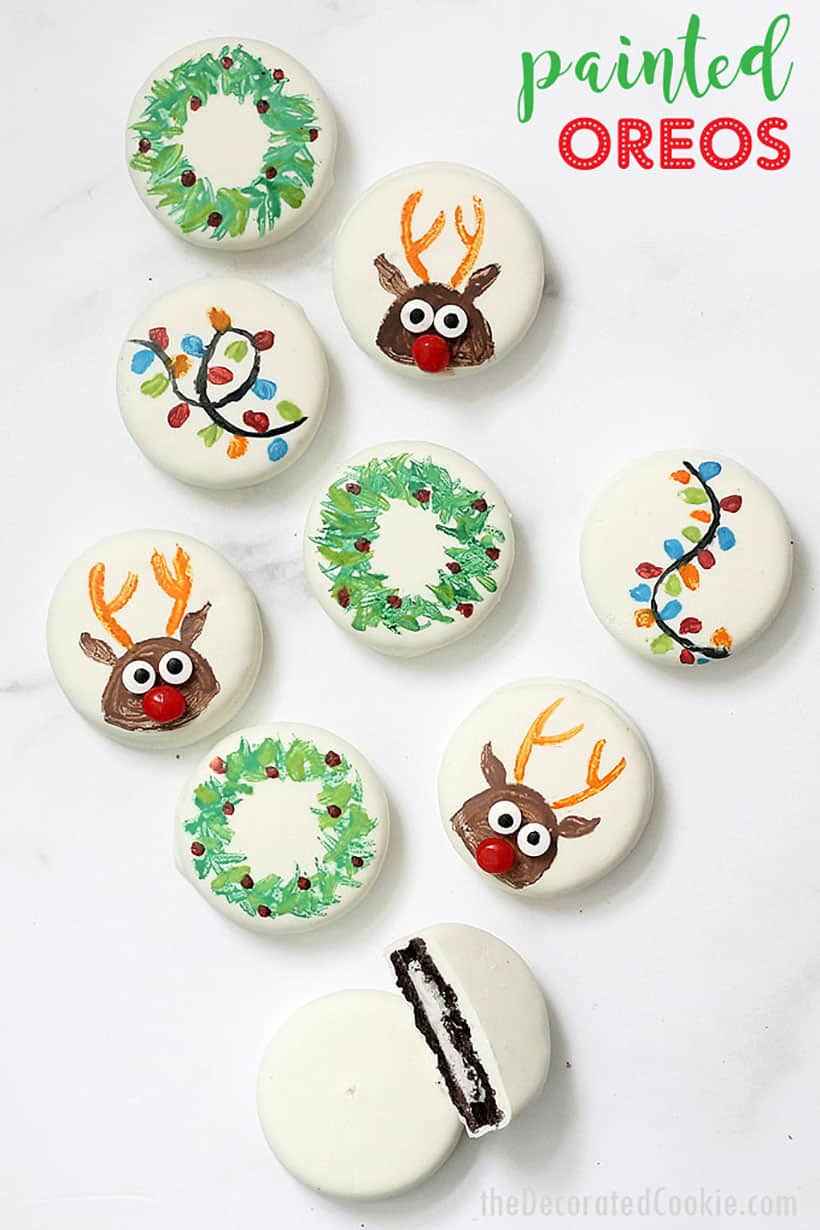 painted Christmas Oreos
It's my favorite time of year. That's right. It's the season for Oreo's limited edition white fudge-covered Oreos to hit the shelves. And so, once again, I made painted Christmas Oreos.
These Christmas Oreos are so easy to make (thanks to the store-bought Oreo thing) and will look beautiful on your Christmas cookie gift trays.
Here, I painted a Christmas wreath, Christmas lights, and Rudolph on my cookies, but you can of course paint anything you like with the how-tos below.
more Christmas Oreo ideas
I'm serious about my love for these store-bought blank canvasses.
how to make painted Christmas cookies
To paint on chocolate-covered Oreos, you will need:
food coloring
small paint brushes
a palette or wax paper
sprinkles or add-ons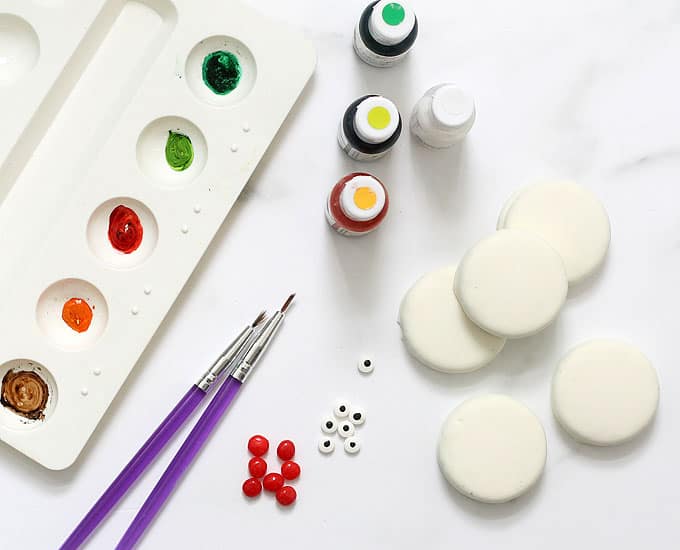 candy color vs food coloring
Because the chocolate surface can resist gel paste food coloring, ideally, you should use oil-based food coloring, or candy color. I prefer the Americolor Candy Colors.
However, because I didn't want to make a large purchase when I already own all of my gel paste food colorings, I did not use those.
If you use these food colors, and my preference is Americolor Soft Gel Pastes, expect a little resistance from the chocolate. I painted all of these shown with my soft gel pastes. In comparison, I painted these snowman Oreos with the candy colors.
TIP: You may also purchase Americolor Flo-Coat to stir into your regular gel paste food coloring to help with that resistance, although I did not use it here.
TIP: So the colors are not too strong, I mixed the food coloring with white food coloring before painting (a few drops of each, depending on what color you want.)
To make the wreath, lights, and Rudolph, I used Bright White (as a mix-in), Leaf Green, Electric Green, Chocolate Brown, Black, Red, Egg Yellow, and Sky Blue.
paint brushes and palette
Use small, clean brushes for the best control. You can dip the brushes in water to smooth them, and dab them on a paper towel so you don't get too much water in the food coloring.
I like these Wilton-brand paint brushes. Any palette will do.
how to paint Rudolph
With brown food coloring diluted with a little bit of white coloring, paint the reindeer's head and ears. With yellow (mixed with some white), paint the antlers. Let dry a bit. Use a toothpick to dab light corn syrup on Rudolph's face. Add a cinnamon candy for the nose and two small candy eyes.
how to paint a wreath
To paint a wreath, you'll need leaf green, electric green, and red, each mixed with a few drops of white food coloring.
Use a small paint brush to make sketchy lines in a circle of the leaf green.
Then do the same with the lighter green. Add dots of red. Let the Oreos dry.
how to paint Christmas lights
Use a small brush to paint a string with black food coloring (I did not dilute the black with white food coloring).
Add dots of lights in any colors you like. (I did dilute the other colors with white food coloring.) Let dry.