Disclosure: *This post may include affiliate links. As an affiliate, I earn from qualifying purchases.


painted cherry blossoms cookies
As promised, I'm back with some more painted cherry blossoms cookies, because you see, as a Washington DCite, I need to push the cherry blossom.
These cookies, about 2 1/2-inches across, are a bit bigger than these painted cherry blossom cookies in paper cones here, but you can follow the same instructions for fondant-topped painted cookies.
You may also use a flooded royal icing background instead of the fondant, as long as you let the icing set well, at least one day.
(Of course, you can find more how-tos for flooding and fondant and painting with food coloring in Sugarlicious. I'm just sayin' is all.)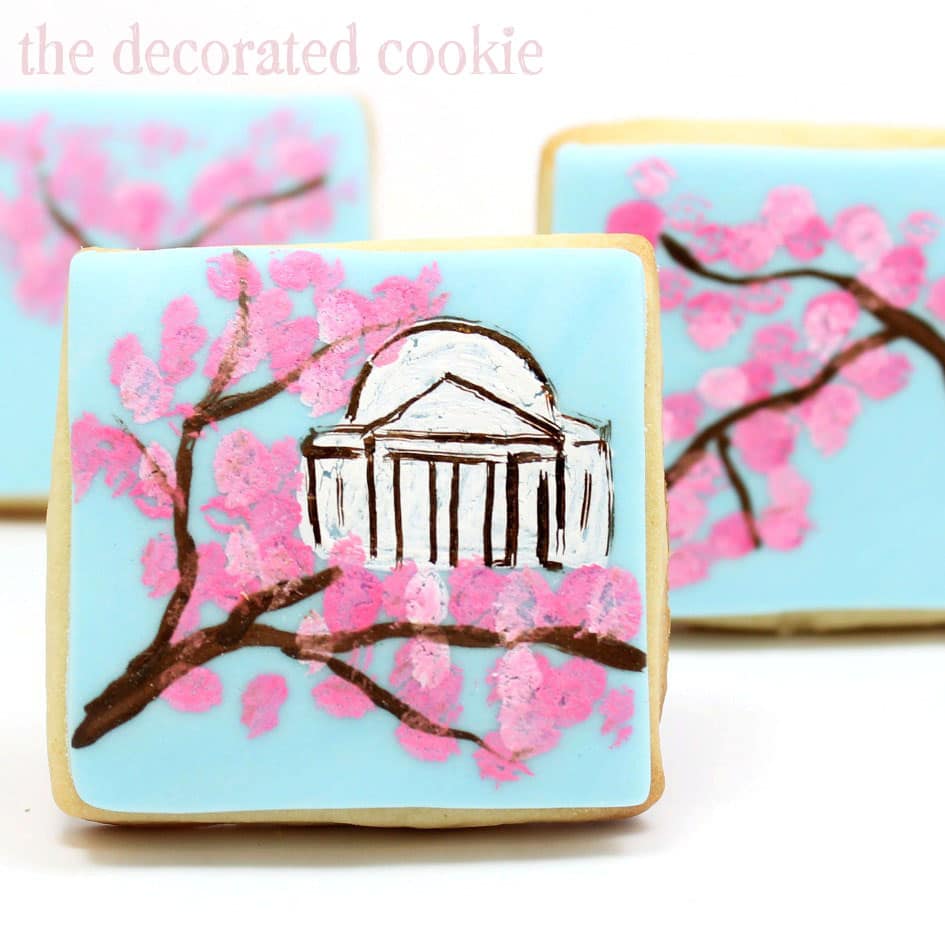 how to paint cookies
To make shades of pink "paint" and brown "paint," I used Americolor Soft Gel Pastes, and I mixed a drop of water with a few drops of white and a drop or two of Electric Pink.
I mixed some white with Chocolate Brown, and I used just White.
I first used a small brush to paint the branch, then just dipped a flat brush in the paint and used it to "sponge" the colors on.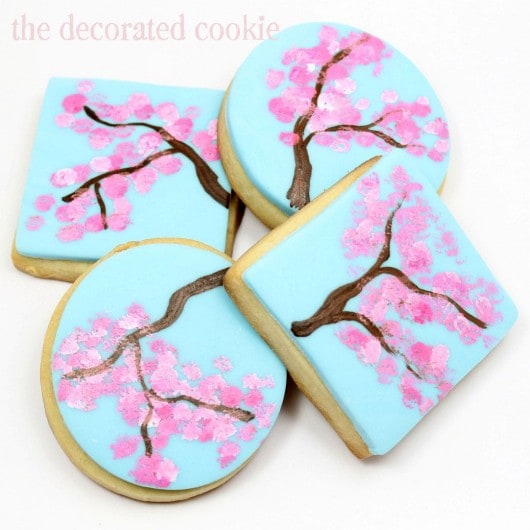 While I mourn the absence of snowman-making this mild winter, sigh, Spring isn't so bad. Especially with painted cherry blossom cookies.
how to paint on cookies
For more cookie painting ideas, check out these snowman Oreos, these painted flower get well cookies, these pretty birdhouse cookies, or these watercolor flower cookies.
cherry blossom food ideas
For more cherry blossoms, try these cherry blossom meringues. Or make cherry blossom marshmallows.