Disclosure: *This post may include affiliate links. As an affiliate, I earn from qualifying purchases.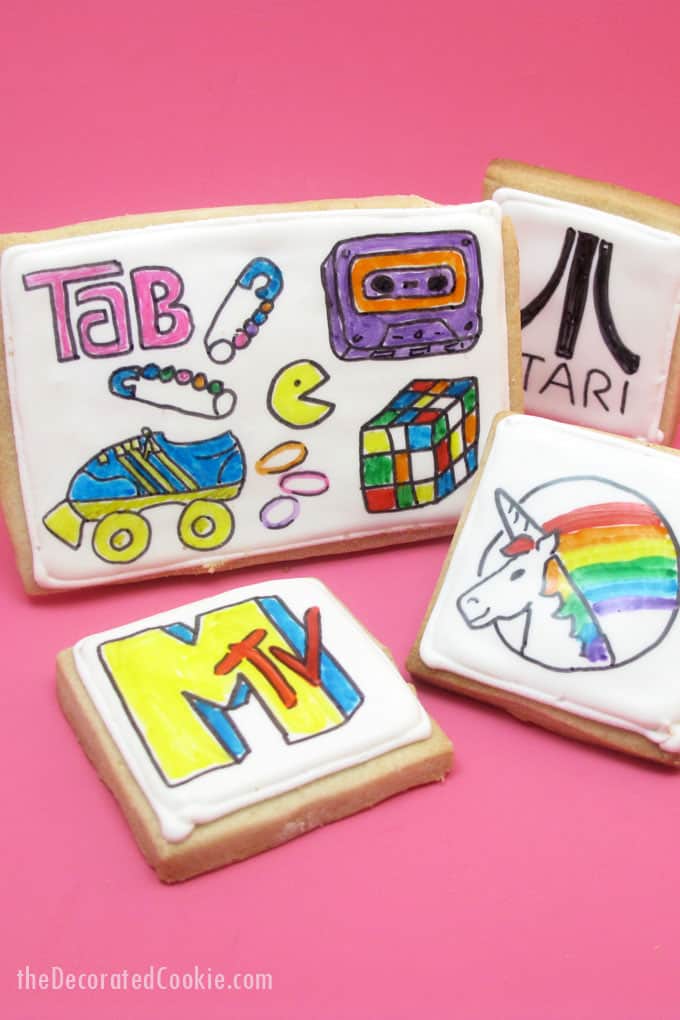 '80s cookies
I know, I'm a broken record about being a kid of the '80s. We get it, Meaghan, you're a kid of the '80s. That explains the '80s cookies.
You wore leg warmers and wigwam socks and jelly bracelets and Forenza sweaters. You listened to Men at Work and REM and the Smiths and Duran Duran and Tears for Fears and (I have to stop this sentence, or it will go on forever).
You broke apart your Rubik's Cube in frustration. You got a Cabbage Patch Kid ('Cassandra,' brought back from my Dad's trip to Spain) and
played Princess Leia and Luke Skywalker with your brother in the yard.
You ate Nerds and Pop Rocks and JellO Pudding Pops. You kicked butt at Pac Man and Breakout.
You loved Knight Rider, The Dukes of Hazard, Falcon Crest, Golden Girls, Family Ties, Growing Pains, The Facts of Life (another sentence that will go on forever if I don't stop). You memorized every line of The Breakfast Club. You had feathered hair (not successfully). You wore a strapless, taffeta, bubble skirt prom dress.
We get it. You were cool. Or totally uncool. Whatever.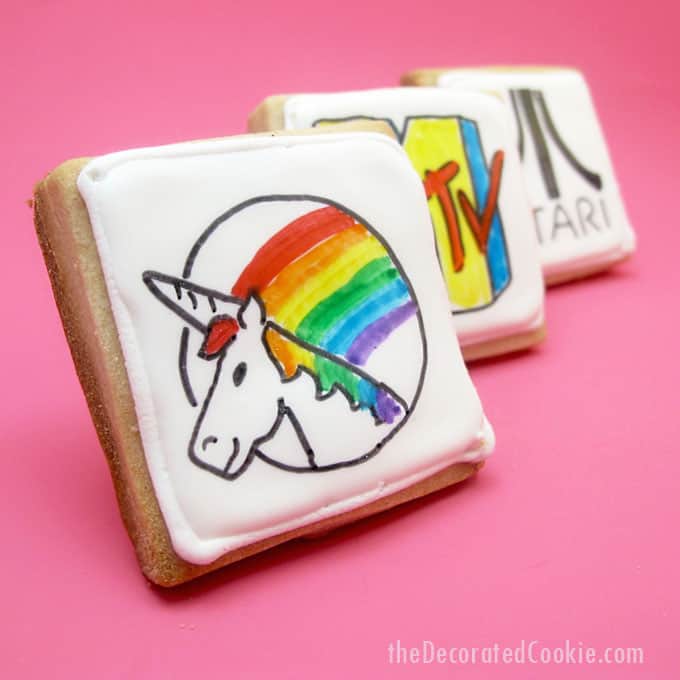 Did I mention I'm a kid of the '80s? Born in '72, graduated high school in '90. Prime years, my friend. Why am I proud of this? Why do I shake my head at kids who don't know what life was like before the internet, cell phones, even pagers? To hang out with friends we just called their house and hoped not to get a busy signal . What is it about the decade of our childhood that evokes such fond nostalgia? When really, the ages of 8 to 18 are the most depressed, self-conscious, clueless and awkward we likely will ever face? These could not have been good times, yet I sigh with glee whenever I see anything that reminds me of that iconic era. It's probably just the memory of youth when so much possibility lay ahead.
Been thinking too much lately. Must be my age. Or the kid starting school and about to face her own decade of memories. Anyhoo, here are some '80s tribute cookies.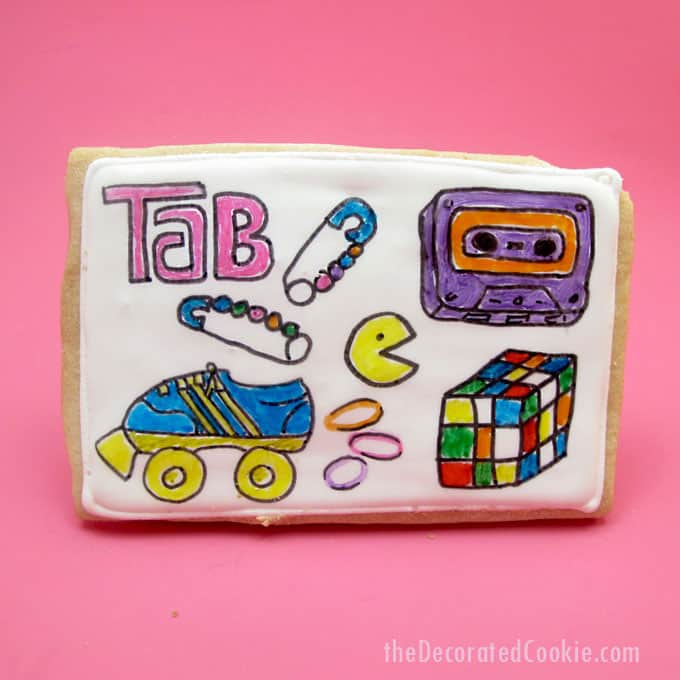 A key for those not kids of the '80s:
see if you can find:
the MTV logo
rainbows and unicorns
the Atari logo
awesome sneaker roller skates
jelly bracelets
friendship pins
TAB logo
cassette tape (don't ask me what this is if you've never seen one)
how to make '80s cookies
I used my sugar cookie dough to cut out square and rectangle cookies. Then I flooded the background with my royal icing, tinted white with Americolor Soft Gel Paste. Let the flooded background dry overnight. Then click HERE for tips on drawing with edible pens.
I want my…