Disclosure: *This post may include affiliate links. As an affiliate, I earn from qualifying purchases.


Totally tubular FROGGER cookies, for the '80s video game fan.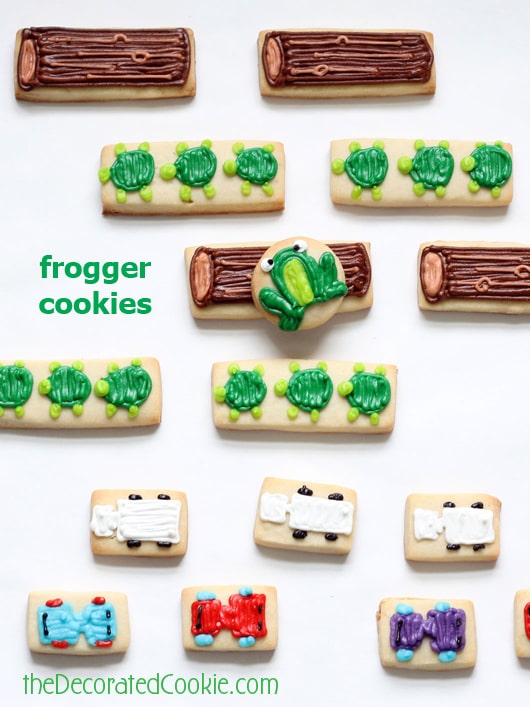 Frogger video game cookies
As some of you may know, every year I make my brother cookies for his birthday. In short, he's a fan of superheros and old school video games. And so, I've already made superhero cookies and Pac-Man cookies. This year, I'm all about Frogger. Frogger video game cookies. Please tell me you remember the video game Frogger? (If you're more into modern-day video games, then check out these Candy Crush cookies.)
We were an Intellivision family, not an Atari family. But Frogger was one of those crossover games that we Intellivision folks got to play. (Sorry, but "Brickout" isn't "Breakout." Ooooh, next year I'm going to try and make Breakout cookies.)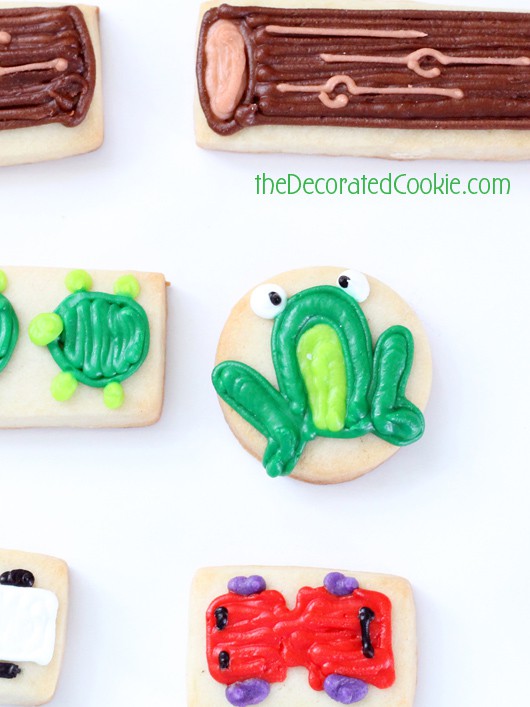 Fortunately, for the ease of cookie decorating, early 1980s video games used pretty simple graphics, so these cookies aren't difficult to make. Though I upped my game on the frog because he's the star.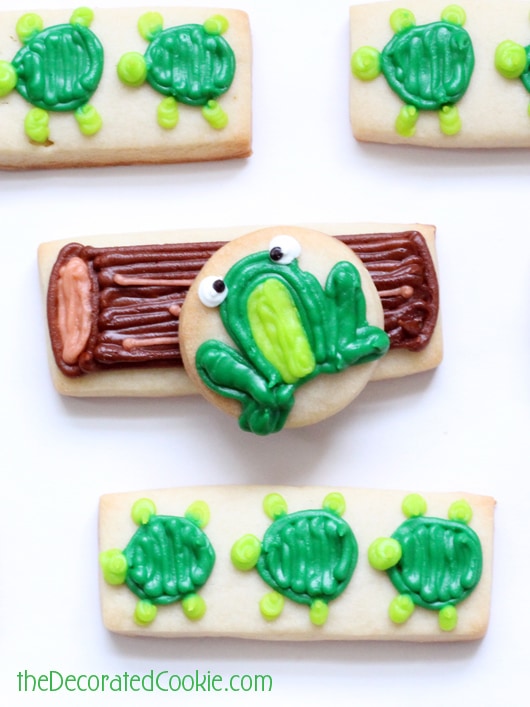 I even made this game board out of construction paper because I'm a total nerd.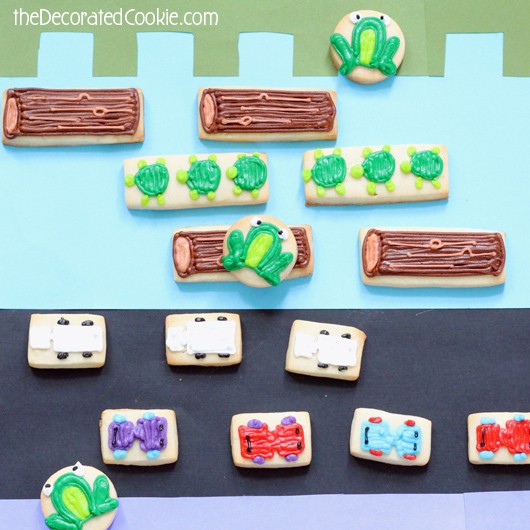 how to make Frogger cookies
you will need:*
cookie dough
royal icing
circle cookie cutter
rectangle cookie cutters (or sharp knife)
food coloring (black, white, green, brown, and any other colors)
disposable decorating bags
couplers
sizes "2," "3," and "4" decorating tips
rubber bands
*Find the cookie cutters (a 1 1/2-inch circle used here), decorating bags, couplers, and tips at the craft store. For tips on finding supplies, click HERE. For food coloring, I suggest Americolor Soft Gel Pastes (Super Black, Bright White, Leaf Green, Electric Green, Chocolate Brown, Regal Purple, Sky Blue and Red REd used here). For basic cookie decorating how-tos, click HERE.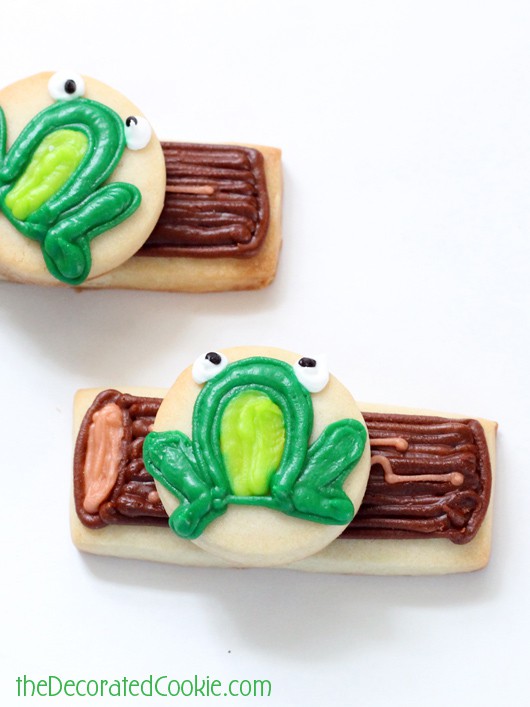 step one: bake your cookies. Prepare cookie dough according to the recipe, chill it, and roll it out. For the frogs I used a 1 1/2 inch circle. For the logs and turtles, I used rectangles cut to 3-inches by 1 inch. For the cars and trucks, I cut out rectangles 1 1/2-inch by 1-inch. Place on a parchment paper-lined baking tray and bake. Let cool.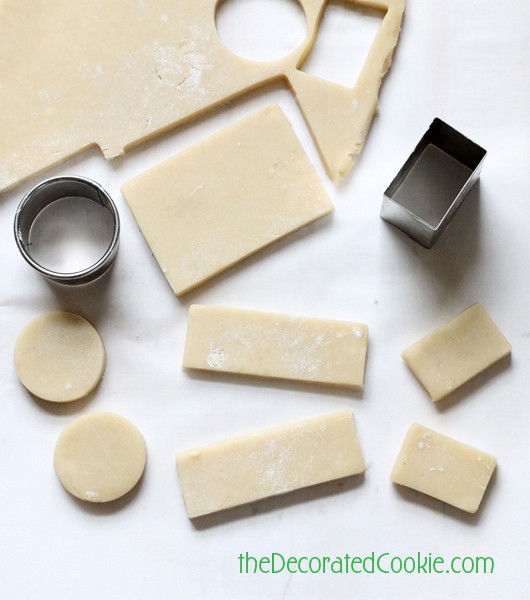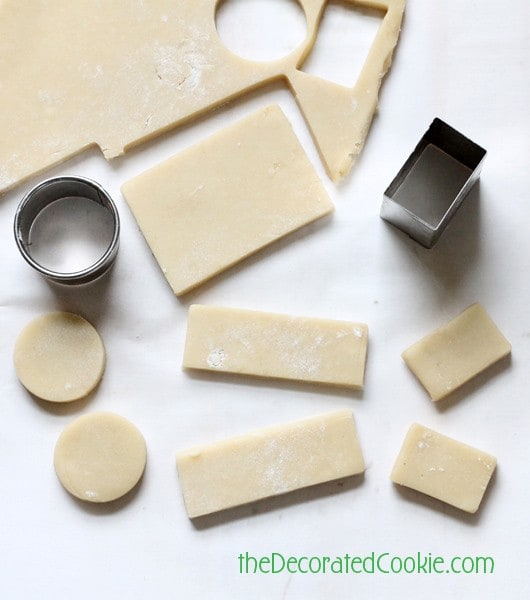 step two: prepare your icing. Prepare royal icing according to the recipe. Divide and tint your colors: Two shades of green for the frogs and turtles, two shades of green for the logs, white and black for the frogs and trucks and any colors for the cars. Prepare decorating bags with couplers and tips, fill with icing and close tightly with rubber bands.
step three: decorate your cookies.
To decorate the logs, outline the log with the darker brown using a size 3 tip. Switch to a 4 tip and pipe back and forth to fill the log. Fill the little oval with the lighter brown using a size 3 or 4 tip. Switch to a 2 tip and pipe stripes on the log.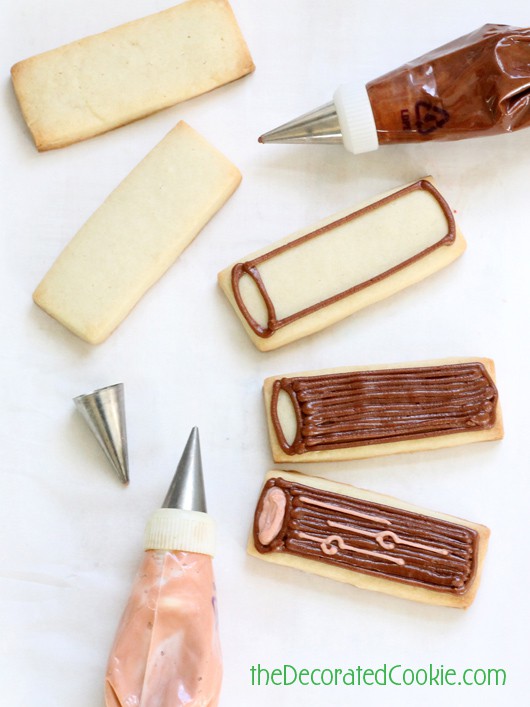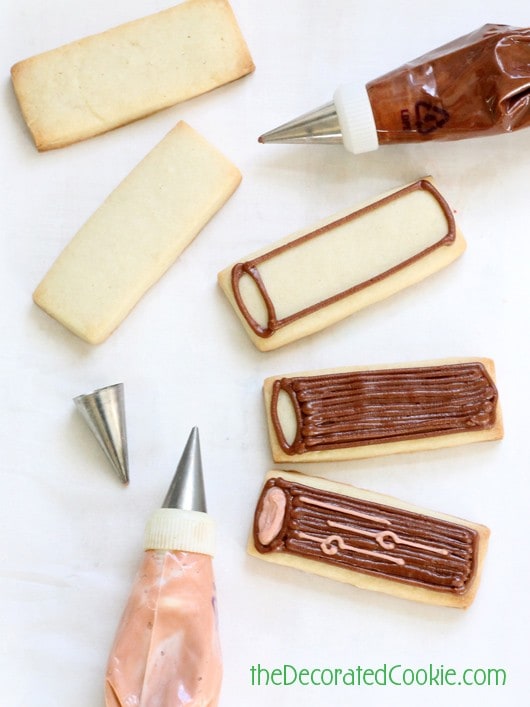 To decorate the turtles, pipe and fill three circles with the darker green using a size 3 or 4 tip. Using a size 3 tip, pipe dots for the heads and legs with the lighter green.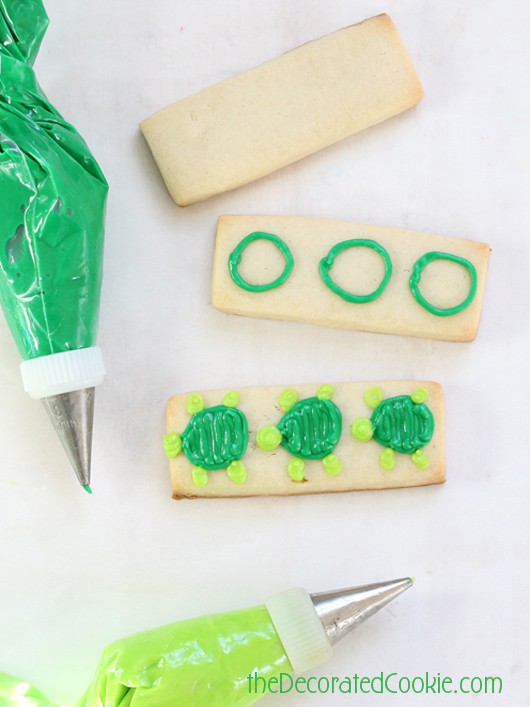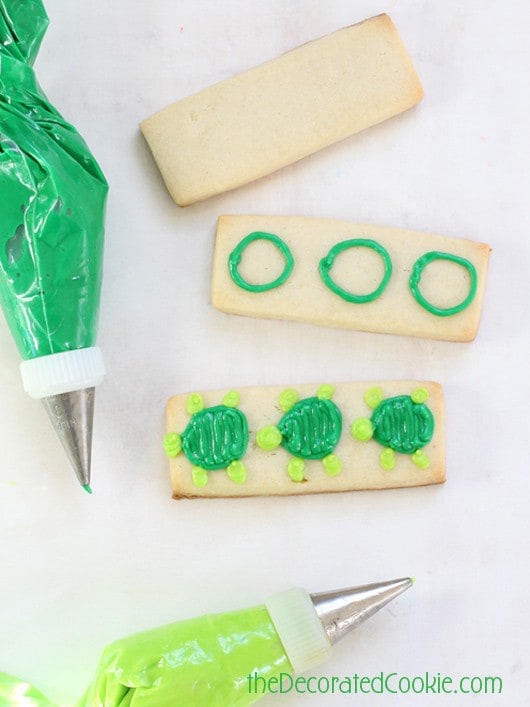 To decorate the cars and trucks, pipe the car or truck shape (so, basically squares and rectangles) and fill using a size 3 or 4 tip. With a size 2 tip black, pipe tires or marks on the cars.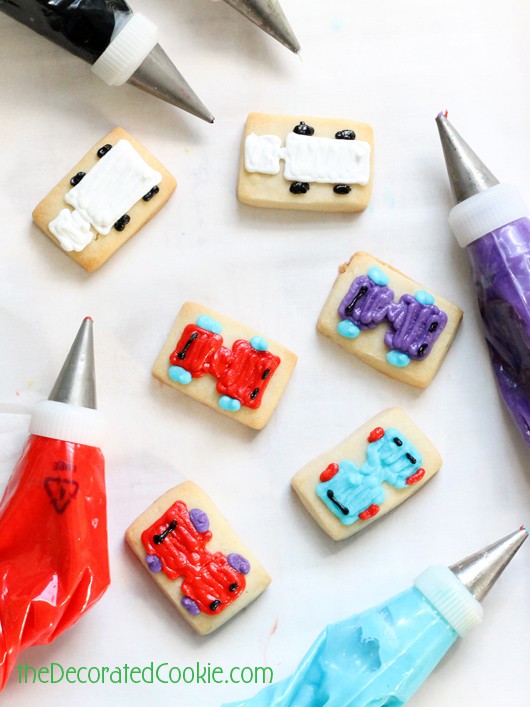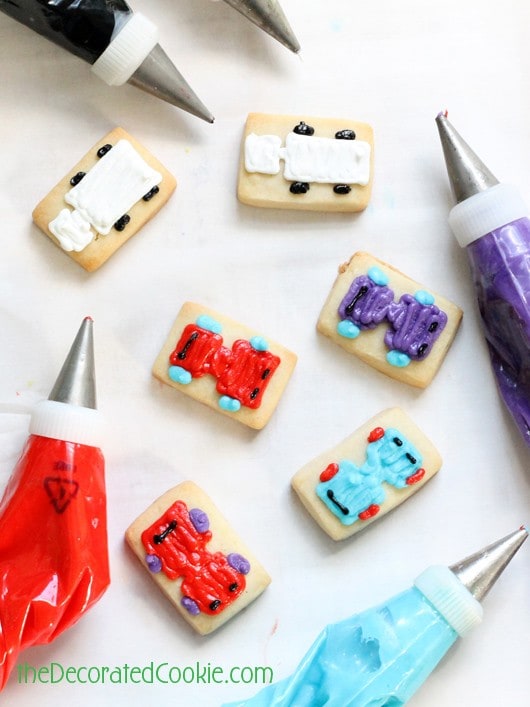 To decorate the frog, outline the frog with a size 3 tip in darker green. Pipe to fill the frog with the same green and pipe the mouth area with lighter green. Pipe two dots for eyes with a white 3 tip. Pipe two dots on the white eyes with the black 2 tip.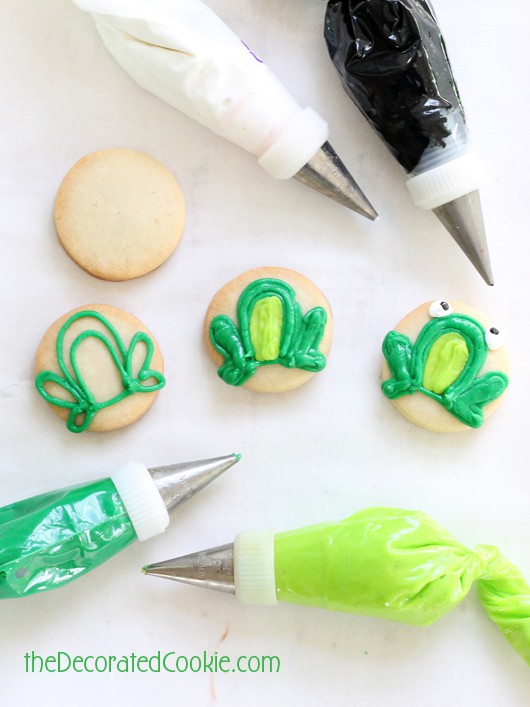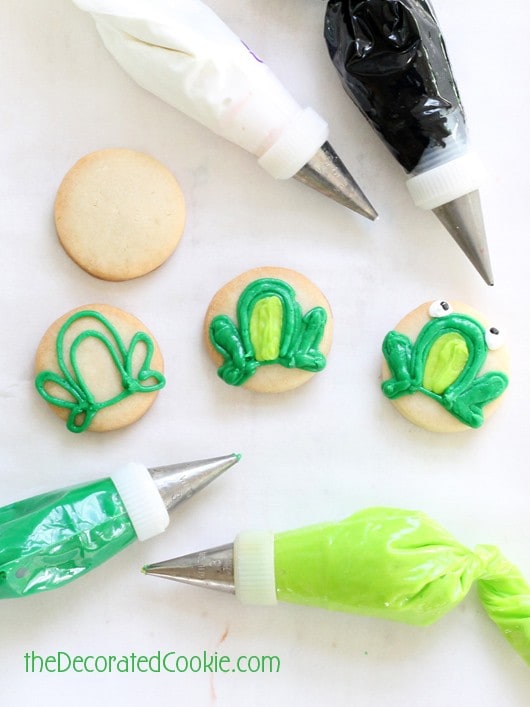 Let the cookies dry overnight before packaging and handling.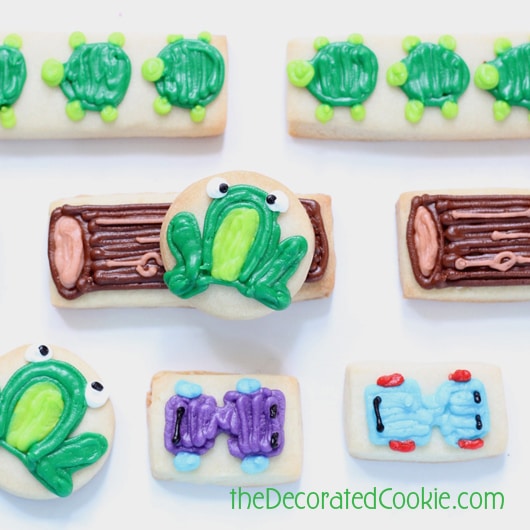 SUPPLIES:
PIN FOR LATER: