Disclosure: *This post may include affiliate links. As an affiliate, I earn from qualifying purchases.


These flower pot cupcakes are perfect for Earth Day, spring, Mother's Day or a garden party.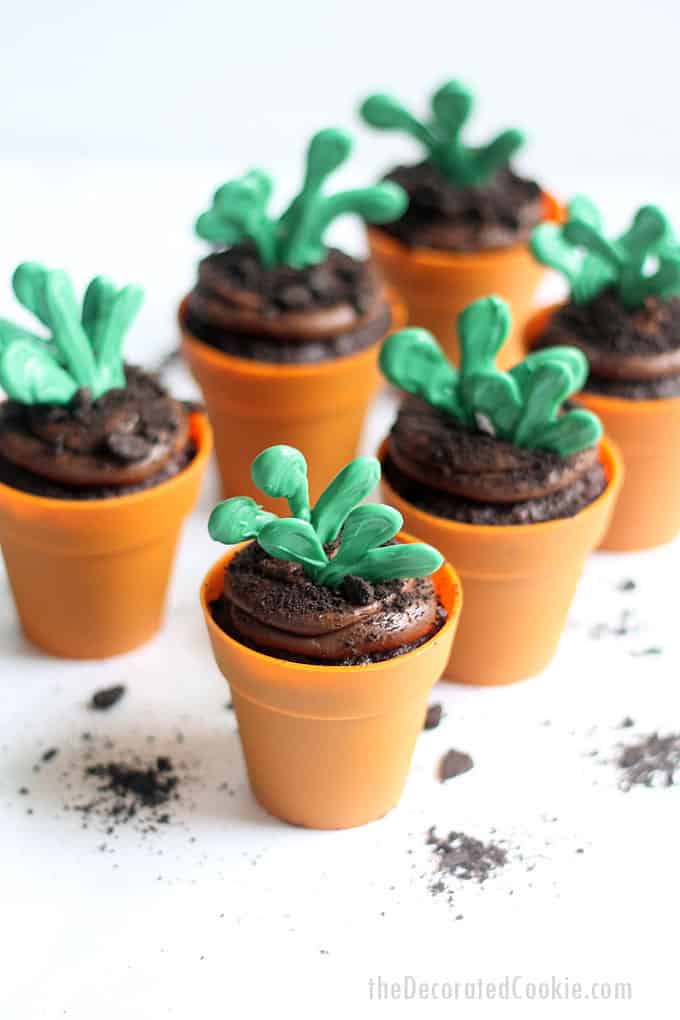 flower pot cupcakes
Perfect from-scratch chocolate cupcakes with homemade chocolate buttercream frosting, baked in flower pot baking cups, topped with cookie "dirt" and candy melt sprouts…
I absolutely adore this cupcake idea for Earth Day, spring, Mother's Day, or a garden party.
I can't grow a thing in a real garden, but at least I can handle the cupcake version.
You might remember these chocolate cupcakes in a flower pot from these flower pot Easter cupcakes with free printables.
This time, instead of adding a printable, I added a candy melt sprout. Or plant? Or seedling? I'm not even sure what to call them, I'm just that bad at gardening.
It's my new favorite chocolate cupcake recipe (moist, delicious, and they bake up perfectly in these silicone baking cups), I just had to make more.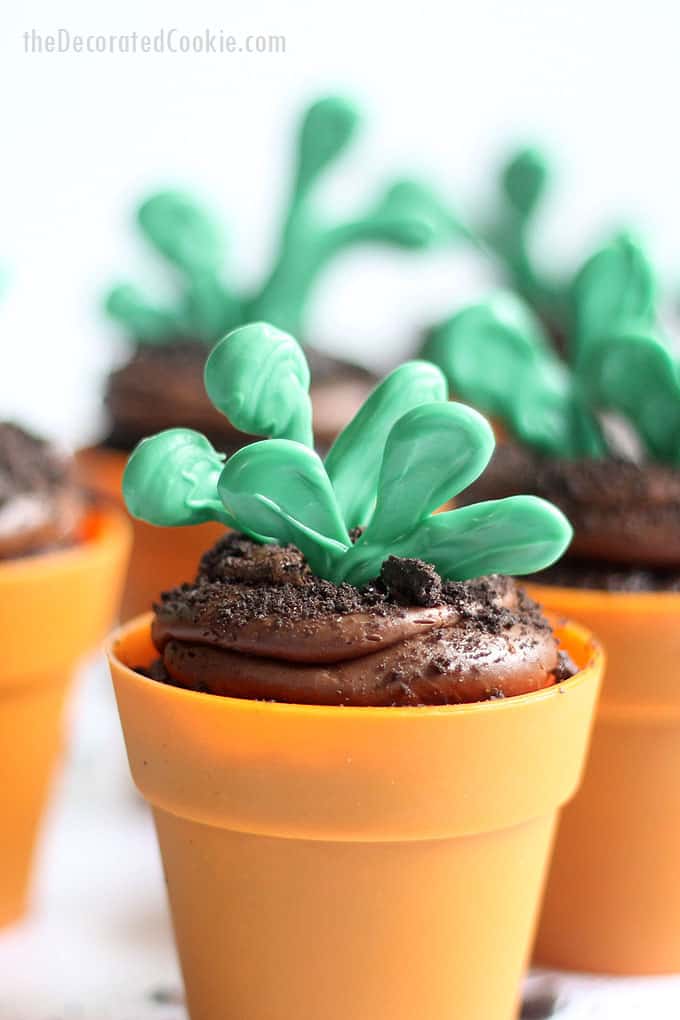 Earth Day food ideas
Using these for Earth Day? Here are more fun food ideas: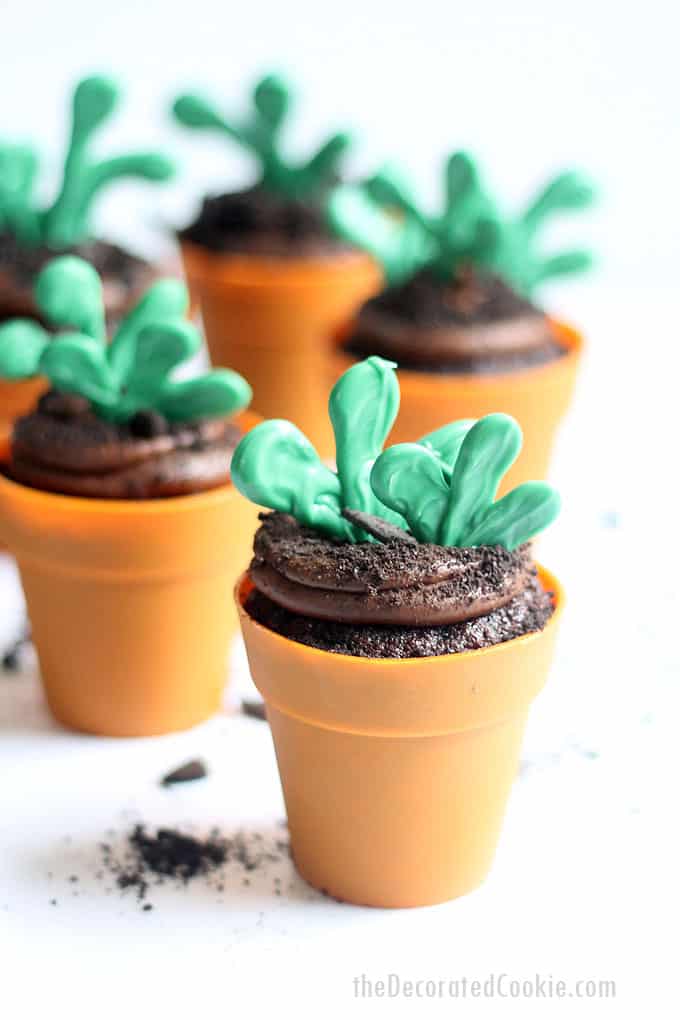 how to make flower pot cupcakes
you will need:
flower pot silicone baking cups
chocolate cake batter (see below)
chocolate frosting (see below)
size 12 tip (optional)
where to find supplies:
Find the baking cups, decorating bag, and candy melts at the craft store.
Find the chocolate wafers at the supermarket.
The chocolate wafers link is to show you what brand I prefer, but they will be much cheaper at the supermarket. These silicone flower pots are 2 1/4 inches x 2 1/2 inches.
what to do:
Prepare the one-bowl chocolate cupcakes in the silicone baking cups according to the recipe below and let cool.
Prepare the chocolate frosting.
Assemble a decorating bag with size 12 tip and fill with the frosting (or, just spread the frosting on the cupcakes with a spatula). Pipe a spiral of frosting on top of a cupcake. Top with crushed candy melts.
Line a baking tray with wax paper.
Place about 1/2 cup of green candy melts in a disposable decorating bag. Microwave for 90 seconds at 70 percent power. Massage the bag. Continue to microwave at 15 second intervals until fully melted, making sure not to overheat the candy.
Snip the tip of the bag. Pipe "sprouts" on the wax paper and let set well, about 1 hour.
Insert the sprouts into the cupcakes.
printable chocolate cupcake and chocolate frosting recipe
Here is the printable recipe for the chocolate cupcakes and chocolate frosting. Find the step-by-step how-tos with pictures HERE.
Yield: 10 to 12 cupcakes
chocolate cupcakes and frosting
Delicious, moist one-bowl chocolate cupcakes with chocolate buttercream frosting.
Ingredients
for the chocolate cupcakes
1 cup sugar
1 cup all-purpose flour
1/3 cup unsweetened cocoa powder
1 teaspoon baking powder
3/4 teaspoon baking soda
1/2 teaspoon salt
1/3 cup canola oil
1/2 cup heavy cream
1 egg
1 teaspoon vanilla extract
1/2 cup hot water
for the chocolate buttercream frosting
5 tablespoons butter, softened
2 1/4 cups confectioner's sugar
4 to 6 tablespoons milk
1/4 cup unsweetened cocoa powder
1/2 teaspoon vanilla extract
pinch of salt
Instructions
to make the cupcakes
Preheat oven to 350 degrees F. Line a cupcake tin with 12 baking cups (or, to make flower pot Easter cupcakes, spray 10 silicone baking cups with non-stick spray and arrange on a baking tray).
In a large bowl, briefly whisk together the sugar, flour, cocoa powder, baking powder, baking soda, and salt. Add the oil, heavy cream, egg and vanilla extract and whisk until well blended. Add the 1/2 cup of hot tap water and stir until well blended.
Spoon the batter into the baking cups 2/3 full. (If using the flower pots, fill the pots to the line inside the pot made by the flower pot rim, or about 5 tablespoons of batter each.)
Bake until an inserted toothpick comes out clean and the top springs back when pressed, about 22 to 25 minutes (the flower pot cupcakes may take a few minutes longer). Let cool before frosting.
to make the chocolate frosting
Using a hand mixer or standing mixer, blend together the butter with about half of the confectioner's sugar. Add two tablespoons of milk and blend again. Blend in the remaining ingredients and mix very well. Add additional milk by the tablespoonful until desired consistency is reached. Decorate the chocolate cupcakes.
Nutrition Information:
Yield:
12
Serving Size:
1
Amount Per Serving:
Calories:

382
Total Fat:

18g
Saturated Fat:

7g
Trans Fat:

0g
Unsaturated Fat:

9g
Cholesterol:

43mg
Sodium:

293mg
Carbohydrates:

54g
Fiber:

1g
Sugar:

42g
Protein:

3g