Disclosure: *This post may include affiliate links. As an affiliate, I earn from qualifying purchases.


fondant watermelon
These little slices of fondant watermelon can be used as cupcake toppers (just rest atop the frosting) or to decorate cookies (just cut out cookies of the same shape and adhere with a thin layer of frosting or corn syrup) or for whatever you fancy (like collected in a baggy for a super sweet treat).

how to make fondant watermelon slices
you will need:*
white rolled fondant
rolling pin
wax paper or confectioner's sugar
2 circle or oval cookie cutters (about 1/2 inch difference in diameter)
food coloring
black edible marker
*Find the fondant in the craft store, or make homemade marshmallow fondant.
I use the Americolor Gourmet Writers or FooDoodlers.
For the cutters, I used two ovals from an Easter egg cookie cutter set (sizes 1 1/2-inch and 2-inch).
For the coloring, I use Americolor soft gel pastes, Electric Green, Leaf Green and Electric Pink (you can also use just one green and add more drops for the darker, or use red instead of pink).
For tips on finding cookie decorating supplies, click here.
step one: make your rind
Prepare lime green and a darker, bright green fondant. (To prepare, add a few drops of coloring to a piece of fondant and knead very well.
If fondant gets too sticky, let sit at room temperature uncovered for 15 minutes.)
Make several short logs of each color and lay them next to each other; you can wet the sides to make them stick to each other. Roll the logs with a rolling pin.
To prevent sticking, use either confectioner's sugar or roll between two pieces of wax paper.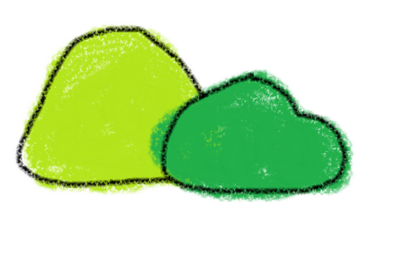 Use the larger cutter to cut out a circle or oval. Use the smaller one to cut out the inside, then use a knife to cut off the top of the shape to make a semi circle. Set aside.


Tip:
Cutting out the inner circle of the rind wastes a lot of fondant. To save on waste, you can either cut apart the stripes as best as you can to keep the two greens separate (and re-roll), OR, work with small amounts of the darker green fondant. Then, take your scraps, knead them, and keep adding more food coloring to make the darker green.
step two: make the inside
Prepare hot pink or red fondant and roll out. Cut out circles or ovals with the smaller cutter and then cut off the top with a knife to make a semi circle.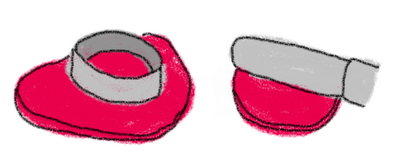 step three: assemble your slices
Using either water or corn syrup along the circular rim of the red or pink piece, insert the watermelon flesh in the rind. Draw seeds with the black marker. Let dry.