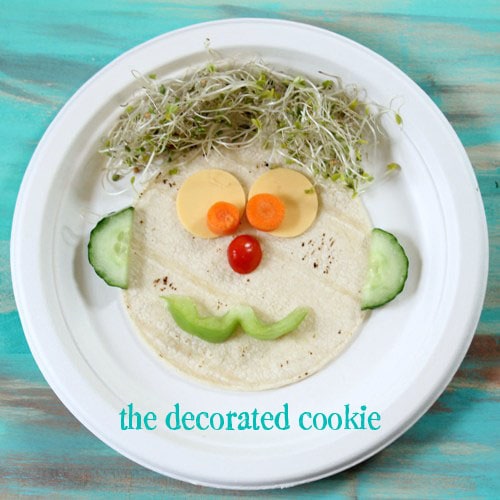 Once the word leaked out at my daughter's school that I decorate cookies and cupcakes and marshmallows and such things, it wasn't long before I was tapped as a resource. My daughter's teacher asked me if I'd like to lead a session with some kids in the school. I love kids, I love my daughter's school, I love her teachers. So yes, of course I would. My task was to come up with a 50-minute activity for a bunch of three, four and five year olds. The catch: The school is a no sweets zone. And I'm all about sweets. And they just completed a whole lot of lessons in fruits and veggies and gardens and healthy eating. Sigh. So… no cookies, no cupcakes, no marshmallows? You see why this poses a challenge for me. Rather than even attempt a healthy version of icing, I just went with fruit and veggie decorating. We made silly veggie faces with tortillas and cut up vegetables, vegetable field scenes, and some yummy star, heart and flower fruit pops from slices of watermelon, honeydew and cantaloupe.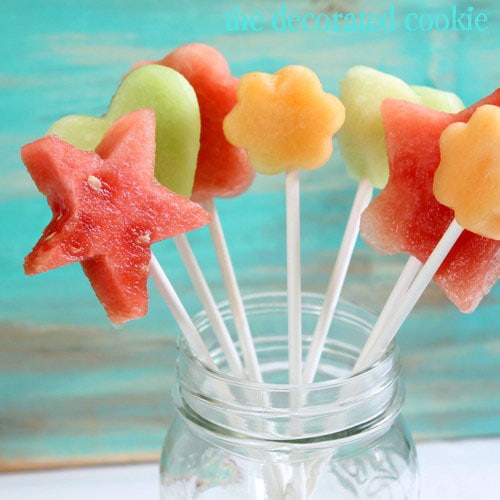 I briefly (very briefly, it would be torture to make kids so young wait to play with food) introduced the concept of food as art, then we yakked about shapes. What shapes are on our faces, the shapes of the vegetables, and what might be used for what. The results? While the kids were way quicker with their creations than I anticipated, I was crazy impressed by their veggie face skills. Even the youngest of the group made clever faces, adding features I didn't even consider, like eyebrows and mustaches. Of course! Eyebrows and mustaches. How could I forget those? And I needlessly worried that the cookie cutters and fruit would take dexterity and strength they lacked. They wielded those cutters, melons and lollipop sticks like old pros.
I snapped a few photos of the veggie faces so you can see them in action. It was too hectic to get photos of the rest, so apologies for that. And while I'll post pics of my own kid from here to Kalamazoo, I don't ever post pictures of other people's children without their permission, so I'm afraid the cute and smiley real faces have been cropped out of sight.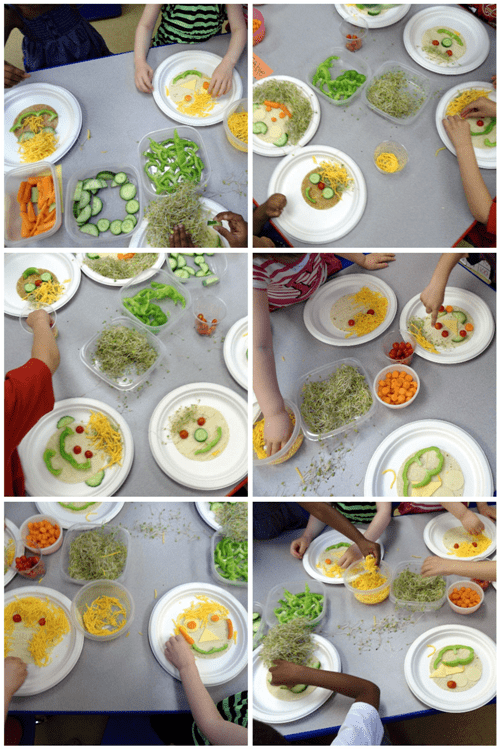 Some tips on what I did in case you're asked to lead 20 three to five year olds in a healthy, fun food activity, too.
silly veggie faces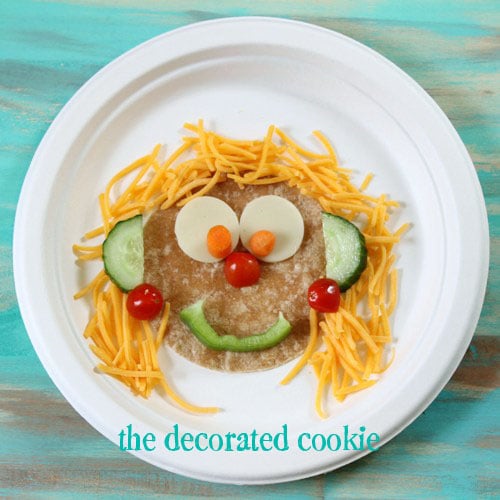 Start with mini tortillas. I thought about slices of bread, but tortillas are much more sturdy to hold the veggies. Each child got a tortilla on a paper plate.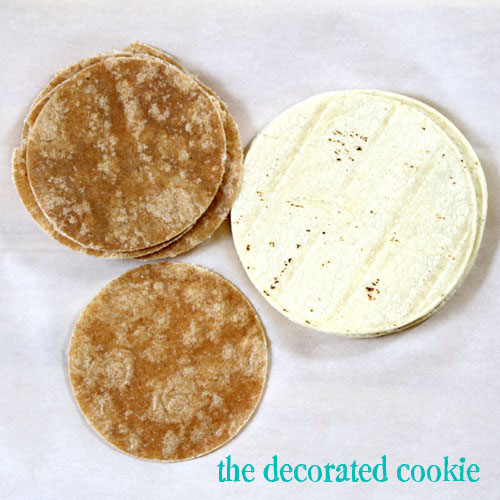 Ideas for veggies: I used cucumbers (cut in circles or semicircles), cherry tomatoes (halved), baby carrot slices, carrot and cucumber and celery sticks, green peppers (great for smiles!), shredded cheese and alfalfa sprouts (great for hair!), provolone and American cheese slices cut with a cookie cutter and scissors into circles and triangles.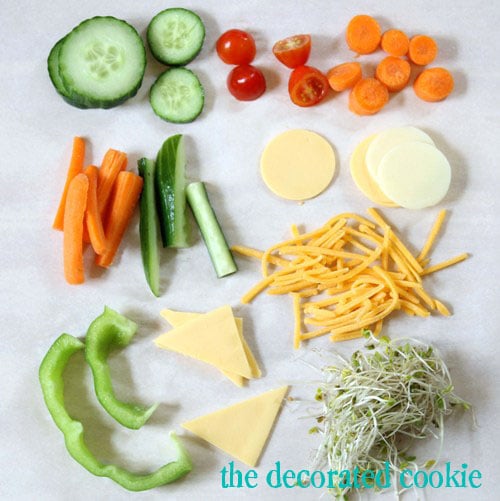 field-of-veggie scenes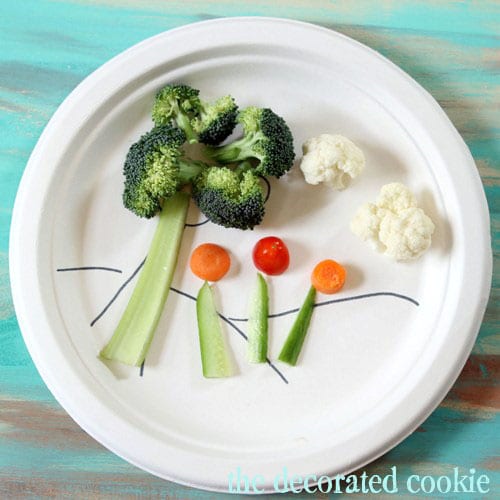 We also made these field-of-veggie scenes. I drew a tree and meadow in each plate: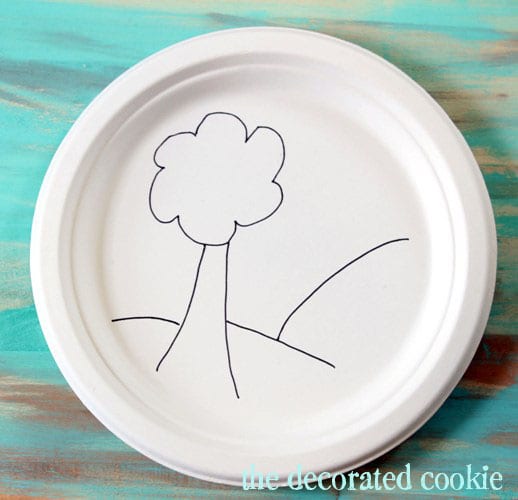 And let kids use broccoli for the tree leaves, cauliflower for the clouds, sticks of cucumber and celery for the tree trunk, smaller sticks of cucumber and celery for flower stems, and carrots and tomatoes for flowers.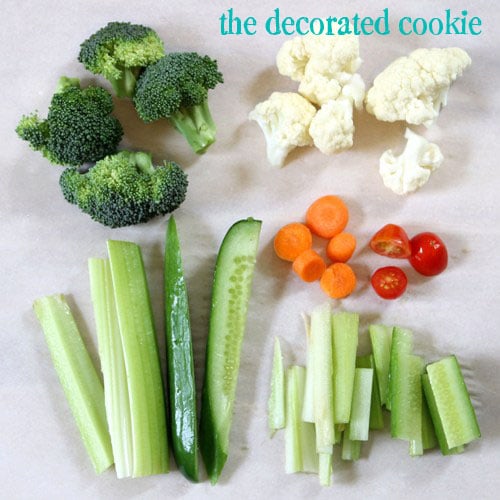 melon fruit pops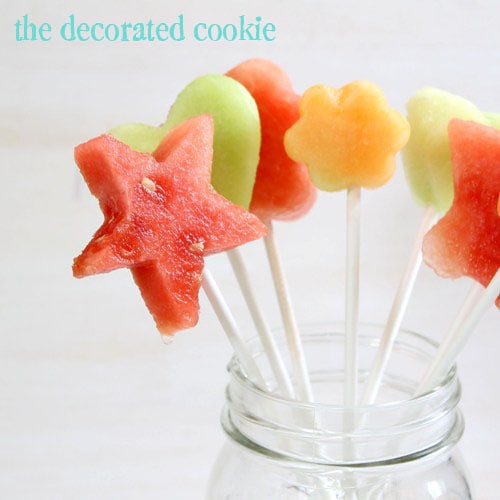 For the fruit pops, I sliced honeydew, watermelon and cantaloupe, brought in a bunch of cookie cutters (smaller is better) and lollipop sticks and let the kids cut out their desired shapes and make pops. These they ate right away, so there was no evidence afterwards.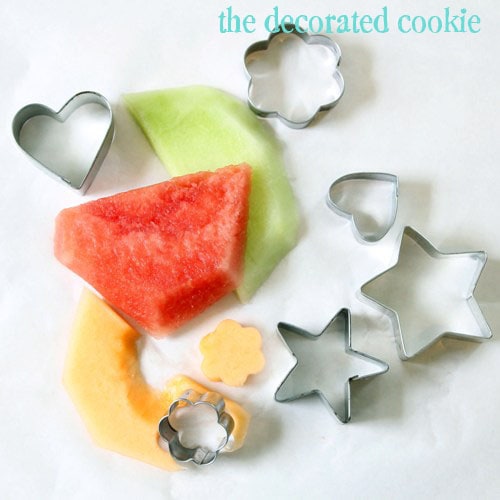 It's not often I take a break from sweets, but every now and then it's nice to play with other food.
PIN FOR LATER: