Disclosure: *This post may include affiliate links. As an affiliate, I earn from qualifying purchases.


For cute and easy summer cupcake ideas, try these crab and fish cupcake toppers made from gum drops. These "Gone Fishing" cupcakes would also make a great Father's Day dessert idea.
summer cupcake ideas
Crab and fish cupcakes are the cutest beach-themed treats. Summer is definitely here, according to the outdoor thermometer that is currently reading 96.6 degrees. I'm a mess in the heat.
Crabby (oh, hey, that's a good word considering this post), irritable, complainer of heat I am. Griper of A/C turned up too high. Groaner at the hair frizzing humidity, the sweat causing blazes, the… I could go on 'til Fall.
So naturally, I need to make some gumdrop crab and fish cupcakes.
more fun summer food ideas
If you like these, check out all of my summer food crafts. If sea animals are your thing, try these sea animal candy pops or these easy crab Oreos. These crab cupcakes are super easy too.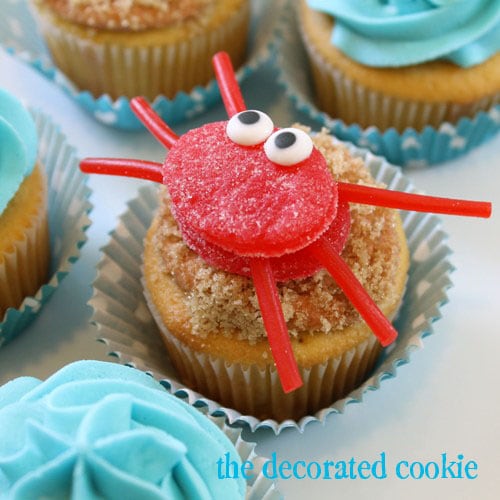 I heart the shore
Luckily, I'll most definitely be escaping to the beach this summer. Also luckily, my family is from the New Jersey shore. No, not the Snooki, group house, beer pong, night clubbing shore (though the area is not without such things), but the lovely town of Sea Girt.
While it has changed dramatically since I was a kid, what with the sky rocketing property values, cottages razed for lot-sized mansions, and the like, it's still an oh so lovely town. Our roots run deep in this place, as my great grandfather was the lighthouse keeper.
If you scroll down this page, my great grandfather is the man holding his cap, William Lake, and the boy with Edith is my grandfather, "Toots," who would later rescue survivers of a fire that brought down a luxury liner, the Morro Castle, off the shore.
(And you'll recognize my name, or rather, my last name, as my brother is recognized, too.)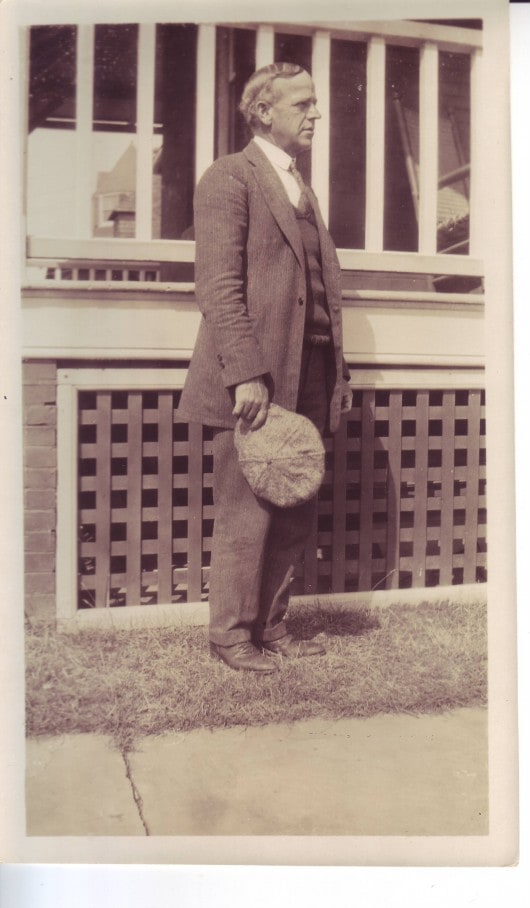 But I digress from gumdrops and cupcakes. I made these crab and fish cupcake toppers for my demo and book signing last weekend, and they seemed to be such a hit, I thought I'd share the how-tos with you.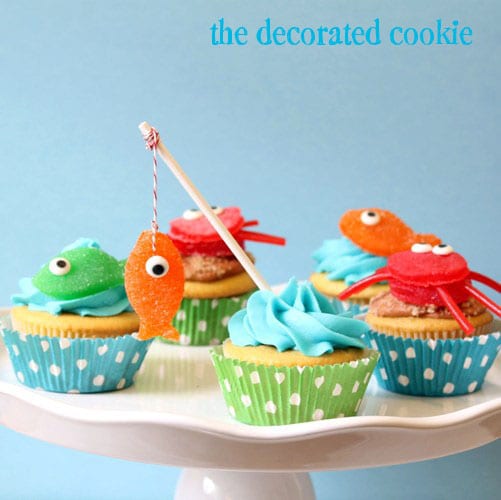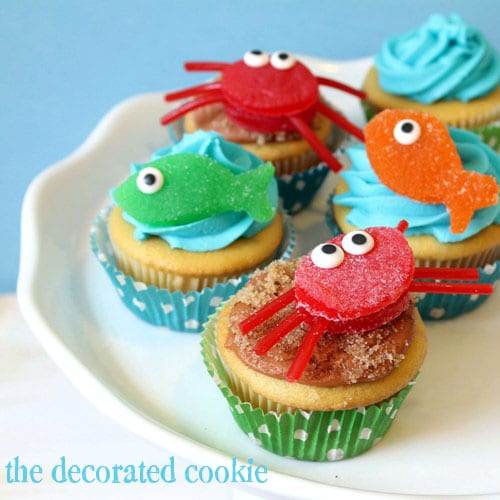 how to make summer cupcakes
First, frost the cupcakes.
To frost the cupcakes, I just filled a decorating bag fitted with a size "1M" tip with blue frosting and piped swirls. For the sandy cupcakes, I frosted the cupcakes with brown frosting and dipped the tops in light brown sugar. Then I topped with candy and instant beach scene.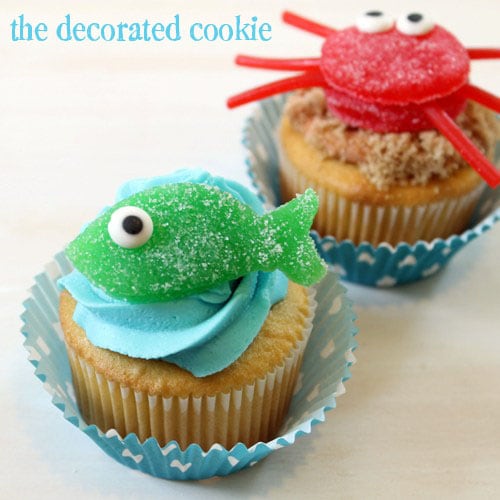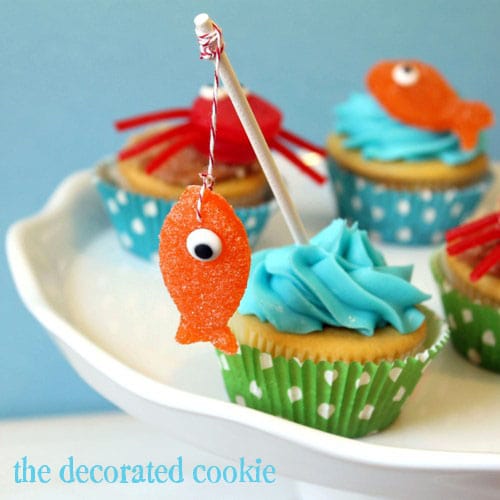 how to make gumdrop crab and fish cupcake toppers
you will need*:
large gumdrops (2 red for each crab and 1 of any color for each fish)

rolling pin

wax paper

granulated sugar

1 1/2-inch oval or circle cookie cutter

scissors

Twizzlers Pull n' Peel licorice

candy eyes

light corn syrup
*Find the cookie cutter in the craft store or cake decorating store, likely as part of a set. Find candy eyes in the craft store, or, find candy eyes online.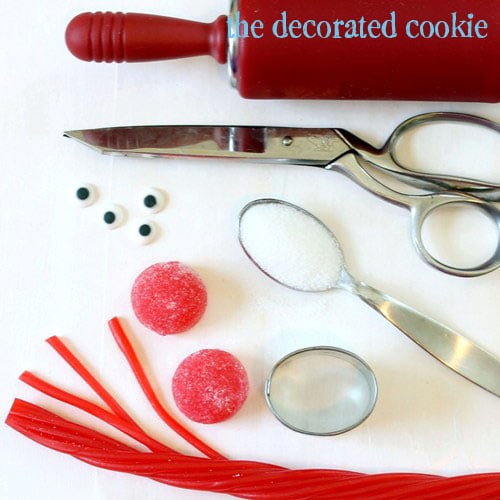 to make the crab
Roll out two red gumdrops on a piece of wax paper dusted with granulated sugar. Use more sugar as needed to prevent sticking. Cut out two red ovals.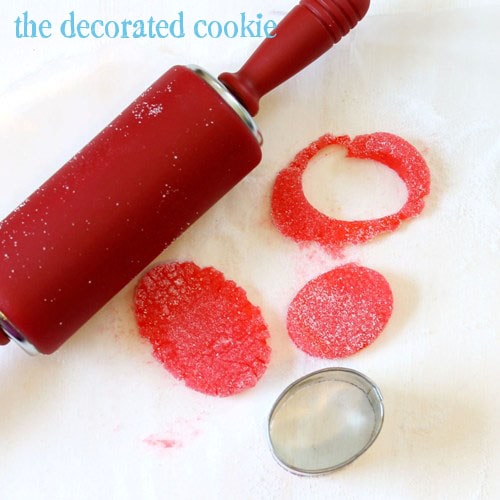 Snip 6 pieces, about 1 1/2-inches long, of red licorice from the Twizzlers. Smush them into the top of one gumdrop oval, using dabs of light corn syrup if needed to stick.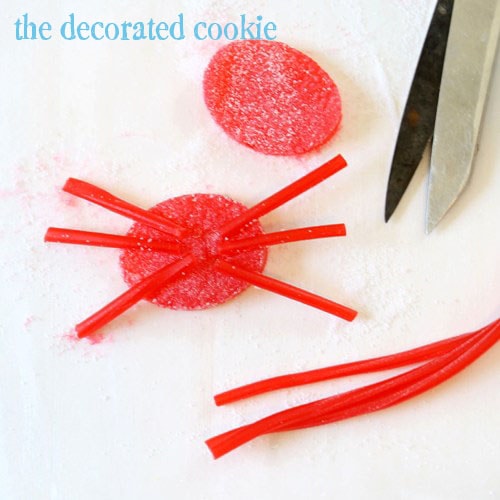 Top the gumdrop and licorice with the other gumdrop oval and smush a bit. Add two candy eyes on top, using dabs of light corn syrup as glue if needed.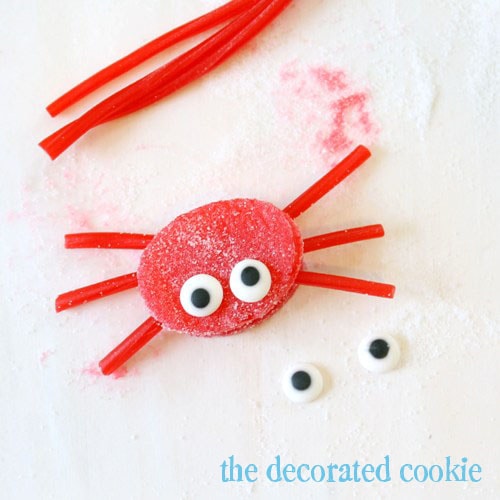 to make the fish
Roll out a gumdrop on wax paper dusted with sugar just as you did for the crab. Use scissors to cut out a fish shape (or, if you have a mini fish cutter, even better, I just don't have one. I don't think. I probably do somewhere.). Add a candy eye, using a dab of light corn syrup as glue if needed.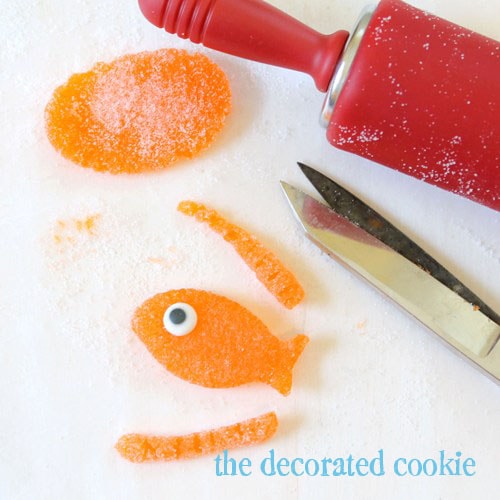 To put the fishy on a pole, I threaded an embroidery needle (or any needle with a large eye) with a piece of baker's twine, pushed through the fish and tied a knot, then tied another knot around the end of a lollipop stick.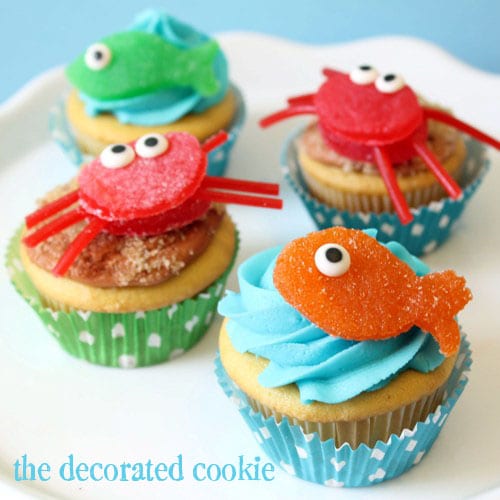 PIN FOR LATER: