Disclosure: *This post may include affiliate links. As an affiliate, I earn from qualifying purchases.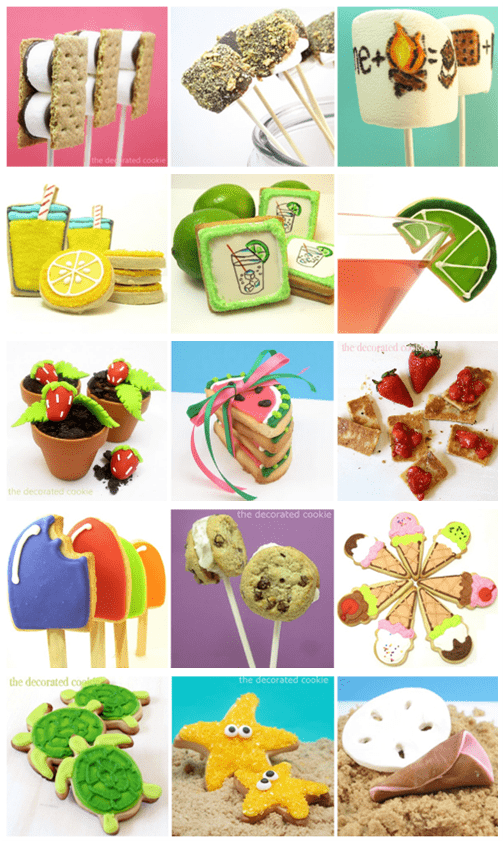 fun food for summer
It's summer! … at least in my part of the world, though we've had our uncomfortably hot days already. Any big summer plans? We'll be digging into the lead-filled walls of our 1930s fixer-upper home this summer, so my daughter and I will be heading North to visit family to avoid the dust.
A little trip down memories-of-summer lane for you, aka my archives. Just in case you missed them the first go around. And also because I'm too exhausted to come up with something new today. A true sign of summer. Maybe tomorrow. All the summer food ideas are also collected HERE.

I've got some s'mores.
(s'mores on a stick, s'mores marshmallows, self-reflective s'mores)

Some refreshing beverages.
(lemonade cookies, gin and tonic, cookies for your cosmo)

Some refreshing fruit.
(strawberry patch cupcakes, watermelon cookies, strawberry spread)

How about some cool treats?
(popsicle cookies, ice cream sandwich pops, ice cream cone cookies)

And you must head to the beach.
(turtle cookies, starfish cookies, candy shells)

And be sure to celebrate.
(stars and stripes cookie bites, BBQ marshmallows, 4th of July cupcakes)