Disclosure: *This post may include affiliate links. As an affiliate, I earn from qualifying purchases.


Crazy delicious glittering rainbow sprinkle cookies that melt-in-your-mouth, from Heather Baird's cookbook, Sprinkle Bakes.
Read on to fine a review of the Sprinkle Bakes cookbook and for the recipe for glittering sprinkle cookies.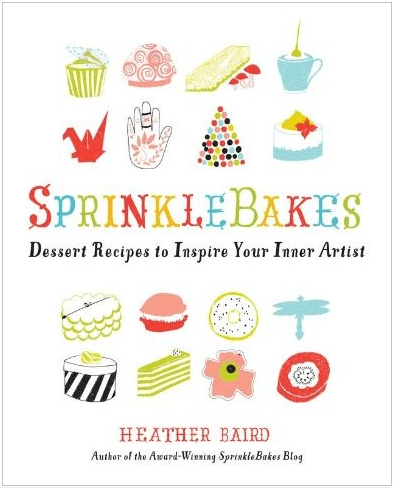 Sprinkle Bakes: Dessert Recipes to Inspire Your Inner Artist, by Heather Baird, published by Sterling Epicure, May 2012.
I can't possibly rave enough about the talent bestowed upon Heather of Sprinkle Bakes. In fact, I've raved before, when she guest posted for me making sprinkle sandwich cookies HERE, wherein I mention one of favoritest cakes, the red velvet homage to Poe. Sweets are the vehicle through which Heather creates art, in such a unique and beautiful way specific to Heather but appealing to all. Her work is wholly original and stunning, and her book, Sprinkle Bakes: Dessert Recipes to Inspire Your Inner Artist, represents this fusion of art and baking precisely, or "artful baking," as she calls it. She provides lessons in sculpture, drawing and color theory as they apply to baking, and Sprinkle Bakes inspires the reader to go beyond the basics with their own creativity and imagination.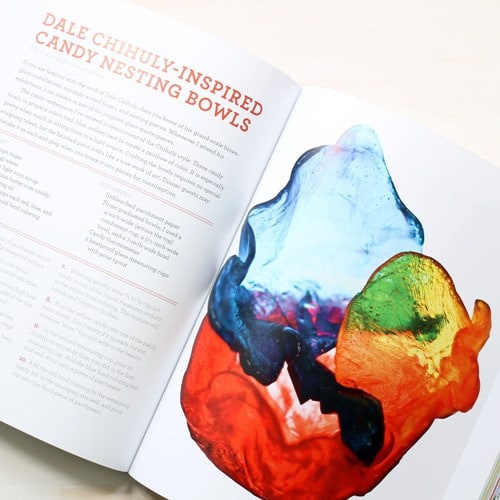 The book covers the basic equipment you need as well as a rundown of how to craft your blank canvas: cookies, cakes, icings, candy pastries and more. You learn how to paint, pipe, sculpt and build. You'll make Queen of Hearts cookies, candy nesting bowls, pink peppercorn macarons, a glittering cookie tree and a gorgeous book cake. But more importantly, you'll learn basic skills and witness artistic genius that pushes you to truly find your inner artist. And then get in the kitchen to let it out.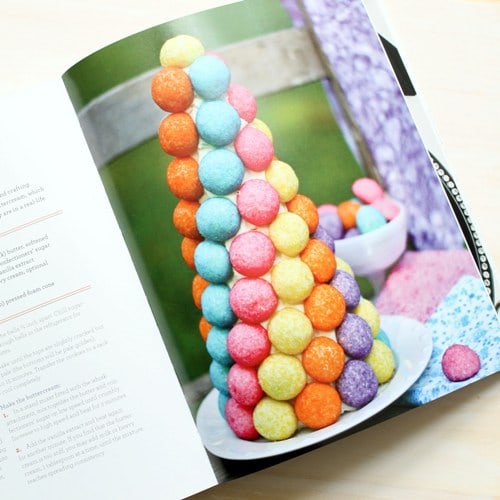 I made these sparkly, colorful, glittering sprinkle cookies which Heather made into a glittering cookie tree (p. 236). I skipped the tree and pretty much just ate them. They are yummy, delicate, crumble-in-your mouth cookies, so it's best to just pop them whole right in there. I was afraid I'd have none left to photograph because I ate seven before I even pulled out the camera.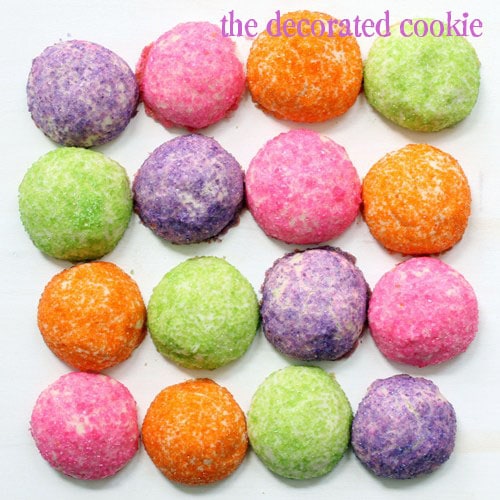 Glittering sprinkle cookies
from Sprinkle Bakes: Dessert Recipes to Inspire Your Inner Artist, by Heather Baird, published by Sterling Epicure, May 2012.
1 1/3 cup all-purpose flour
2/3 cup corn starch
1/4 teaspoon salt
1/2 pound (2 sticks) butter, softened
1/2 cup confectioners' sugar
1 teaspoon vanilla
colored sanding sugars
Preheat oven to 350 degrees F. Line 2 large baking sheets with parchment paper. Whisk together the flour, cornstarch, and salt. Beat together the butter and confectioners' sugar with an electric mixer until pale and fluffy. Beat in the vanilla. At low speed, mix the flour mixture into the butter mixture just until a soft dough forms. Roll the dough into teaspoon-size balls and place on a baking sheet. Put each color sanding sugar in its own small bowl. Drop the balls into the sanding sugar, turning to coat. Reshape if necessary and return to the baking sheet, spacing the balls 3/4 inch apart. Chill sugar-coated dough balls in the refrigerator for 10 minutes. Bake until the tops are slightly cracked but still pale (the bottoms will be pale golden), 12 to 15 minutes. Transfer the cookies to a rack to cool completely.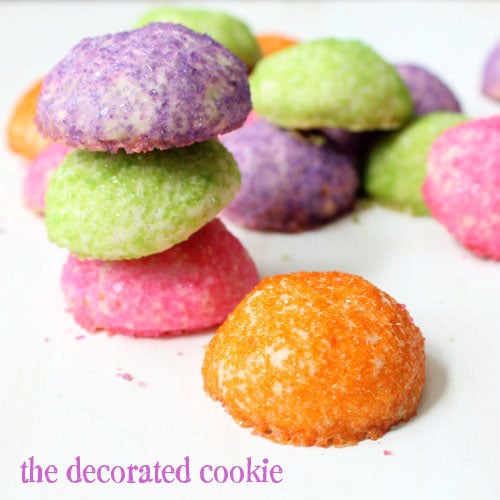 THE GIVEAWAY!! [GIVEAWAY ENDED]
Leave a comment to this post before
midnight, Thursday, May 24, 2012 EST
and one winner will be randomly drawn to win
Sprinkle Bakes, by Heather Baird
US addresses only
winner has 48 hours to respond after being notified before another winner is drawn