Disclosure: *This post may include affiliate links. As an affiliate, I earn from qualifying purchases.


Did you know you can turn Welch's Fruit Rolls into a gorgeous bouquet of "roses"? A fruit roll rose bouquet is so easy to craft, even kids can make these edible flowers for a perfect birthday gift! (TIP: Get a coupon for Welch's HERE.)
This post is sponsored by Welch's® Fruit Rolls. I am being compensated for this post. All comments and opinions are my own.
This Welch's Fruit Rolls Rose Bouquet is my new favorite food craft. Kids and adults both can easily make these edible flowers. Arrange them in a bouquet as a birthday gift, use them as cake, cupcake, or cookie toppers, or just make them for fun to keep the kids busy.
Speaking of "easy," that's one reason Welch's Fruit Rolls are one of my go-to snacks. They are so easy to pack in lunch boxes or to toss in my snack bag for the car, and my two girls love them! Fruit is the first ingredient, and they have 100% of daily value of Vitamin C and 25% of daily value of Vitamins A & E. My daughters ask for them not only because they are delicious, but because they are fun to unroll and eat AND fun to craft.
There is usually a good bit of fun food crafting going on in my house, but over school break, I kick it up a notch to keep the kids busy and off their Kindles. This school break, we're going to make Fruit Roll Roses and create bouquets for the girls' grandmother's birthday. Everyone in the family loves fruit rolls, and this is a special gift kids can make themselves.
IDEA: Have the kids paint flower pots for grandmom and arrange fruit roll bouquets in the handmade containers. (Find arrangement how-tos below.)
Welch's Fruit Rolls really are perfect for making roses. I found ours at Walmart (now that DC fiiiiinally has a Walmart), but I've also picked them up at my local Safeway. They are available in so many stores nationwide, you shouldn't have a problem finding them. And, I LOVE my coupons, so just for you, GET YOUR WELCH'S COUPON HERE!!
For more information on Welch's Fruit Rolls and where to find them, visit Welch's Fruit Rolls site.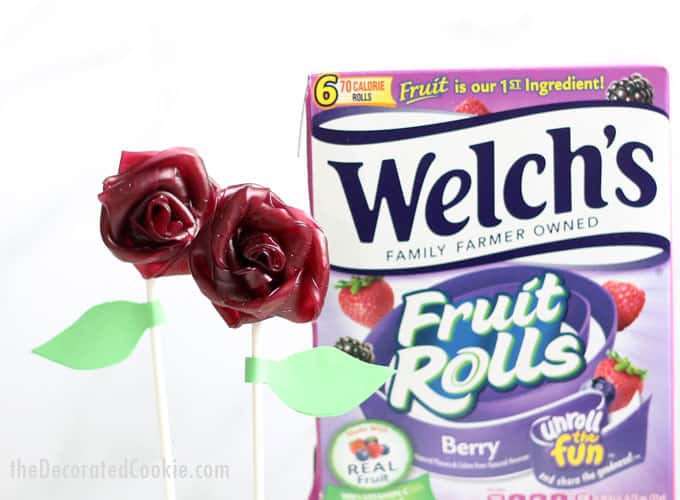 How to make a Welch's Fruit Rolls Rose Bouquet
you will need:*
Lollipop sticks
White chocolate chips (I use substitute chocolate wafers)
Disposable decorating bag
*To make a bouquet, you may also need a Styrofoam block, cute container, tissue paper, card stock, and a glue stick.
what to do:
First, create your Welch's Fruit Roll roses. Unroll a fruit roll completely (keep the paper backing on for now) and fold in half with the paper on the outside. Gently press and smooth together the two halves of the fruit roll. Remove the paper. Starting at one end of the folded fruit roll, pinch the bottom and begin to roll the fruit roll back up. As you roll, twist the fruit roll at the same time. After the entire fruit roll is rolled, gently tuck the end of the fruit roll under the rose to secure. If necessary, add a dab of water to make the end sticky. And you have a gorgeous rose.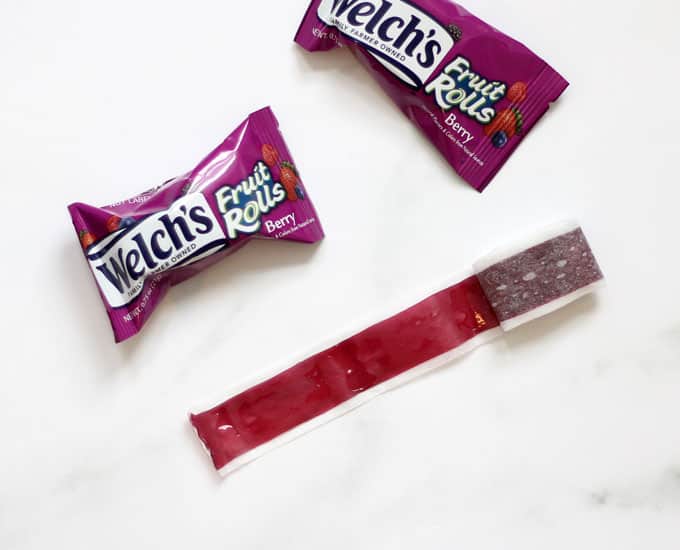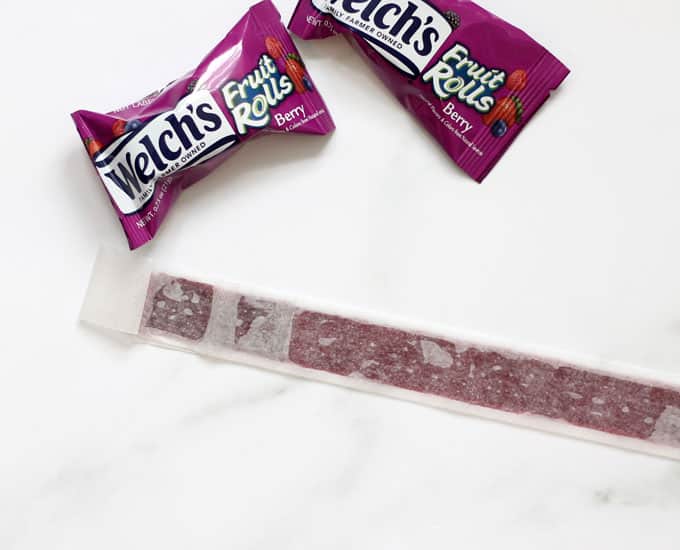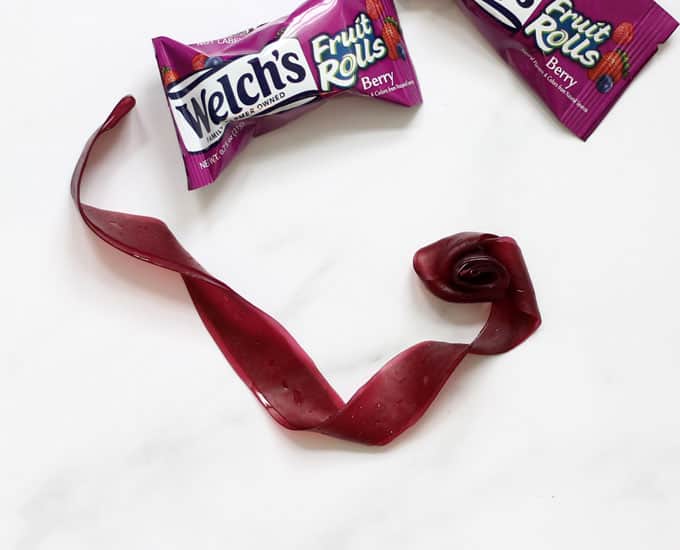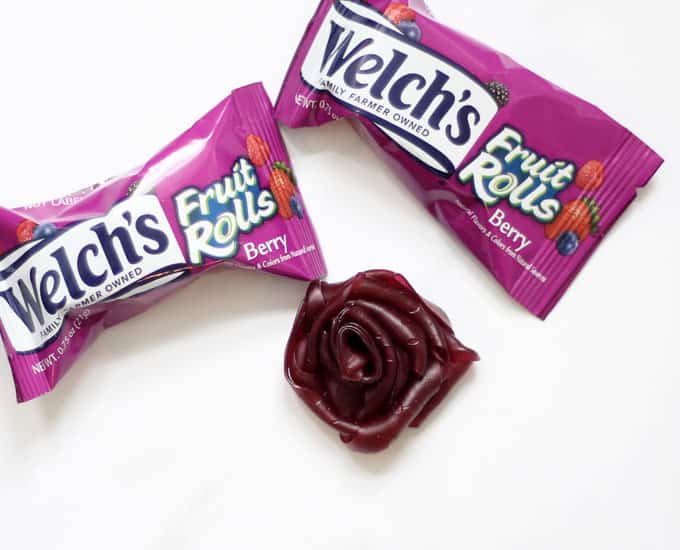 Next, create your bouquet. Line a baking tray with wax or parchment paper. Melt some chocolate chips in a microwave-safe bowl according to package directions. Let cool enough to handle, and pour into a disposable decorating bag (be sure to check the temperature before letting kids hold the bag). Snip the tip. Pipe a dot of chocolate on the tray. Place a lollipop stick on the dot of chocolate. Add another circle of chocolate on top and place a fruit roll rose on the chocolate. Let set very well.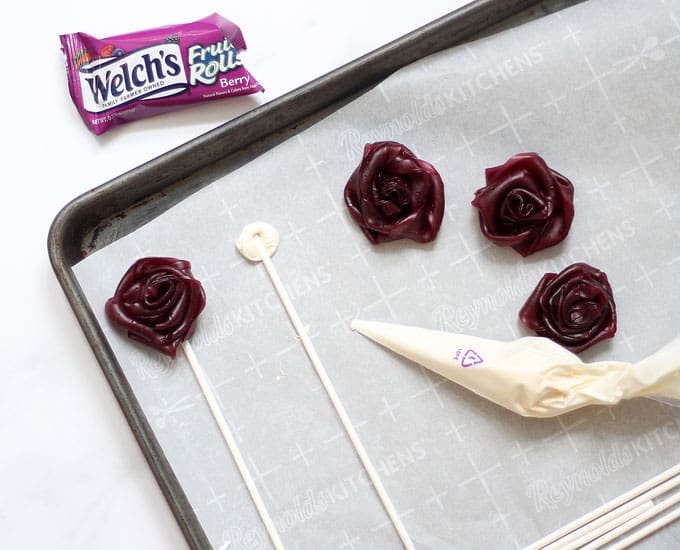 Lastly, arrange your bouquet! You can package the roses as is in a box, or just hand the bouquet to the recipient. Or, make a gift bouquet. Fold green cardstock, cut out a leaf shape at the fold, and glue around the lollipop sticks. Insert a Styrofoam block into a cute container. A solid, not-too-deep container works best, like a small flower pot, and be sure the Styrofoam block fits securely. Three to five roses will fit nicely in a pot with a 4-inch diameter. Cover with tufts of tissue paper, and insert the roses.