Disclosure: *This post may include affiliate links. As an affiliate, I earn from qualifying purchases.


So I have this plan. All of us who make fun food — cookie decorators, cake decorators, bento lunch makers, people who turn bread into art, people who turn cheese into art, people who make edible unicorns and bugs and flowers — we all get together to take over the world. Good news. The movement has started, thanks to Beth of Hungry Happenings, who planned, organized, executed and hosted. This past weekend she hosted a few of us at her home for the second annual Fun Food Blogger Retreat. (See more about the first fun food blogger retreat here.) It was such an awesome weekend of bonding, laughing, learning, and creating, I hope at some point we become an actual convention for everyone.
Who was there?
Only some of the most awesome women ever. We were Beth, as mentioned, along with Kim of The Partiologist and Norene of Party Pinching. We were also joined by the sweet and hilarious Desiree of Wilton. (Yes, THE Wilton. Wilton has been incredibly supportive of fun food bloggers over the years.) PS. Want a T-shirt? Buy them HERE.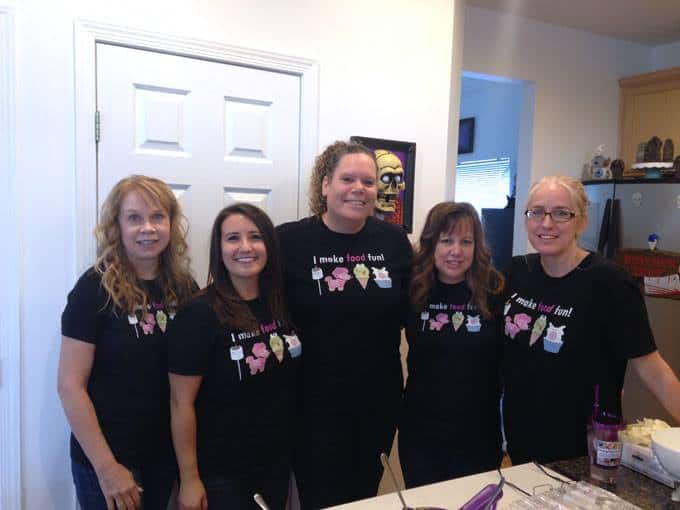 What did we do?
Oh so much. Not only did we just talk about the business of blogging, the trials of blogging, and the joys of blogging, but we made a whole lot. Beth taught us how to make chocolate truffles (her house is like being inside Willy Wonka's chocolate factory, for reals).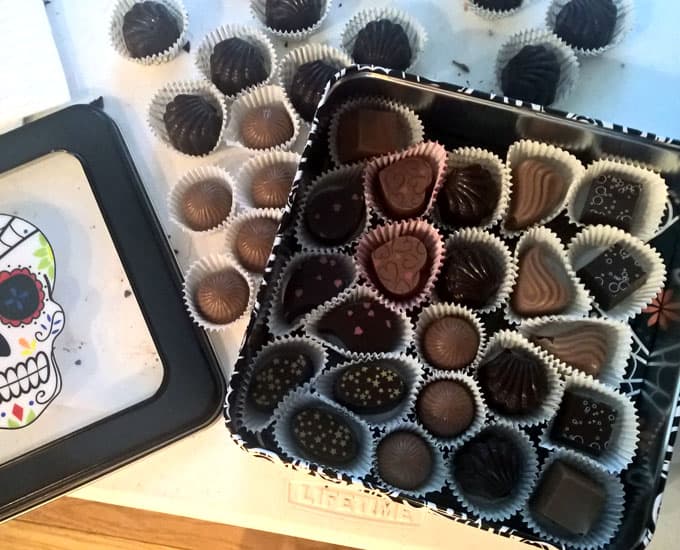 The first night Beth hosted a Day of the Dead dinner. The pictures don't do it justice. Loved the skull enchiladas the best.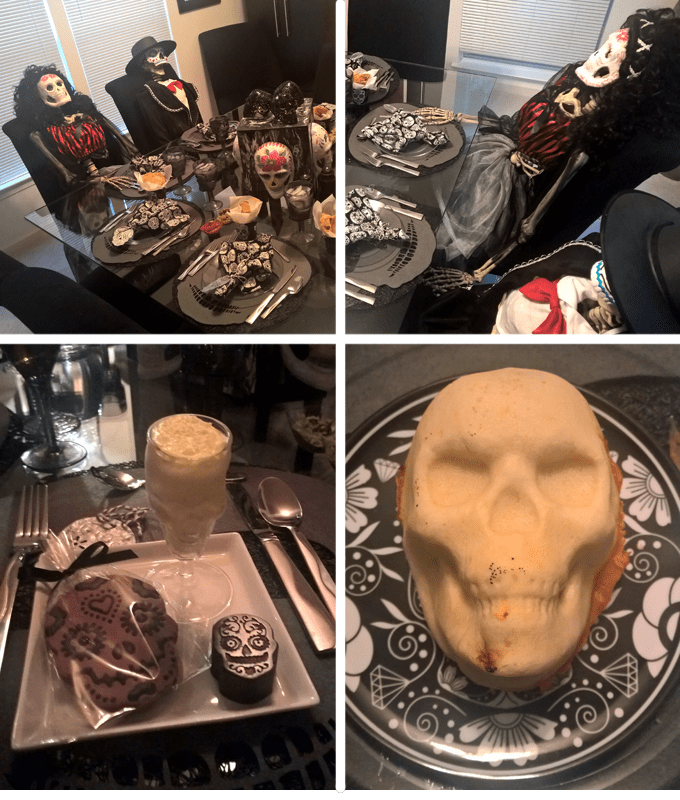 We also learned to paint candy molds with candy melts using Wilton products. You can see the entire process and learn to make your own painted chocolate pops by watching this video HERE on facebook Live.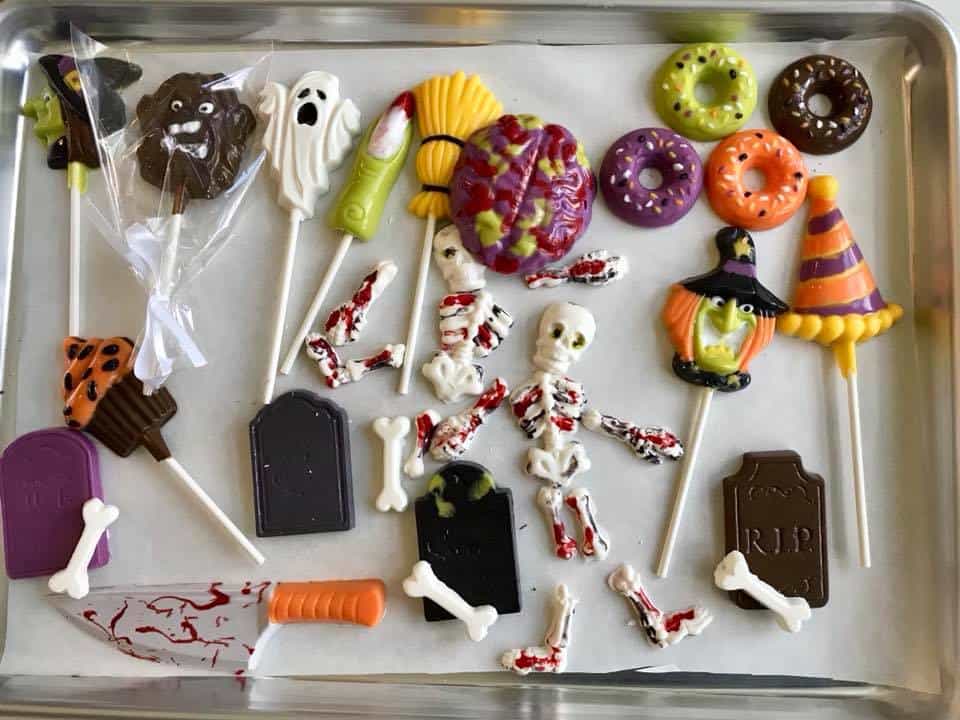 We spent a day creating fun food for fall and Halloween (and eating) with some of our favorite snacks from Farm Rich. Check out what we made! Find all the links to the how-tos in this Farm Rich post here.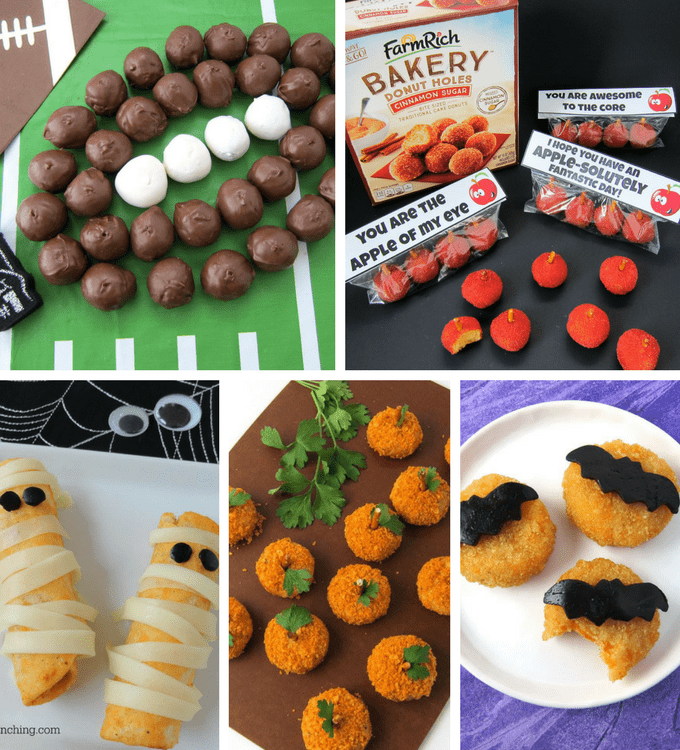 One of my favorite parts of the retreat was shopping for (and slicing into) ice cream cake. I remember as a kid walking into our nearest Carvel ice cream shop. Even on the hottest day of summer, the cold air would hit you at the same time as that inimitable ice cream shop aroma. Ice cream cake has always topped my list of favorite desserts, and now I can pick one up at my local grocery store. Thanks to a partnership with I Love Ice Cream Cakes, we were able to buy a bunch. And eat a bunch. Check us out at Beth's local Kroger's!
I Love Ice Cream Cakes features delicious ice cream cakes for every occasion, from family celebrations to Halloween parties and just everyday indulgence. You can find them in the bakery or frozen foods aisles in grocery stores nationwide. We didn't stop at one. Looooved the Carvel® Ice Cream Cookie Cake. And even though I'm not into sports, my favorite might have been the Carvel® Game Ball® Cake. We also got a plain party ice cream cake that we decorated ourselves for Kim's birthday. And I had to try the Oreo® ice cream cake in honor of my Oreo-obsessed daughters. With vanilla ice cream blended with OREO® cookie pieces, plus whipped frosting topped with a large OREO® cookie wafer and cookie pieces, this cake is a must for OREO® fanatics.
Want your own ice cream cakes? Search for area stores with the product locator. The site also shares plenty of party tips. And if you want a coupon and birthday discounts, be sure to sign up for the Crunchie Club!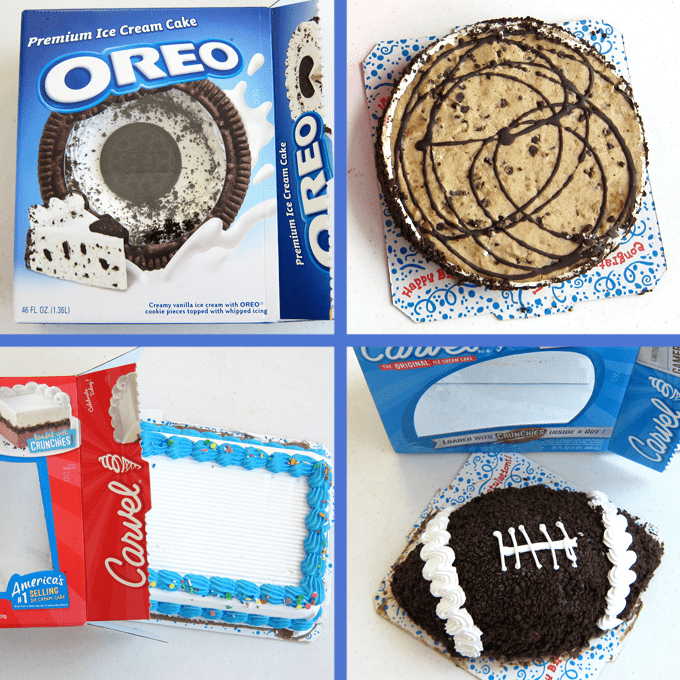 It just so happens Kim's birthday was soon after the retreat, so I got to decorate this cake for her! We went with a cheerleader theme, just because.