Disclosure: *This post may include affiliate links. As an affiliate, I earn from qualifying purchases.


cupcake decorating
This week, let's discuss cupcakes!! Specifically, how to pipe frosting on cupcakes and cupcake decorating. I'm pretty sure we can stop talking about cupcakes as a "trend," too. Cupcakes are cute, decorate-able, portion-controlled perfection, and they are here to stay. But I do have a very important question for you. How do you frost cupcakes? Do you pipe the frosting on or spread the frosting with a spatula?
Now I'm not averse to spreading frosting on cupcakes with a spatula. Gosh, it's how I was raised. But once I started getting into piping, I spread no more. I find it's so much quicker and easier to pipe frosting with a bag and tip.
how to pipe frosting on cupcakes
you will need:
cupcakes


frosting

(or storebought, but NOT royal icing)

food coloring (optional)
decorating bag
coupler
decorating tips

rubber band
a word about supplies:
decorating bags. I use 12-inch disposable decorating bags, available at the craft store. It'd be easier to use larger bags because you'd be able to pipe on more cupcakes without refilling, but I use the 12-inch for cookie decorating and I don't like to buy more than one box. So I refill every few cupcakes.
couplers and decorating tips. You'll find these in the craft store, too. I use standard size couplers and tips. But for cupcakes, you can use the larger sizes if you prefer. It's actually much easier to go larger, but I'm cheap, I mean frugal, and just my cookie decorating supplies, so that's why I just use the standard size of both of these. Just make sure that whatever tips you buy fit on the couplers you buy. (So standard/standard or big/big.)
frosting. I use this recipe for frosting (not the royal icing). But you can use store-bought, too. You may want to thicken it a bit with confectioner's sugar. For piping cupcakes, a little thicker than the spreadable consistency in the can is preferred. You want the frosting to be thick enough to hold it's shape (scoop a spoonful and make sure it doesn't move) but not so super-thick you can't squeeze it out of the bag.
UPDATE: A reader asked a fabulous question, why not royal icing?? It's all about consistency. Royal icing dries very hard (my recipe dries well enough to handle, though the other ingredients make it a little different from traditional royal icing and it doesn't dry very hard), so it's ideal for cookie decorating, as you are then able to handle and package your cookies. However, hard icing not so ideal for cupcakes. Better to use a butter-based frosting for those.
step one: assemble the decorating bag.
Assemble the decorating bag with a decorating tip (see below for tips on tips) and coupler. To do this, remove the ring from the coupler. Fit the coupler in side the bag with the smaller end pushed towards the point. Snip the bag beneath the edge of the coupler so the coupler fits fully inside the bag. Put the decorating tip on the edge of the coupler (over the snipped bag), and secure with the ring. Fold a cuff and put the bag in a tumbler with the cuff over the rim (I use my daughter's Backyardigans cup). Fill with frosting, uncuff and close tightly with a rubber band.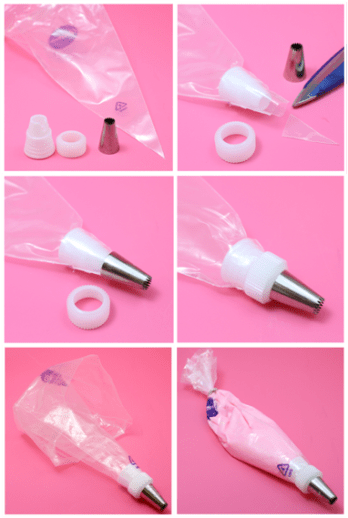 step four: pipe the frosting
To pipe, hold the bag with your dominant hand by the rubber band. Steady the bag by placing your other hand on top of your dominant hand and squeeze with consistent pressure. Start at the center of the cupcake, move to the edge and pipe round and round in a spiral and pull away quickly at the top.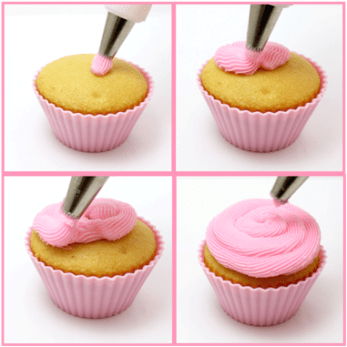 Which tip to use??
You can use pretty much any of the fancy schmancy type tips. Don't worry too much about which one, since they all look pretty cool. You got your open star (with teeth), closed star (with teeth turned in), petals (long and flat), round (um, round)… I'm partial to the open stars, less teeth, the bigger the better. Below are a few examples… Missing from this list below is the size 1M tip. My new favorite!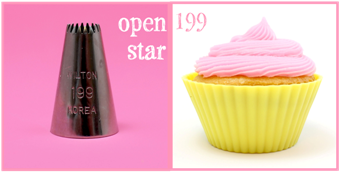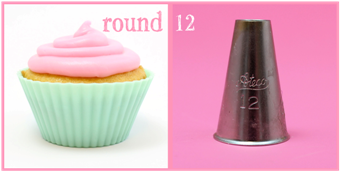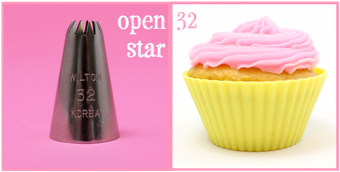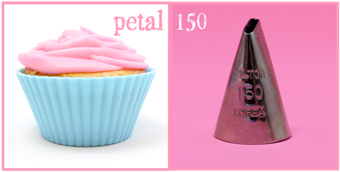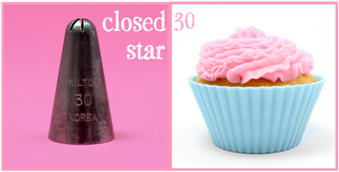 UPDATE: GIVEAWAY ENDED
now let's get to the GIVEAWAY!!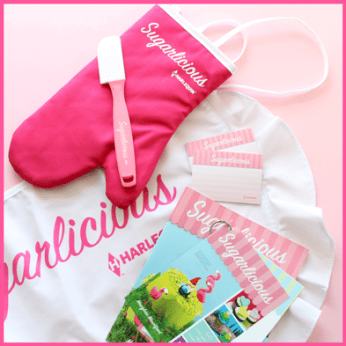 How do you frost your cupcakes?
THE GIVEAWAY
So this week I get to give FIVE of you the awesome Prize Pack,
and I'm throwing in some cupcake liners, too!
to ENTER to WIN:
the sneak-peek thingamajig AND
the awesome Prize Pack that includes
an oven mitt, spatula, apron, a few recipes, post-its AND
cupcake liners AND
three decorating tips, bags and couplers
(reminder, the sneak peek is NOT the book itself which is available February 7th)

leave a comment here before
Thursday, January 26th, midnight, EST
GIVEAWAY ENDED!!