Disclosure: *This post may include affiliate links. As an affiliate, I earn from qualifying purchases.


COOKIE BUTTER!! I feel it's important to open that way when describing this spread made not from nuts (joy to those with allergies!) but from cookies. And I'm happy to say my friend Katrina, of In Katrina's Kitchen, has helped spark this awesome trend of baking with cookie butter when she made the switch after discovering her son was allergic to peanuts. AND she has a book out now. It's called The Biscoff Cookie and Spread Cookbook, published in November by Countryman Press. AND, you can win a copy. (Scroll to the end for the GIVEAWAY!)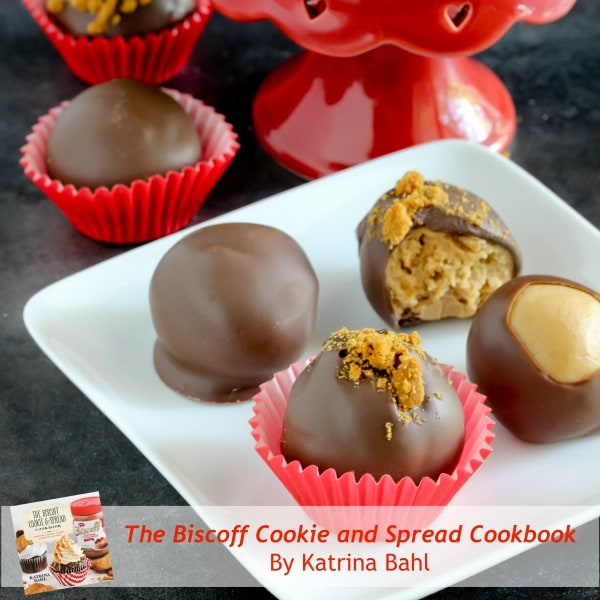 Want to know what you can do with cookie butter? (Aside from eat it right from the jar when you sneak into the kitchen at midnight?) You can make breakfast, cookies, bars and brownies, cakes and cupcakes, bread and muffins, candies, and frosting and fillings. Buckeye truffles, as seen above, Donut Holes, Pudding Cookies, Gooey Caramel Brownies, Tiramisu, Custard Cake, Scones, Soft Pretzel Nuggets, Toffee, Fudge … I could go on, you know. I'm stunned by the number of recipes in this book.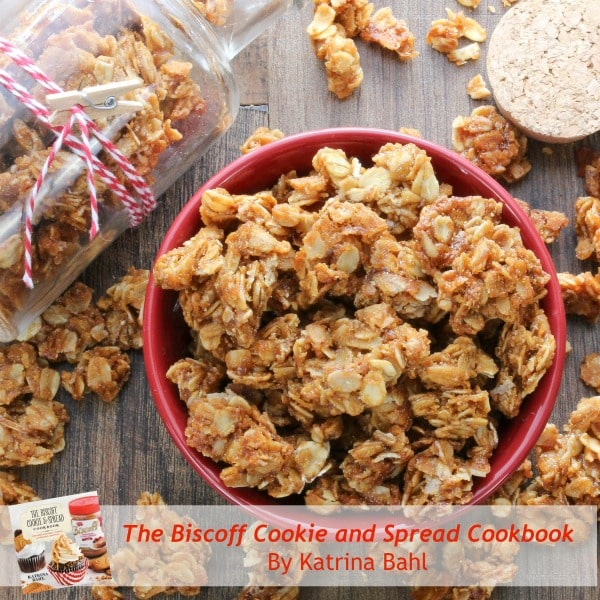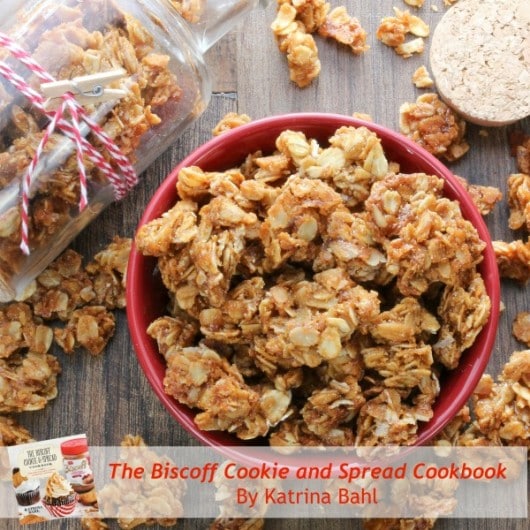 I chose to make the very first recipe in the book. Granola, or, more specifically and accurate in each adjective, "Easy Biscoff Granola." The image above is from the book. The image below is mine. The granola is all mine. (Except my kid ate some, ugh.) And I want this granola every morning for the rest of my life. I mixed this batch with some almonds and dried apricots. Now, isn't that the perfect snack while you're waiting for your Thanksgiving dinner?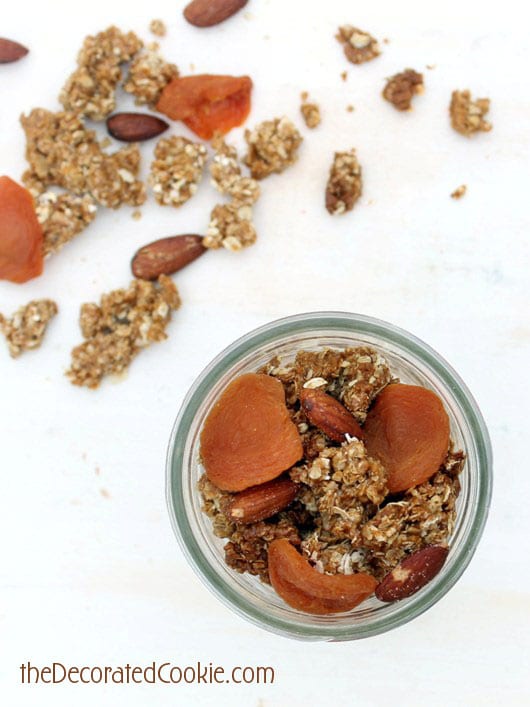 Easy Biscoff Granola, straight from the pages of The Biscoff Cookie and Spread Cookbook, by Katrina Bahl.
1/2 cup Creamy or Crunchy Biscoff Spread
1/4 cup honey
3 tablespoons brown sugar
2 cups old-fashioned oats
Cinnamon sugar (1 teaspoon ground cinnamon + 3 tablespoons granulated sugar), optional
Dried fruits, chocolate chips, nuts, or seeds, optional
Preheat oven to 325º F. Line a baking sheet with parchment paper or a nonstick silicone baking mat. Don't skip this step–granola may stick to the bottom of your baking sheet and burn.
Microwave Biscoff Spread, honey, and brown sugar in a microwave-safe bowl for 30-60 seconds, or until creamy. Alternately, warm over medium-low heat on the stovetop, stirring constantly.
Pour wet ingredients over the oats in a large bowl. Mix and spread onto prepared baking sheet. Bake for 10 minutes; stir. Bake for another 8-10 minutes.
Sprinkle with cinnamon sugar when still warm if desired. Make a trail mix by adding your favorite mix-ins when the granola is completely cooled: raisins, dried cranberries, chopped Biscoff cookies, chocolate chips, and/or seeds.
Let cool completely before storing in an airtight container.
GIVEAWAY
For a chance to win a copy of The Biscoff Cookie and Spread Cookbook,
leave a comment here before Sunday November 23, 2014, midnight EST.
Winner will be drawn randomly and has 48 hours to respond before another winner is drawn.
Ships from publisher to US addresses only.