Disclosure: *This post may include affiliate links. As an affiliate, I earn from qualifying purchases.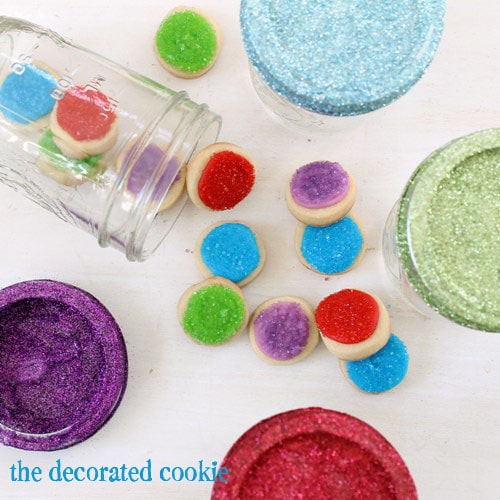 Glitter mason jar cookie gifts are a bright and sparkly gift to give this holiday season!
Sparkle, shimmer and glitter! Despite the annoying specks of glitter that inevitably will sit for weeks on your carpet. And your table. And your hands. And your forehead, I love the sparkle and shimmer of glitter.
That's why I use sprinkles so much when I decorate cookies (that and it's an easy decorating tool that covers mistakes). So when I got the best box of holiday packaging awesomeness from EK Success Brands to test for this GIVEAWAY over at my other gig, Edible Crafts, I was thrilled to get a 24-set of Martha Stewart Crafts glitter.
Um, for free. And that stuff is expensive.
I also got all kinds of packaging and decor for the holidays, including Martha Stewart Crafts glitter set, bakeable trays, treat boxes, beverage labels, treat bags, garland, Christmas light window clings, and Jolee's Boutique Christmas lights stickers.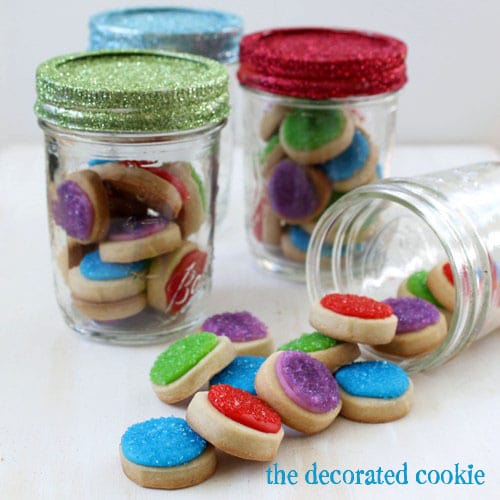 And one of you can win the same! This giveaway is hosted by Edible Crafts at Craft Gossip, so you MUST enter over there.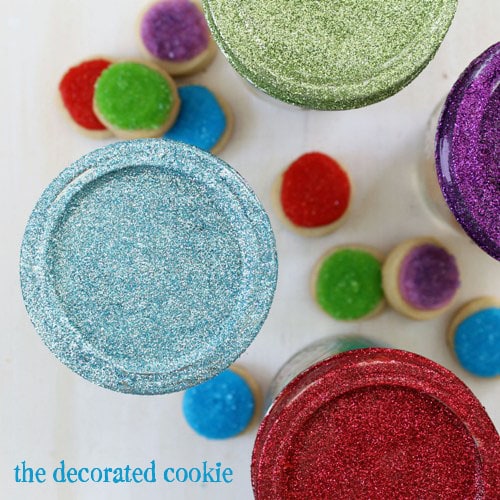 how to make glittery mason jars of cookies
to make the mason jars, you will need:*
Martha Stewart Crafts glitter
craft glue

paint brush

mason jars

wax or freezer paper
*I used the small mason jars, 6-ounces, available at grocery stores, craft stores and some hardware stores, but you can use any size you like.
What to do:
Cover your surface with wax or freezer paper. Remove the two parts of the mason jar lid. Paint both parts with craft glue and immediately coat with glitter. I used the green, purple, red and blue glitter. Turn over to remove excess and set aside to dry completely. I funneled the excess glitter back in to the glitter container to save what I could.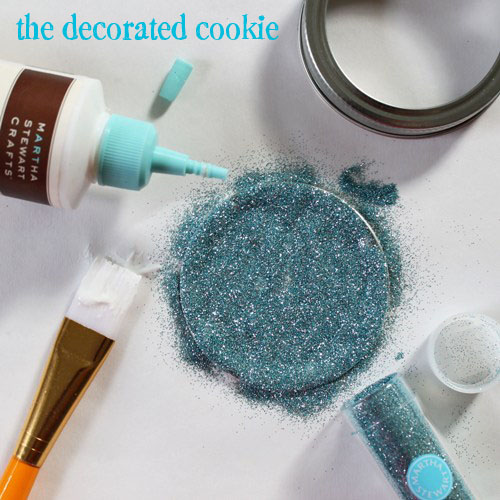 to make the sparkly cookies, you will need:*
circle cookie cutter, 1 1/4- inch

food coloring to match glitter lids


matching sprinkles for each color

disposable decorating bags

couplers

size "4" or "5" decorating tips
*I suggest Americolor Soft Gel Pastes (Red Red, Electric Green, Electric Purple, and Sky Blue used here). Find the cookie cutter (perhaps as part of a set), decorating bags, couplers, tips and sprinkles in the craft store. For tips on basic cookie decorating, click HERE.
What to do: Prepare cookie dough according to the recipe, chill, and cut out little circles. Let cool completely. Prepare icing, divide and tint preferred colors. Prepare decorating bags with couplers and tips, fill with the icing colors and close with rubber bands. Working with one color at a time, pipe and fill a circle of icing on a cookie and cover with a matching color of sprinkles. Let the cookies dry overnight before packaging in the jars.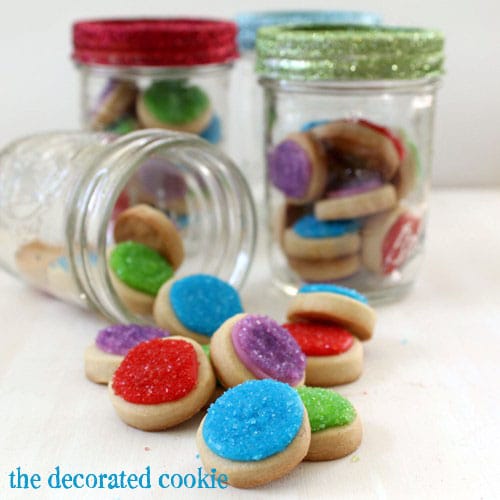 REMEMBER: You MUST enter the giveaway for the Martha Stewart Crafts prize package HERE at Craft Gossip!!! Comments left here (while always appreciated) are NOT entered in the giveaway!!