Disclosure: *This post may include affiliate links. As an affiliate, I earn from qualifying purchases.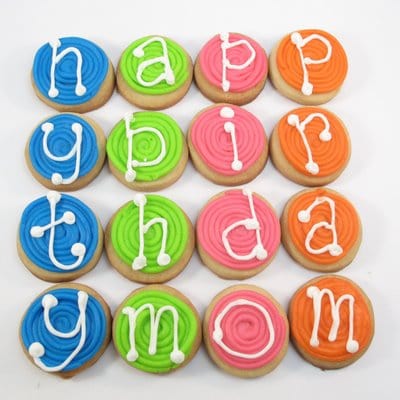 Peter Rabbit cookie and happy birthday cookies
I made my mom work for her birthday this year by forcing her to unscramble her birthday message (she loves Beatrix Potter, though, so she also got a Peter Rabbit cookie reward).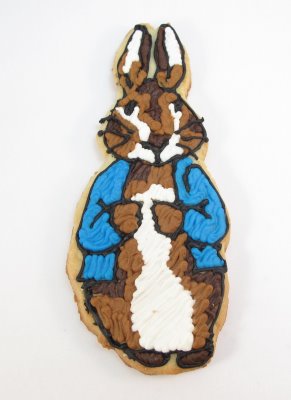 Some ideas for your cookie letter messages: Decorate a cake with a cookie message. Let the cookies dry overnight and package in a large cellophane bag with ribbon and let the recipient unscramble the message. Top cupcakes with letters and let kids at a party choose the cupcake with their initial. Stack cookies in their message order, wrap tightly in cellophane and tie with a ribbon.
to make the bite size message cookies, you will need:
cut out cookie dough
royal icing
1 1/2 inch cookie cutter
frosting color (I used Americolor Electric Green, Electric Pink, Sky Blue, Orange and Bright White)
disposable decorating bags (1 for each color plus 1 for the white)
couplers (1 for each color plus 1 for the white)
size "5" tips (1 for each color)
size "3" tip
rubber bands
*For tips on finding cookie decorating supplies, click HERE.
step one: bake your cookies
Roll out your chilled dough and cut out one circle for each letter. Bake and let cool.
step two: frost your background
Prepare a frosting bag with size "5" tip for each color you want to use. Mix colors and fill bags, tying closed with a rubber band. For each background, I simply piped a tight spiral. Let set about 20 minutes.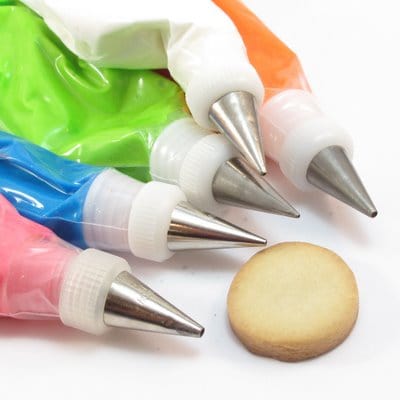 step three: pipe your letters
Prepare a frosting bag with size "3" tip. Mix white frosting and fill bag, tying closed with a rubber band. Pipe letters. Let dry overnight before packaging. I ended up stacking the letter cookies in order, so my mom wouldn't have to work too hard.