Disclosure: *This post may include affiliate links. As an affiliate, I earn from qualifying purchases.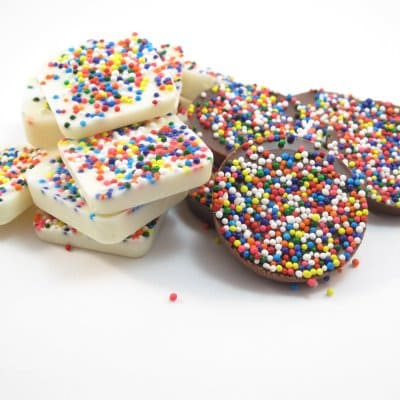 Chocolates with sprinkles
I made these simple chocolates with sprinkles treats to bring to a birthday party…. wonderfully easy. Some ideas for variations: Use different colors of candy melts in lieu of chocolate. Top with finely chopped nuts instead of sprinkles. Or, topped with finely chopped, colorful gummy candy or sanded sugars. Or try shredded coconut.
how to make chocolates
you will need:
silicone molds (I used a mini cupcake silicone pan for the rounds, and the Wilton brownie square pan for the squares)
cooking spray
12″ disposable decorating bags from the craft store or Ziploc bags
white chocolate chips, milk chocolate chips or candy melts
sprinkles or other toppings
microwave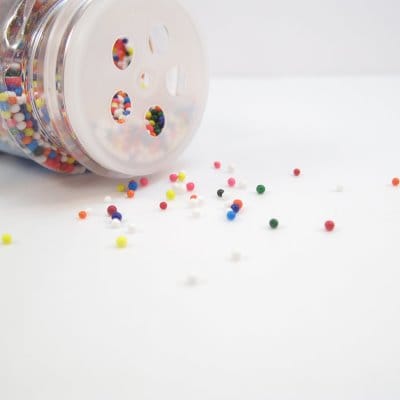 step one: melt your chocolate
Prepare molds by spraying with non-stick spray. Fill a decorating bag (or ziploc) about 1/2 full with your chocolate or candy melts. Fold opening over. Microwave at half power for one minute. Massage bag to mix chocolate. Continue microwaving at 30 second intervals until melted. Snip off a small corner (about 1/4 inch) from the tip of the bag or Ziploc.
step two: fill your molds and decorate
Pipe chocolate into molds about halfway full. Don't fill molds completely or the chocolate will be too difficult to bite. Let set about 5 minutes at room temperature and sprinkle with decorations. Place mold on baking tray and refrigerate about 2 hours. Pop chocolates from molds.