Fairy wand cookies
These fairy wand cookies would make a great gift for a little princess or as favors at a kid's birthday party. Put a cellophane favor bag over the top of the star and tie with shiny ribbon at the base of the star. Arrange a styrofoam block in a coordinating container and insert cookies into the styrofoam block. Let guests pull their fairy wands from the arrangement to bring home.  (For tips on making a cookie arrangement, click here.)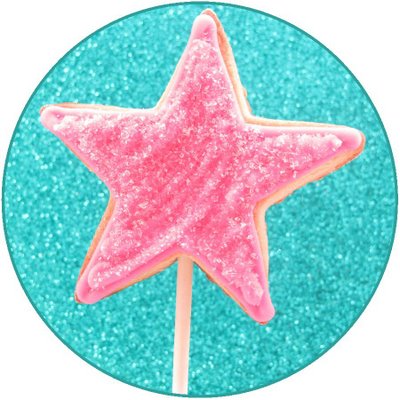 how to make fairy wand cookies
you will need:
cut-out cookie dough
royal icing
lollipop sticks
star cookie cutter (not too big, about 2 or 2 1/2 inches)
pink frosting color (Electric Pink Americolor soft gel paste used here)
1 disposable frosting bag
1 coupler
1 rubber band
1 size "4" decorating tip
pink edible glitter, sprinkles of sanding sugar
*Find information on cookie decorating supplies HERE. For food coloring, I suggest Americolor Soft Gel Pastes. 
step one: bake your cookies
Roll your dough thick, about 1/4 inch, and cut out shapes. Insert lollipop stick into bottom of cookie about 1/2 way into cookie. Pat dough back into shape if needed. Make sure to use chilled dough. Bake on a parchment paper-lined baking tray according to the recipe and let cool completely.
step two: frost your background
Assemble a frosting bag with size "4" decorating tip and fill with pink frosting. Tie closed tightly with a rubber band. Outline star and let set about 15 minutes. Starting at the top of the cookie, pipe frosting back and forth in a zig zag motion to completely fill the cookie. You should have no gaps or holes at all. Immediately move on to step three.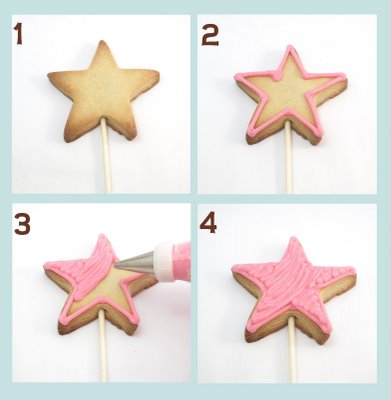 step three: add your sparkle
As soon as you pipe the background, immediately and generously sprinkle pink edible glitter, sanding sugar or sprinkles to coat the entire star. Invert quickly to rid of excess and let dry over night before wrapping.