Disclosure: *This post may include affiliate links. As an affiliate, I earn from qualifying purchases.


How to make a cookie bouquet (cookie arrangement), step-by-step instructions to arrange decorated cookies in a container.
cookie bouquets
How do you make a cookie bouquet? Some of you may recognize these daisy cookie pops post all the way from, um, yesterday.
A common question I'm asked is how I get my cookies to stand so obediently on their own.
I briefly cover how to make a cookie arrangement in Sugarlicious because, seriously, everything is covered in Sugarlicious. (This is on p. 198 if you'd like to go there now, should you own Sugarlicious.)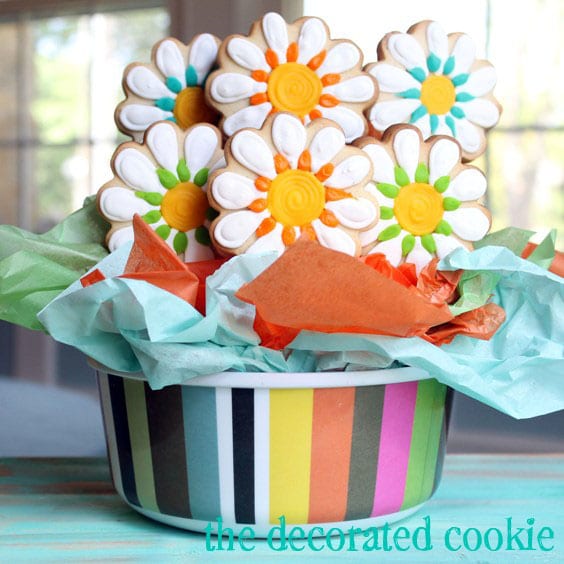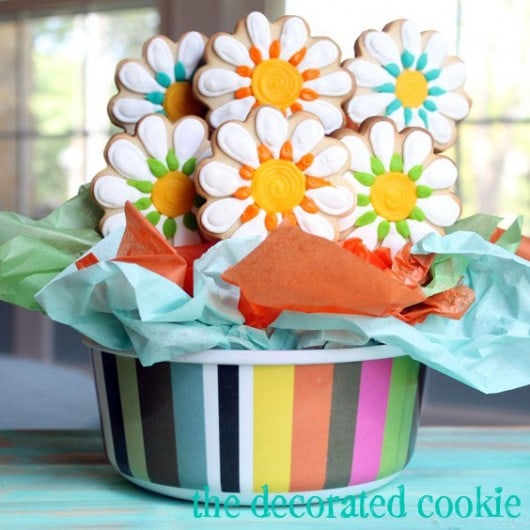 In the book, I primarily talk about covering Styrofoam blocks with tissue paper, and then arranging cookies, wherein the container is optional.
Here, I'm going to give you lots more tips and details about making cookie arrangements using containers.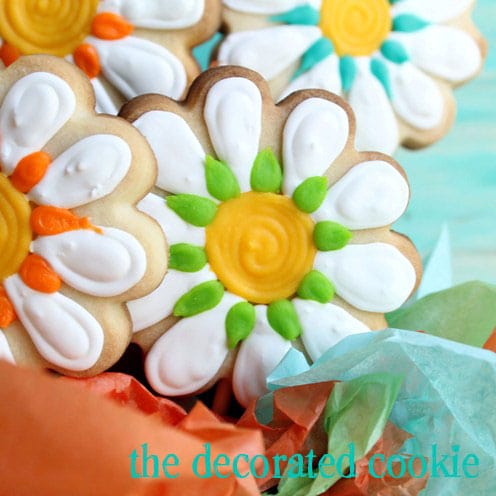 At the store where I decorated cookies for many years, Bundles of Cookies, we used a different method that required a heavy plaster.
The cookies there are large, about six inches across, so the arrangements have to be much sturdier.
But as long as you use relatively small cookies, no more than three inches across, you can make your own arrangements with Sytrofoam blocks.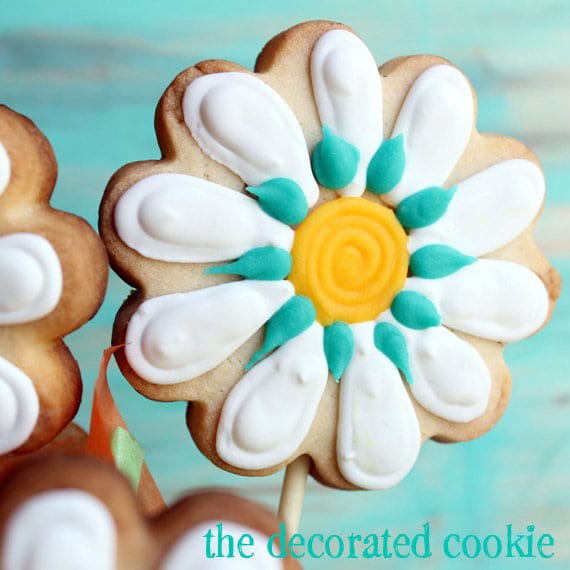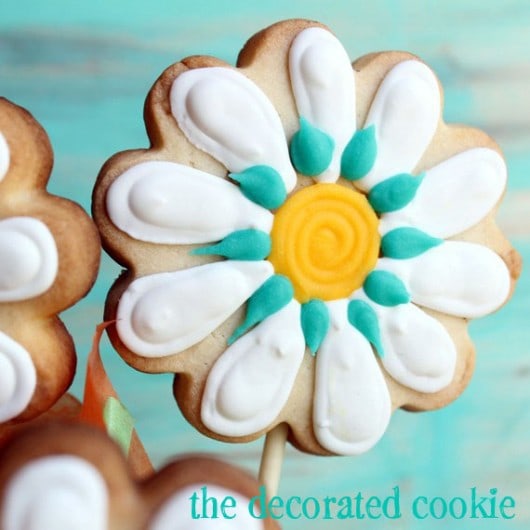 how to make daisy cookie pops
Before you make your cookie bouquet, you'll have to start with some cookies.
Find the recipe for cut-out cookies HERE and royal icing HERE.
To learn to make cookie pops, click HERE and scroll past the giveaway info.
For general cookie decorating how-tos, click HERE. For these cookies, I'll copy the instructions I posted yesterday:
I first made cookie pops with a daisy cutter.
I then prepared my royal icing, divided and tinted white, yellow, turquoise, lime green and orange with my Americolor Soft Gel Pastes (Bright White, Egg Yellow, Turquoise, Electric Green and Orange).
I piped a circle of yellow, then I outlined and piped to fill the petals in white.
Between each petal I added a little squeeze-and-pull petal with a color of icing.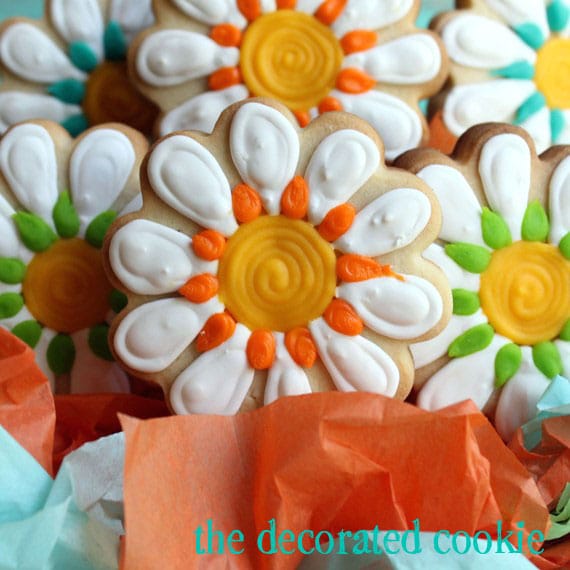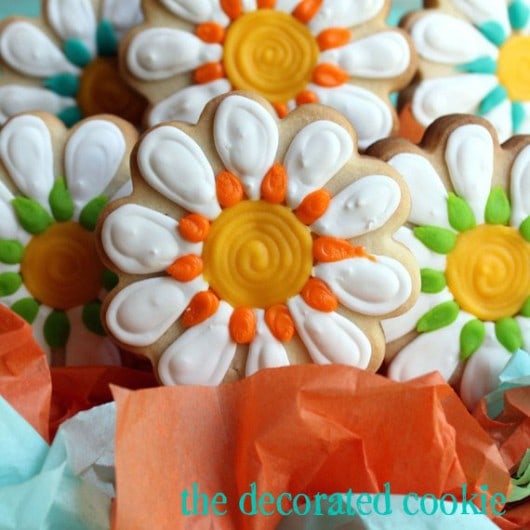 how to make a cookie bouquet
you will need:*
cookie pops

container

Styrofoam block

tissue paper
*The cookie pops.
Use cookies that aren't too top heavy, no more than three inches across.
You may use a variety of size sticks, just make sure they are tall enough to show above the rim of your container. And try not to go too high, for the sake of stability. I find size six and eight inch sticks are the best.
And be sure your cookies dry well overnight before arranging so you can handle without smushing.
The container.
Choose a container with a flat bottom that is shallow enough so the cookies can be seen and large enough to fit your cookies.
This container is seven inches across and holds six cookies.
The Styrofoam block.
Find these in a craft store and choose one that is larger than or just the same size as your container, as it will need to fit tightly in the container.
The tissue paper.
Find in the craft store or party store.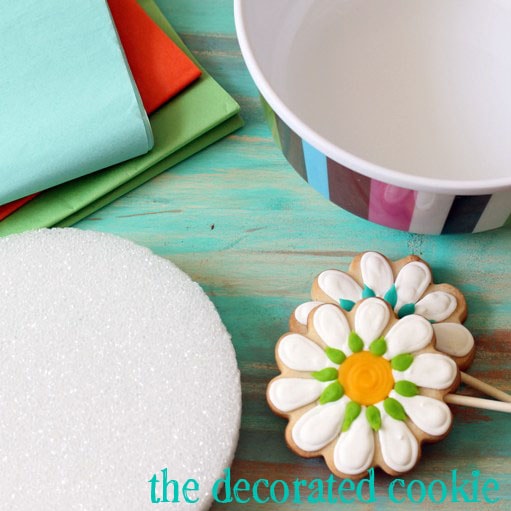 step one: fit your Styrofoam block in the container
I happened to find a circle Styrofoam block about the same size as the bottom of the container, but I have been known to cut, hack, chop and whittle squares of Styrofoam into circles.
In fact, squares are even better for circle containers because they fit more tightly.
Whatever you can do, get the Styrofoam block over most of the bottom of the container.
Then, fill in the gaps and crevices with balls of tissue paper. And when I say fill in, I mean fill in. Crinkle, push, shove that tissue paper in the sides so that Styrofoam is so jammed in the bottom of the container that it's dang near impossible and terribly annoying to even try and remove.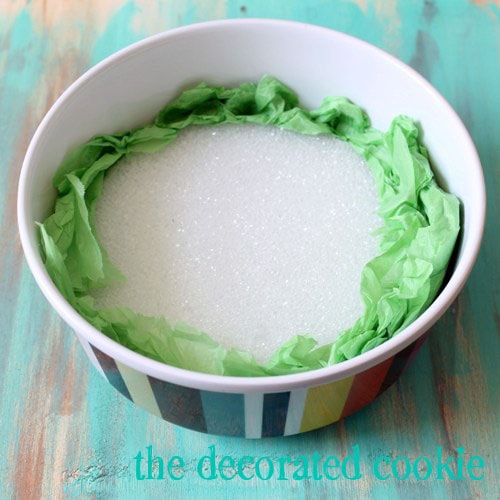 step two: arrange your cookies
To create your cookie bouquet, carefully insert the cookie pops in the Styrofoam block, starting with the taller cookies in the back.
Allow an inch or so of space between the cookies so they don't bump and break each other.
With spacing, you don't fit as many cookies as you'd think in a container. This container is seven inches in diameter and holds six cookies.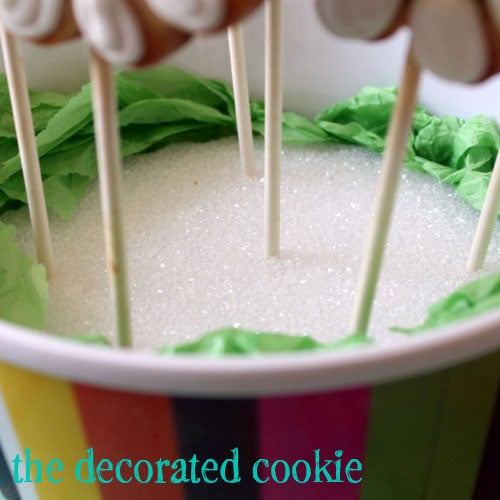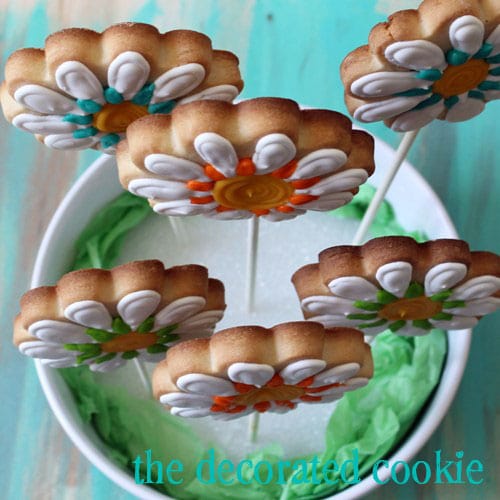 step three: add tissue paper
Gently and generously add tufts of tissue paper in between the sticks to cover the Styrofoam. That's it! You have a cookie bouquet to give!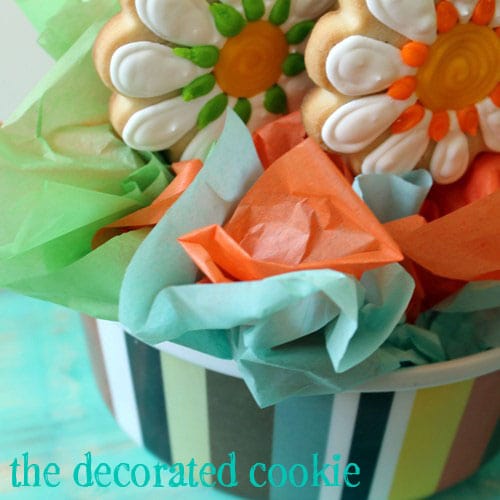 TIPS to REMEMBER when arranging cookies:
• Allow your cookies to dry well overnight before arranging so you don't smush the icing.
• Don't make the cookies too big, or they will be top heavy. Stick with three inches across or less.
• Make sure your cookies are tall enough to show above the rim of the container. I find six and eight-inch sticks are best for stability. You may also use four-inch sticks if you have a very shallow container.
• Remember to allow for space between the cookies so they don't jostle each other. Containers may hold less cookies than you think. This container is seven inches across and holds six cookies.
• These arrangements are pretty fragile, so take care when traveling with them. I pack them in open shipping boxes to help me carry them from place to place.
PIN for later: