Disclosure: *This post may include affiliate links. As an affiliate, I earn from qualifying purchases.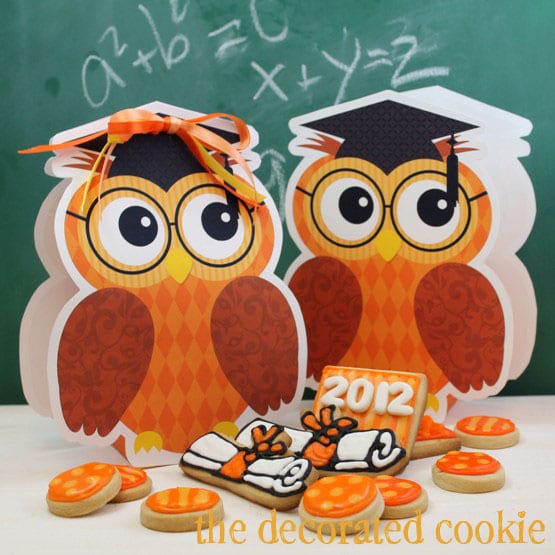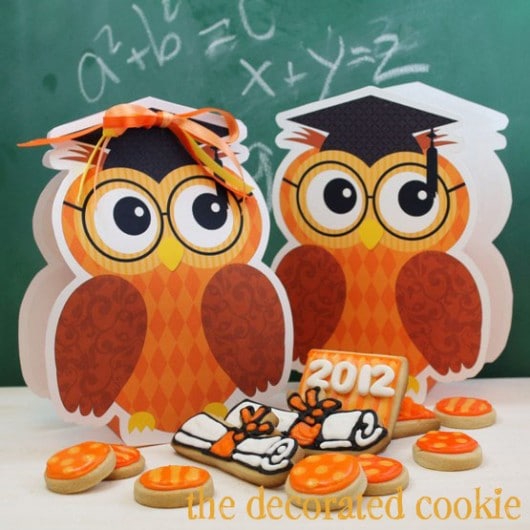 UPDATE! Yay to Michelle, Sue, Pat, Cynthia and Jennifer! (aka. comment numbers 81, 69, 56, 1, and 60 that random.org chose) They won the cookie cutters!! More giveaways ahead, I guarantee. And I'm trying to keep things worldwide as much as I can. Bonus, there's a winner outside the US in this bunch!
Do you have any graduations coming up? Nowadays, every academic milestone is celebrated as a graduation, so I'm guessing many of you do. Kindergarten, elementary school, middle school, high school, college, grad school… so many chances to graduate. Wow, under those conditions, I should've had seven graduation parties by now (um, overeducated/underemployed situation here). These free printable graduation owl gift bags are right for them all.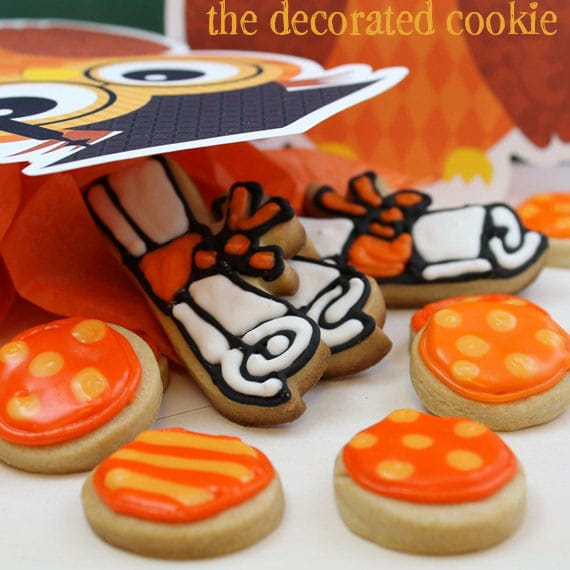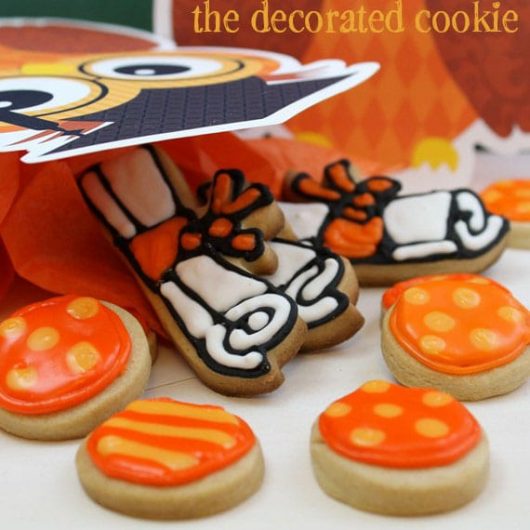 This graduation season, I teamed up with Carla over at Party Planning Center. She has mad printable skills and she created this adorable owl printable, for FREE! Just print, cut out, glue together, and fill with treats for your favorite grad. I made cookies, of course. To fill the owls, package the cookies in cello bags from the craft store, pop in the containers with or without tissue paper, then if you like, punch a couple holes at the top of the owl and close with a matching ribbon. For the link to Carla's FREE owl favor printable, CLICK HERE. I love how Carla dresses up the owls with cello, tissue and bow ties in different school colors. (SEE MORE HERE.)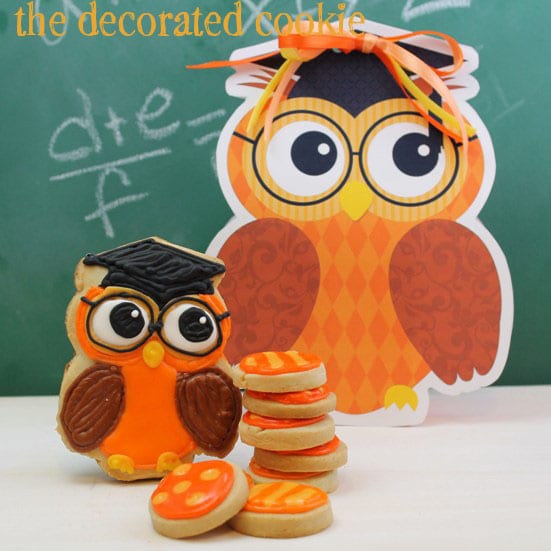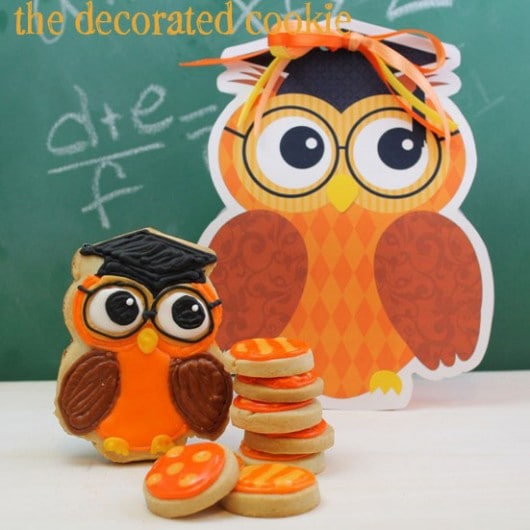 For my cookies, I made some owls and diploma cookies, and to keep it even simpler, I just made some plain circles with icing to match the patterns on the owl. These circle cookie bites are handy dandy to match any school colors. They would be great to pair with some diploma or graduation hat cookies. Wait, you don't have diploma or graduation hat cookie cutters? Scroll to the end for the giveaway. I'm giving away a set of diploma and graduation hat cutters to FIVE winners.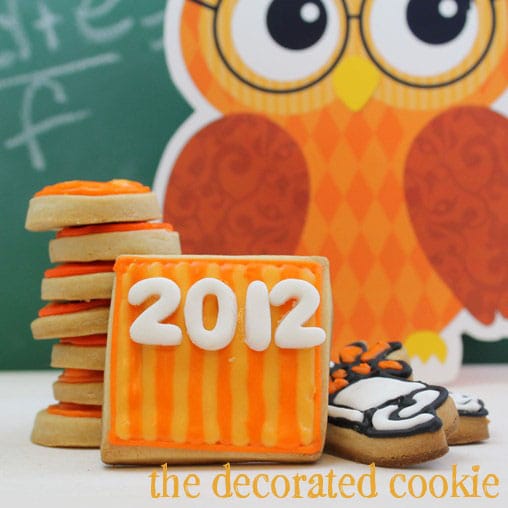 To make polka dot and stripe cookie bites
you will need:*
circle cookie cutter
food coloring
disposable decorating bags
couplers
size "3" decorating tips
rubber bands
*Find the cookie cutter (probably part of a set), decorating bags, couplers and tips in the craft store. You'll need one bag, coupler and tip for each color you choose. For food coloring, I prefer Americolor Soft Gel Pastes (Orange used here, but you may use any colors for your grad). Find basic cookie decorating instructions HERE.
what to do:
Prepare your cookie dough, chill, roll out, cut out circles and bake according to the recipe. Let cool completely. Prepare icing according to the recipe. Divide and tint your preferred colors. Thin the icing a bit with water, 1/4 teaspoon at a time, so that it's thinner than a stiff, outline consistency, but a bit thicker than a runnier flooding consistency. Try the ten-second rule: Overturn a spoonful and the drizzles should disappear into the icing in ten seconds. Prepare decorating bags with couplers and tips, fill with the icing and close tightly with rubber bands. To decorate cookies, outline cookies with a color of icing and let set about ten minutes. Fill a cookie with the same color icing by piping back and forth. Immediately pipe dots or stripes on top with another color. Let the cookies dry very well before packaging, at least overnight.
And now, the GIVEAWAY!!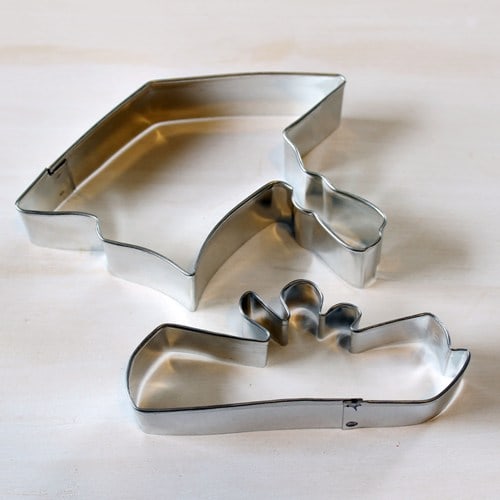 for a chance to win a set of diploma and graduation cap cookie cutters
leave a comment here before
Sunday, April 29, 2012, midnight, EST
FIVE (5) winners will be randomly chosen
(diploma is four inches long, the cap is four and a half inches across)
winners have 48 hours to reply after being notified before another winner is drawn
contest worldwide
Don't forget to make owl gift bags to fill with your cookies!!
UPDATE: Sorry folks! The links to the printables over at Party Planning Center are updated!!